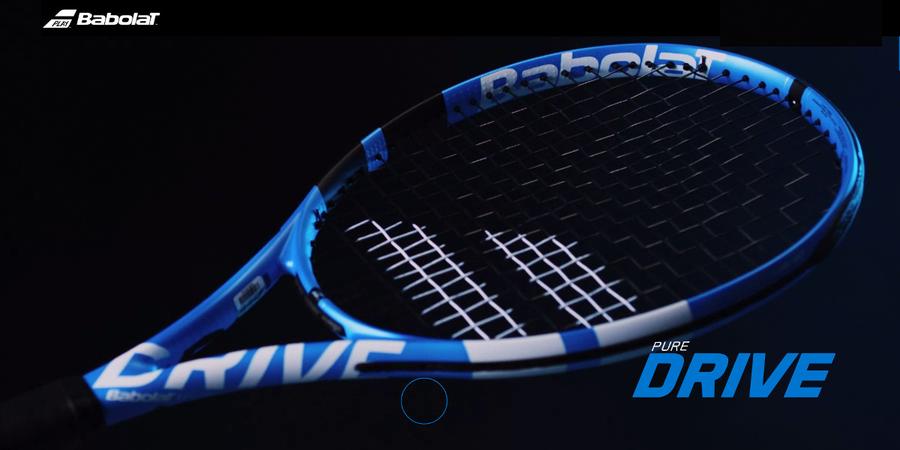 We were very excited to receive in the new version of the Babolat Pure Drive earlier this year...
The previous version was one of our best-selling racquets. When we received in the new version we got the demo strung up right away and we took out for a test hit. That test hit went so well a new one ended up in bag the next day! I have it strung up in a hybrid with HEAD Velocity MLT in the crosses and HEAD Hawk Rough in the mains. I like the extra spin I get out of the HEAD Hawk Rough and I find using the softer multifilament in the crosses makes the string bed livelier and more comfortable to play with.
SERVE
I love serving with this racquet. There is lots of available power and spin which makes this racquet a great serving racquet...
On my first serve if I am trying to add a bit of pace and I am rewarded by the extra power this racquet has.
Being able to spin the ball so easily with the Pure Drive allows me to hit a good kicker in and gives me the confidence on my second serve to go for just a bit more as I know the ball will drive down. That is a real confidence booster and a real performance enhancer!
RETURN
Even though the Pure Drive is only 10.6 ounces I have found it to be quite stable to hit with. That certainly helps on the return of serve. When dealing with a big boomer I can block the ball back with good depth. The Pure Drive remains stable for me in these situations which is important.
On weaker second serves I can really step in to the ball and take a good rip at it. It took a bit to get the trajectory dialed in but once I did, I can really use spin to get the ball to drive down and explode off the court. That allows me to attack the second serve and get my opponent back on their heels from the outset of the rally.
GROUND STROKES
I love hitting ground strokes with the Pure Drive!
For me this is the best part of the racquet. I really enjoy the more muted feel this version of the Pure Drive has due to its inclusion of Cortex.
The extra spin and power provided by the new diamond grommets and more open string pattern really allow you to generate that extra bit of pace and spin you need to keep your opponent stuck on the defensive.
Once again, like I noted on the return section, it did take a bit to get used to the new trajectory required with this iteration of the Pure Drive but once you find it, it's like magic. I can swing out and know that the top spin is going to be there to drive the ball down. That allows me to hit with good depth to pressure my opponent and keep them deep in the back court.
If I am given an angle that same spin allows me to a hit a shorter ball, with good pace that just comes over the net and the dives down and stays very low. This is ideal when you are given a shorter ball and want to come in behind it.
VOLLEY
The manoeuvrability of the Pure Drive is excellent due it relatively easy to play with 10.6-ounce weight. I found it very easy to hit volleys with a lot of stick to them. That is what I like to do when at the net, so it was well suited to my game.
Feel was okay but not the strongest suit of this racquet. I like a racquet with a lower RA rating for feel which really helps with playing drop volleys.
So while the Pure Drive is not the best racquet for hitting drop volleys with it sure does allow you to hit good punch volleys that have a lot of stick to them.
OVERALL IMPRESSION
As mentioned I liked hitting with the demo so much a new one ended up in my bag.
It has helped me with my game. I am getting extra pop and spin on my serve. That allows me to start off the point on the right foot.
Even on my second serve that extra bit of spin allows me to keep my opponent back.
On the return of serve the stability of the Pure Drive helps me block back hard hitter serves and keep it deep. On weaker second serves I can hit out at the ball and the extra spin helps me hit with depth and keep the ball in.
The same is true on ground strokes, I can take a full rip at the ball and know that if my swing path is good I am going to be rewarded with a solid hit ball that really has a lot top spin to it.
Crisp volleys with a lot of pop were easy to hit as well.
The Babolat Pure Drive is a real winner ...