Tennis world number 1, Novak Djokovic, just won the 2021 French Open.
Djokovic beat 13-time champ, Rafael Nadal, in the semi-final and then went on to come back from two sets to love down against Greece's Stefanos Tsitsipas to win his 19th career Grand Slam title.
It seems like Novak has been in the tennis media headlines constantly recently, and it's understandable why... he just keeps winning!
He's broken a number of tennis records and 'world's firsts' over recent years, and I decided it would be a good idea, to sum up, Novak's most prestigious (and ridiculously impressive) achievements in tennis. It's also a good time to look to his future, and what else he might be able to achieve.
First off, I'd like to wish a huge congratulations to Novak Djokovic for his win at Roland Garros.
He put on some stunning performances and he certainly entertained the crowd throughout. Being two sets to love down in a final this big can't be very easy to push through mentally, but Djokovic is renowned for his mental grit and will to win. This is what won him the 2021 French Open.
Anyway, let's delve into some of Novak's most monumental tennis achievements...
He's Been World Number 1 For 325 Weeks
Novak Djokovic recently set the record for the most weeks at number 1 in the 48-year history of the FedEx ATP Rankings.
After winning his 18th Grand Slam title in the Australian Open a few months back, Djokovic overtook Roger Federer's stint of 310 weeks at number 1 by reaching 311 weeks.
What's even more impressive is that the 33-year-old fell as low as number 22 on 21st May 2018 and returned to the top spot on 5th November 2018.
At the time of writing this email, Djokovic's Wikipedia states that he's now been world number 1 for 325 weeks, and, after claiming victory in Roland Garros, this streak is set to continue.
How long can he go for?!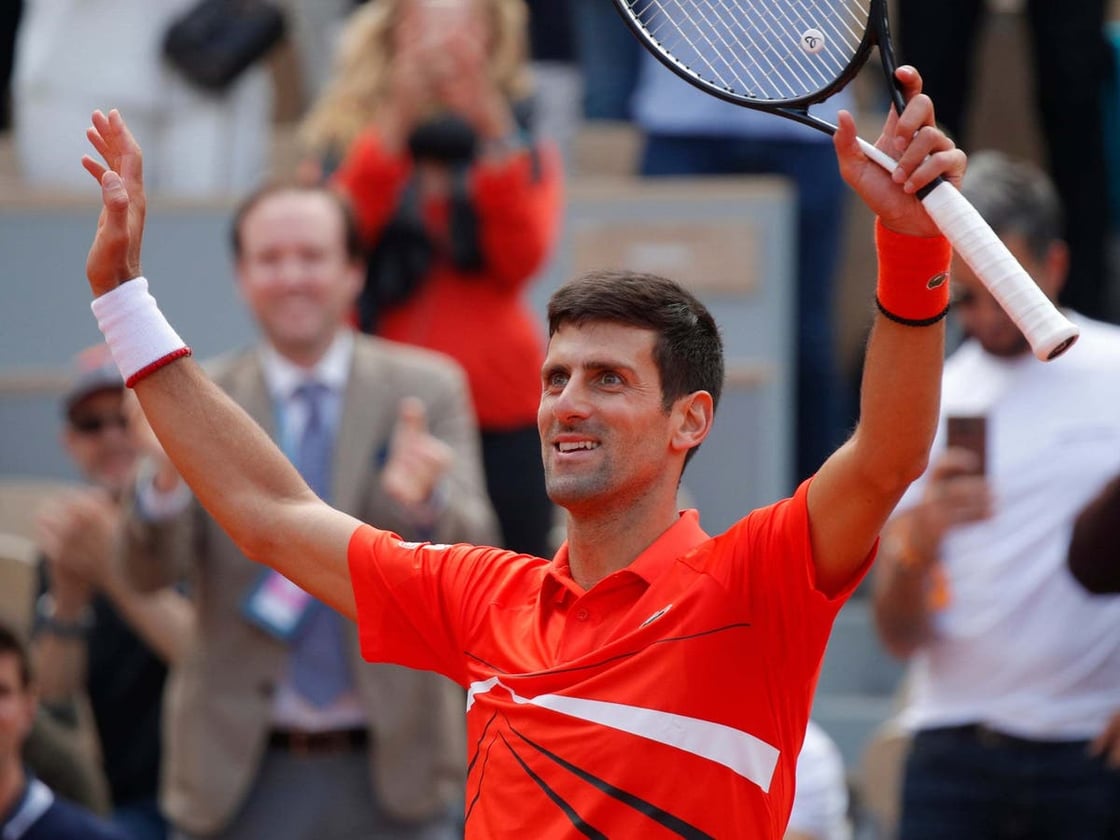 Image from The Independent website
He's Won All Grand Slams Twice
After his French Open victory, Djokovic is the first man in the modern era to win all four Grand Slams twice.
In contrast, Federer has only won the French Open once in his career, however, it's important to note that he has won the other three Grand Slams multiple times.
Rafael Nadal has only won the Australian Open once, in 2019
The French Open win takes Djokovic to 19 Grand Slam titles in total, putting him just one behind Nadal and Federer's record of 20 Grand Slam titles each.
It's quite apparent that Djokovic is driven to be the best ever and matching, and then passing Nadal and Federer's 20 Grand Slam titles is definitely in his sights.
He Was The First Man To Win All 4 Grand Slams In A Row (in the modern era)
This is another astonishing accomplishment from Novak Djokovic. Most players dream of winning a Grand Slam. Really great players hope to reach a career Grand Slam perhaps. Djokovic won 4 Grand Slam's over 12-months!
Anyway, after a cracking final with UK player, Andy Murray, in the 2016 French Open, Djokovic became the first male tennis player in the modern era to consecutively win all 4 Grand Slam tournaments in a row.
Andre Agassi, Roger Federer, Rafael Nadal, are the other players have achieved career grand slams in the modern era (winning all Grand Slam tournaments) at least once, but, they haven't won 4 in a row.
Can He Achieve A Calendar Slam?
A calendar Grand Slam is achieved when a player wins four consecutive Grand Slam events in the same calendar year. This is often seen as one of the biggest achievements a tennis player can make.
As great as some of our past players in the open era have been, no man has won a Calendar Slam. That shows you just how hard of an accomplishment it truly is. Borg, McEnroe, Becker, Sampras, Agassi, Federer, and Nadal to name a few of the greats in the past won at least 2 Grand Slams in the same year but none ever won all 4.
Novak Djokovic has won the 2021 Australian Open, the 2021 French Open, now we look ahead to Wimbledon and the US Open...
Do you think he can do it, what are the greatest obstacles standing in his way? Leave us your thoughts in the comments section!
---
This article was taken from our tennis newsletter, if you're interested in receiving more content like this, please feel free to sign up using the subscribe section in the top right of this page (or underneath if you're on mobile), thanks!