Wimbledon has just wrapped up and what a tournament it was.
With Nadal not playing, and Federer's form in question I believe many would have taken Novak Djokovic over the field this year before the tournament. I was one of them. I decided to to delve into Djokovic's win at Wimbledon...
If you're a regular reader of Control the 'T' content, you'll know that my favourite Grand Slam tournament is Wimbledon. It has been since I was a kid and continues to be to this day.
I was excited for this years' Wimbledon especially to see if Novak Djokovic could win his 3rd major of the year and keep his chance of winning the calendar grand slam alive.
It's not often you get a chance to watch history, and know you're watching it!
From a history of tennis perspective, what a year 2021 has been so far. Novak's win at Roland Garros was huge. Roland Garros is the one grand slam tournament where Novak is not the favourite heading into it.
If Rafa had won Roland Garros, as I think most would have expected, Rafa would be at 21 grand slam trophies, Federer at 20 and Djokovic at 18 heading into Wimbledon.
What a difference Novak's win at Roland Garros made! The win at Roland Garros really set the stage for Djokovic at Wimbledon...
Things got really interesting for me at the quarter-final stage of Wimbledon. My sentimental favourite, Federer, was still in it and looking like his form was improving, the two Canadians, Shapovalov and Auger-Aliassime had just made history, and of course, Novak was still in it.
In a normal situation at this point while I might still expect that Djokovic may end up the winner I would not have been rooting for him...
I'd have been hoping for either one of the Canadians or Federer to win.
This year, I was a little more torn than I would have been, normally. It was simply because of the history that Djokovic is chasing. There's never been a year in the history of tennis that a player could win a calendar slam, win the golden slam (if he does end up playing at the Olympics), and also break the record for most overall grand slam tournament wins, all in the same year.
The only match where I was hoping Djokovic would not win at Wimbledon was against Shapovalov in their semi-final match. Patriotism trumped my interest in tennis history in that match. Once Shapovalov was out I was firmly cheering for Novak this year.
Congratulations Novak Djokovic at not only making history at Wimbledon by equalling Federer and Nadal's mark of 20 grand slam titles but also on keeping the chance at the calendar slam and even potentially the golden slam alive!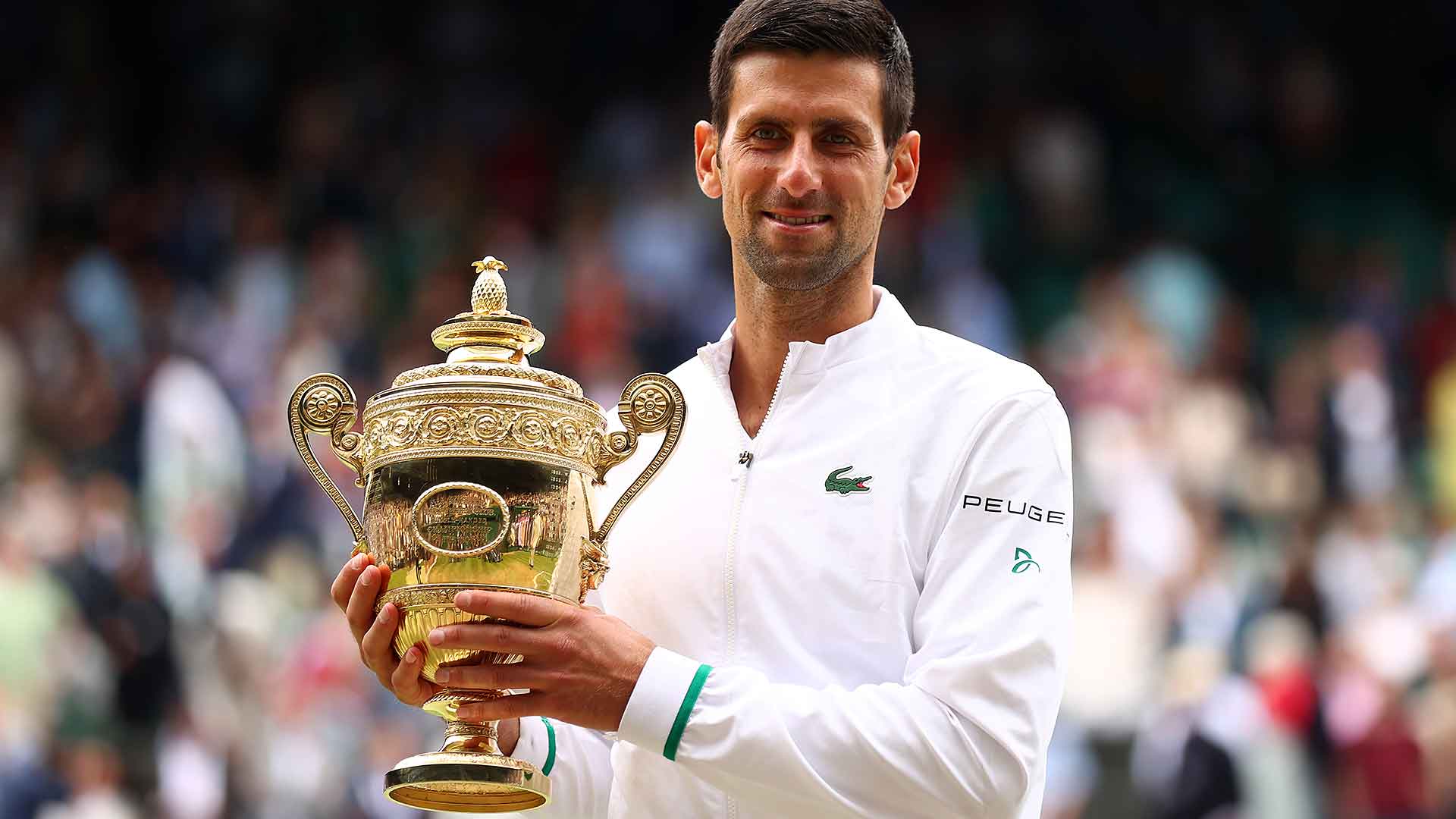 Image from ATP website
With the challenges Japan is facing with hosting the Olympics this year due to the pandemic I am not sure what that tournament is going to look like. It's really unfortunate for tennis, Japan and the Olympics as a whole.
That leaves me really looking forward to the US Open this year. At this point, Djokovic definitely has to be the favourite to win it. In my mind, there are only two people that can stop him. Possibly Nadal, if he returns healthy and is able to play a near-perfect match against Djokovic, should they end up playing, or Novak himself.
Nadal's the only player at this point that I could see being potentially able to beat a determined and focused Djokovic. That being said I'd have to pick Djokovic as the favourite should they meet.
Novak's going to be under a huge amount of attention and pressure going into the US Open to win the calendar slam. His not being able to handle the pressure is why I listed him as a possible player that could prevent him from winning the calendar slam this year.
Can you imagine the pressure he's going to be facing if he gets into a tough match at the US Open knowing what's at stake?
While I can't personally relate to that type of pressure I know for certain that if I was going to have to pick one tennis player from history to handle it, it would be Novak Djokovic...
---
This article was taken from The Ace Newsletter, if you're interested in receiving more content like this, please feel free to sign up using the subscribe section in the top right of this page (or underneath the article if you're on mobile), thanks!