I started writing this right after Novak won the Australian Open for a record setting 8th time. I have been thinking about this post for longer than that though ...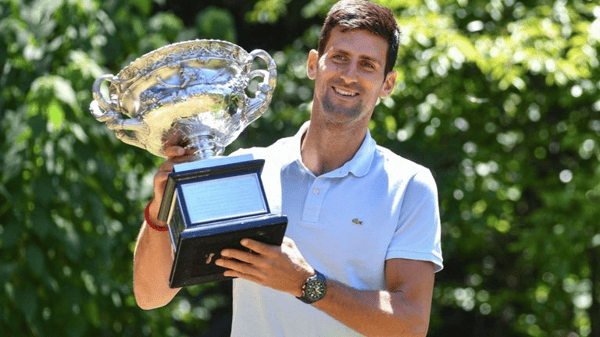 The post came to life in my mind after watching him beat Roger Federer in that epic final at Wimbledon in 2019 though. I love the grace that Federer plays with, the intensity that Rafa brings, but I think it's Novak Djokovic's drive, his will to win that is the most impressive ...
John and Patrick McEnroe were talking about it after the end of Australian Open 2020 against Dominic Thiem ...
When it comes time to win, or save a match, Djokovic will not miss. Every ball will come back, and will come back with interest. Balls that against anyone else are winners are coming back. He forces so many errors out of his opponents as they continually have to go for more and more and eventually go for too much and miss.
What a contrast to Pete Sampras or Boris Becker the two examples John and Patrick referenced. Pete and Boris would over power their opponents.
Sampras is the best example. Give Pistol Pete a break and a chance to close out the match his first serve was going in. His opponent would be left shaking their head wondering what just happened after failing to return Pete's serve once in the deciding service game.
I believe Djokovic's opponents are left dumbfounded as well but for very different reasons. I am certain they often feel that they have just played their hearts out and are left wondering ...
... what do I have to do to win a point.
If we go back to the 2019 Wimbledon final and try to imagine how Roger Federer must have felt. What an amazing match it was. As a Federer fan I was left thinking that Roger looked the better player for the vast majority of the match.
He did not look to falter physically even though he is of course older.
When it came time for Roger to close out that match two things happened. Roger played 1-2 tentative points. The other, Novak refused to let him win.
When it came time for Djokovic to break and then close out the match everyone knew that Novak would not miss a shot and would not miss his opportunity to win the match, beat Roger Federer and win Wimbledon.
Novak Djokovic's ability to be his absolute best, at the most difficult of times, sets him apart from everyone else playing the game.