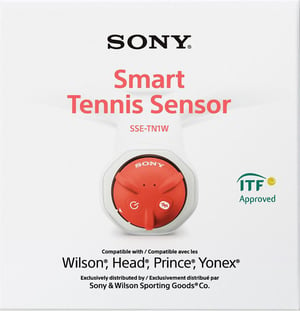 The new Sony Smart Tennis Sensor has arrived to help you analyze and improve your game. Compatible with most current Wilson, Head, Prince, and Yonex racquets, it is easy to connect to your smartphone through Bluetooth and start using all its amazing features. Without a doubt an amazing coaching tool, with the Sony smart sensor you can record and analyze your game, save your day's worth of training data and review it later, check all the statistics from every single shot you hit, put up some goals to improve your game, and share all your progress with your friends!
Use Live Mode to display all your shot data real-time on your screen. Have someone record you and for every shot they will be able to see your swing type (forehand, backhand, topspin, slice, volley, etc.), ball speed, swing speed, ball spin, where on the racquet the ball was hit, and the total number of shots hit up to that moment. Tag any shot in order to review it and all of its statistics later. Also, you can tap on the shot counter to view a line chart displaying information for your ball spin, ball speed, and swing speed. This feature is incredibly helpful for coaching as your coach will be able to analyze all the data in real-time, and show you recordings and information on your training.
Play Report is the application's feature designed to analyze your game in-depth. Play reports are automatically created after every session and all the data is stored in your smartphone and sorted by shot type. You will see a timeline of every day you used the app displaying the number of shots, the duration of your practice, a picture of you, and the amount of calories burned. This can also be seen for the current year so you can see the cumulative progress you have made. For each day, check how many serves, volleys, forehands, etc. you made and whether you hit topspin or slice on them. You can as well, for every shot, look at a heat map giving you information on the behavior of the ball as it hit your racquet plus statistics of your ball speed, ball spin, and swing speed. A timeline can be used to go through all the data for every single shot you hit that day. Make notes on any shot you want to tell yourself what you did well and what you did wrong and help yourself keep your game up to date. Furthermore, you can watch a video playback of every shot and watch a recording of yourself hitting any given shot on any given day. If your smartphone has a compatible camera, the Slow Motion feature can be used to play your recordings in slow motion to carefully analyze your movements as you hit your shots.

As you analyze your shot statistics use the Progress Chart to set goals for the future. For example, you can look at the average ball speed you generated on a given day and set a goal for the actual amount of ball speed you want; if, for instance, your average ball speed on a day was 81 km/h you can set a goal for 100 km/h and keep progress of how you improve in order to reach your goal.
If you forgot your phone in your locker or at home, or if you don't want to use the last bit of battery using the sensor, that is no problem at all. You can use the smart sensor on Memory Mode, i.e. while it is not connected to your smartphone. Its internal memory can store the data of up to 12,000 shots! Once you connect the sensor to your phone again, the data will be uploaded and a play report will be generated automatically. Also, the batter lasts longer while on memory mode giving you more play time with it. Also, if you have a smart watch (Android Wear ready) you can connect it to the sensor and see the data for each shot in real-time with vibration feedback. Basically, analyze your shots and improve your game as you play!
Finally, use Share Mode to share all your data on multiple social media websites so your friends can literally see how your game is improving. Share pictures of you with the data of your shots displayed on them. Boost your motivation and morale, and communicate your tennis in a whole new way with photos and stats.
This little gadget will help you analyze and improve your game. Whether you do it by yourself, with a friend, or with a coach, the Sony Smart Tennis Sensor will definitely help you improve your game. Displaying detailed information and statistics you can study your game in numbers and pictures to see in-depth what you are exactly doing. Get your hands on this amazing device and the only way your tennis game will go is up!
Also, you can download the app for free on your smartphone and look at a set of sample data from the app. You do not need to own the smart sensor in order to download the app; this is so you can try it out beforehand. Just look up "Smart Tennis Sensor" by Sony Corporation on your phone's app store, download it, and check out some of the stuff you can do!
For more information on compatibility and product specifications you can look at the sensor on our online store by clicking on the View in Store link below.