Beginning with the CIB Zed Squash Open (which is currently underway as I write this), the 2022/23 PSA World Tour season is now underway and I can't wait to binge-watch as many tournaments as possible!
I recently read an article from the PSA of their 10 players to watch this season, so, taking inspiration from that article, I decided to create my own list of players to watch this season for a blog post.
I'll feature four of my favourite up-and-comers who will be looking to take down some of the incumbent players who above them in the rankings, and, I'll also feature four 'big hitters' who will be looking to claim the biggest titles of the season and reach that World No.1 spot too.
Just a disclaimer: this is totally subjective and I chose these players based on a combination of how well I think they're going to do this season and the fact that I think they're all great to watch...
The Underdogs...
Whether it's by beating some of the big hitters (featured in the next section), flying up the rankings fast, or claiming their first big title, the players in this section have all made their mark on the professional squash circuit in one way or another during the past season.
If you watch some professional squash and are interested in finding out what the next generation of squash is going to look like, I'd advise watching these four up-and-comers and underdogs (the future is looking bright)...
Youssef Ibrahim
I've written about Youssef Ibrahim a few times over the past year or so. He has been climbing the rankings consistently and currently sits at World No.11. I'm almost certain that he'll reach the top 10 this season.
Aged just 23, Ibrahim has proven himself to be a giant killer time and time again. His style is very explosive, powerful, and fast-paced, I also think this is all amplified by the fact that he is left-handed.
Youssef Ibrahim has beaten Mohamed ElShorbagy (ex World No.1 and current World No.5) all three times they have met, he has also claimed wins against the likes of Marwan ElShorbagy, Karim Abdel Gawad, and Mohamed Abouelghar.
He's also managed to get very close to beating the likes of Paul Coll, Joel Makin, and Fares Dessouky in some absolutely thrilling five-setters.
Some notable tournament achievements include reaching the Manchester Open semi-finals, narrowly missing out in the final of the Windy City Open final (losing 3-2 to Paul Coll), and reaching the quarter-finals of the Tournament of Champions.
Ibrahim has easily been one of my favourite players to watch this season, his matches are always so entertaining and full of flare. I can see him claiming some bigger titles this season if he carries on on this trajectory.
Patrick Rooney
Perhaps I'm being a little biased by featuring this Englishman (since he's from my home country), but Rooney has been another young player who has made himself known over the last year.
Rooney has definitely been a giant killer this season, beating the likes of Marwan ElShorbagy, Greg Lobban, and Raphael Kandra in just one tournament... the Manchester Open.
Rooney received a ton of media coverage for his performance in the Manchester Open, sadly he lost out in the semi-final to experienced Welshman, Joel Makin.
I had the pleasure of playing Patrick a few times when we were both in juniors and even back then he was absolutely awesome.
Patrick is an incredible player to watch, his style of play is mesmerising in my opinion, he has a slightly unique swing but I can't really put my finger on why it's so unique, it just looks a little different. It's kind of a combination of short and flicky, but also big and sweeping. You'll have to watch him play to see what I mean.
His attitude is also impeccable, he very rarely asks for lets and strokes and plays through lots of interferences, without complaining. Rooney currently sits at World No.23 and he'll reach the top 20 without a doubt this season.
Gina Kennedy
Perhaps Gina should be on the 'big hitters' list below... In fact, the only reason I've got her on the 'underdogs' list is because she's not yet in the top 5, and she hasn't yet claimed any major PSA titles.
With that said, I think it's likely that we're going to see her taking on those goliaths this season. I'm predicting that Kennedy will win at least one platinum event and will reach the top 5 before this season ends.
Kennedy received a ton of media coverage over the last year due to her meteoric rise through the rankings, in one season she rose from World No.167 into the top 10, which is utterly ridiculous.
She also recently claimed a Commonwealth Games gold medal for England in the women's singles event and watching that match was an absolute inspiration. It's easy to tell how much Gina loves the game and she plays her heart out every single time she's on court.
Some of her notable achievements last season included winning the London Open, reaching the semi-finals of the CIB Black Ball Squash Open (in December), winning the Cleveland Classic, reaching the quarter-finals of platinum events such as the Windy City Open and the CIB Black Ball Squash Open (in March).
Aged 25, Gina has plenty of time to carry on progressing her squash journey and I can't wait to see what she can achieve this season.
Nour El Tayeb
Nour is another name that professional squash fans might not necessarily class as an 'underdog'...
However, Nour El Tayeb was away from the PSA World Tour for some time due to pregnancy. I believe she announced this in late 2020 when she posted a heartfelt video and she noted that she was worried that this may be the end of her squash journey.
Of course, I wouldn't be writing this if it was!
El Tayeb has been quoted as saying her two main goals are to reach World No.1 and winning the PSA World Championships, two things she is yet to achieve. For this reason, she's back on the tour to stake her claim.
If you've ever watched Nour El Tayeb play, you'd know that she is fearsome fighter on the court, her comeback to the PSA World Tour has been awe-inspiring. If her goal is to reach World No.1, she's going to put everything into trying to achieve that.
In the short amount of time she was back on the Tour (before the end of the season), El Tayeb fought her way back to World No.11 and has convincingly beaten a number of players in the top 10 including Rowan Elaraby, Gina Kennedy, and perhaps most importantly, current World No.3 Hania El Hammamy on the last two occasions they've met.
I can't wait to see her in action this season!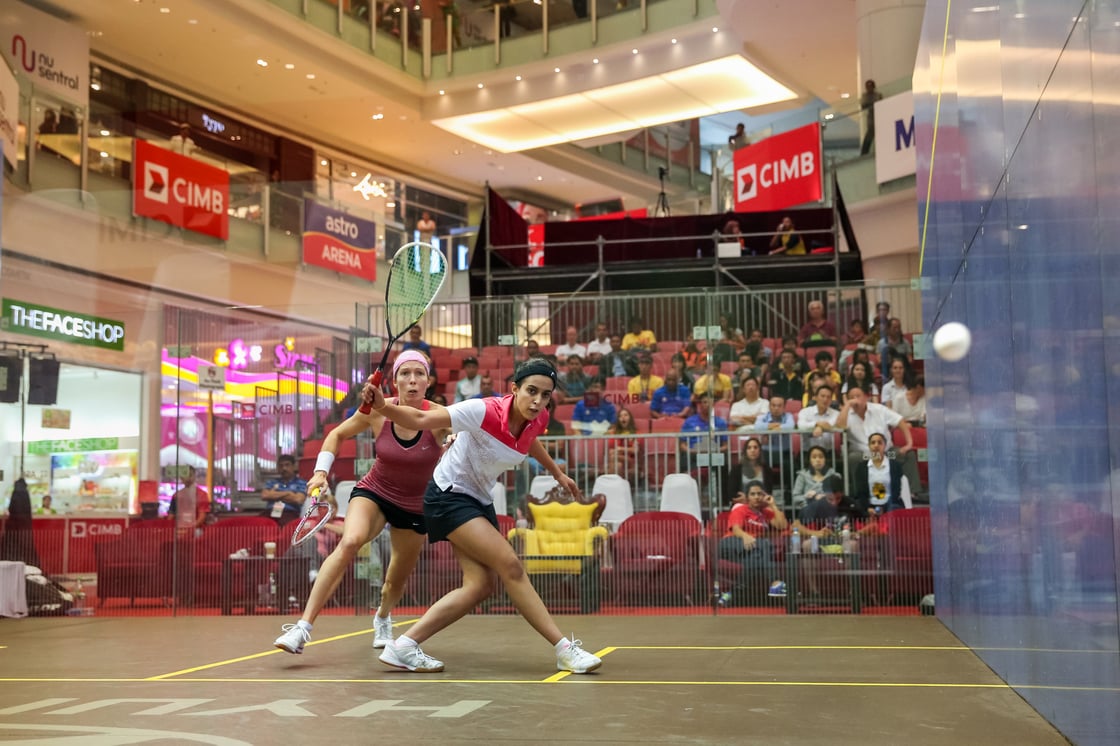 The Big Hitters...
If you're new to watching professional squash, these 'big hitters' might be of particular interest to you as watching these players will give you an idea of the insane level that squash is at at the moment.
These four players are looking to stake their claim as being some of the best players of all time...
Hania El Hammamy
I'd say that El Hammay is my favourite player on the women's PSA World Tour right now, everything about her game is awesome. Maybe half way through last season I might have included her in the 'underdogs' list, but now I'd say she's joined the ranks of the legends of the game...
Hania El Hammay is incredibly accurate, she can mix the pace up, she's got some ridiculously good shots, and her attitude on court is great.
Currently sitting at World No.3, El Hammamy was recently quoted saying that she is 100% going for the World No.1 spot this season, and I honestly think she's got what it takes.
Aged just 21, El Hammamy has proven time and time again that she can beat the best. Some of her notable achievements last season included winning the Manchester Open, the El Gouna International, and the British Open, as well as coming second in the US Open, the Windy City Open, and the CIB Black Ball Squash Open.
Her win at the British Open was truly a sight to behold, she beat current World No.1 Nouran Gohar 3-1 and you could tell it meant the world to her.
Something else that may be of note is that a pretty strong rivalry seems to have developed between Hania El Hammamy and current Nouran Gohar which will certainly make for some interesting squash next season too...
Mohamed ElShorbagy
Aged 31, Mohamed ElShorbagy has already reached legendary status in professional squash in my opinion. He's been on the tour for a pretty long time now and is still managing to play at an insanely good level.
Nicknamed 'The Beast', ElShorbagy is able to play a ridiculously fast-paced style of play when he wants to, but he can just as easily revert to a slower paced game with insane levels of accuracy, he also has some serious flare with the ability to hit insane winners every now and again.
My favourite thing about El Shorbagy is that, when he's losing a match, he seems to be able to do this thing where he flicks a switch in his head and just becomes unstoppable until he's won the match.
It's no secret that Mohamed has had a somewhat rocky season for a number of reasons, he ended the season at World No.5 after dropping to his lowest level since 2013. There's absolutely no doubt he will come back as hungry as ever to get back into the top 3 and even reach World No.1.
Despite his ranking, Mohamed ElShorbagy ended the season on a high after beating ex World No.1 Paul Coll in the World Championships in a five-game thriller, and, he is also now being coached by former World Champion and French squash legend, Gregory Gaultier.
I can't wait to see what he comes out with this season!
Paul Coll
Paul Coll is another major name on the PSA World Tour, last season, Coll made squash history by becoming the first man ever from New Zealand to reach World No.1 in the PSA Men's World Rankings.
Of course, that is a massive achievement in itself, however, the reason that this made such a wave on the PSA World Tour was because it was also the first time since May 2017 (when Gregory Gaultier topped the rankings) that there had been a men's World No.1 who wasn't Egyptian.
Historically, Coll had what it took to reach some of those big finals and would on occasion beat those top guys such as Ali Farag, Mohamed ElShorbagy, and Tarek Momen, but he would struggle to do so consistently.
That all changed when he won the prestigious British Open at the very start of last season, this marked Coll's upward trajectory, following this he had a string of incredible results.
Also, the following year, Coll defended his British Open title and won the tournament without dropping a single game.
Coll's coach, Rob Owen, has clearly worked wonders to procure his game. In the past, Coll used to be seen as more of a fitness player who was good at grinding out results and had a very explosive movement.
In the past season, however, Coll has demonstrated an unbelievably accurate game style, he plays a very patient game up and down the line and then takes the ball in short with impeccable accuracy.
When he reached that top spot, it really seemed as though Coll had unlocked the secret to beating the Egyptian incumbents, however, as expected towards the end of the season, his rivals were ready for Coll's gameplan and had their counter tactics ready and prepared.
Coll ended the season at World No.2, however, I'm sure he'll be putting all of his effort into reaching World No.1 again next season.
Mostafa Asal
Probably one of the most talked about players of the season last season, Mostafa Asal is a young Egyptian player who, aged just 21, has managed to end last season at World No.3.
Asal was seen as quite a controversial character on the PSA World Tour due to the large amounts of interference that seemed to occur during his matches. I must admit, I wasn't the biggest fan of him at first and didn't enjoy watching his matches.
With that said, I think he's clearly matured a lot and has obviously made significant efforts to change his movement and technique to further minimise interference. I'm pretty sure I heard him mention that he feels as though he has matured a lot in one of his speeches towards the end of the season.
Anyway, there's no doubt that Asal is going to have an incredible squash career. He's shown that he's capable of beating most other players in the top 10 and has claimed a number of titles on top of that.
Last season, Asal won the US Open, the El Gouna International, and defended his title by winning the prestigious CIB PSA World Tour Finals, beating Paul Coll 3-0 in the final!
In a recent blog post, I wrote my predictions for the upcoming PSA World Tour season and one of those predictions was that Asal will reach World No.1 at least once during the season.
I'll be very interested to see if this actually happens!
Final Thoughts...
I hope that my list has excited you for the upcoming PSA season, I for one can't wait to binge on a ton of squash.
I'm especially excited to watch the players listed above and I can guarantee that you'll be hearing their names pretty often!
Also, if you'd like to read my predictions for this season, click here to read the article!
---
This article was taken from our On The 'T' Newsletter, if you're interested in receiving more content like this, please feel free to sign up using the subscribe section located at the bottom left of this page (or underneath the article if you're on mobile), thanks!