The Dunlop Sonic Core Revelation 135 is arguably the most powerful racquet in the Sonic Core range, but that doesn't mean a compromise on control.
I was lucky enough to have the opportunity to jump on court and try this racquet out...
(Below is our video review of the Dunlop Sonic Core Revelation 135. If you'd prefer to read our review, it continues under the video)
Racquet Specs: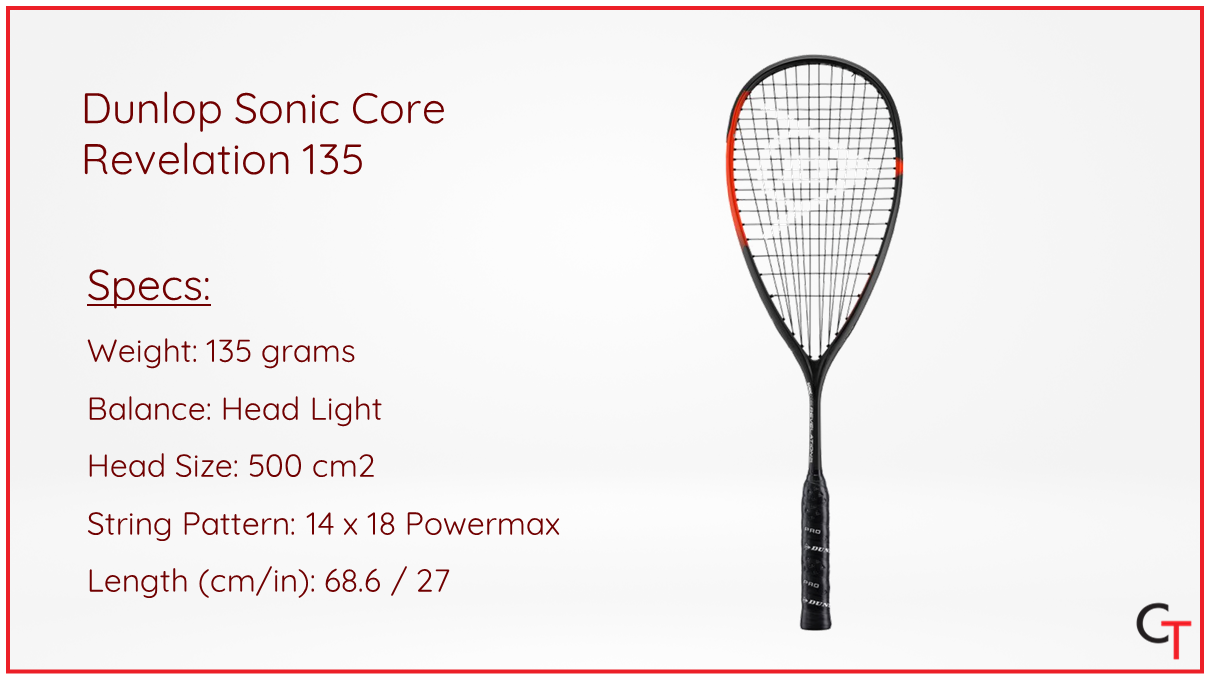 Lengths
By the first few shots, I instantly developed a liking for those racquet. The frame is pretty stiff and solid and, although it could be argued that this compromises the overall feel of the racquet, I personally really like a stiff squash racquet.
The control provided by the Revelation 135 is sublime, whether you're hitting with pace or lifting the ball.
I personally never really use racquets with a fanned string pattern like this one, however, I'm now considering switching. It really adds to the stiffness, solid feel on contact with the ball.
The longer main strings of the Revelation 135, combined with the teardrop head shape, and large 500cm2 head size, allow me to hit the ball pretty hard with a lower level of effort.
Volleys
Dunlop have only given this racquet a 6.5/10 for control on their website and I must say that I respectfully disagree with that!
I'd say that the Revelation 135 provides excellent control and accuracy, especially on the volley.
Despite its higher weight of 135g, this racquet is pretty head light and I was able to use a short punchy swing to get some power behind the ball repeatedly. With that said, I really felt like I was in control of every shot at the same time, especially with a larger swing and when I had more time on the ball.

Short Game
Taking the ball in short was great fun with the Revelation 135, it was easy to cut balls in straight and soft whether it was off of the volley or on the bounce.
Dunlop has used Glidepolymer technology that reduces friction between grommets for more string movement, meaning that you can slice and chop the ball really nicely for it to die in those front corners.
Maneuverability
To test maneuverability, I hit some figure of 8 routines and incorporated a few winners and crash nicks (both straight and cross court).
I found that it was incredibly easy to volley with pace, especially when the ball was already coming at me with pace. I couldn't feel any vibrations on off-centre hits, and again, it was easy to chop the ball into the corners with great control and accuracy.
In comparison to the 125 version of the Sonic Core Revelation, the 135 is perhaps a little less fast to play with, but the racquet does a lot of work for you especially when you have some time on the ball when taking it in short due to its higher weight.
Final Thoughts and Recommendations
This racquet really surprised me, I'd honestly say that it's my favourite in the Sonic Core range, but that's probably because it really suits my style of play.
With that in mind, I'd say that this racquet is great for players of pretty much any standard looking to play a fast-paced game, take the ball early, and hit it hard even with a smaller swing.
If you're looking for something versatile yet powerful, something that is easy to maneuvre and allows for access to some real deception, the Sonic Core Revelation 135 is a great choice.
I'd give it a 9/10 for power, a 9/10 for control, an 8.5/10 for maneverability, and an 7.5/10 for feel.
If the Dunlop Sonic Core Revelation 135 sounds like it might be the racquet for you, check it out on our website by clicking the button below ...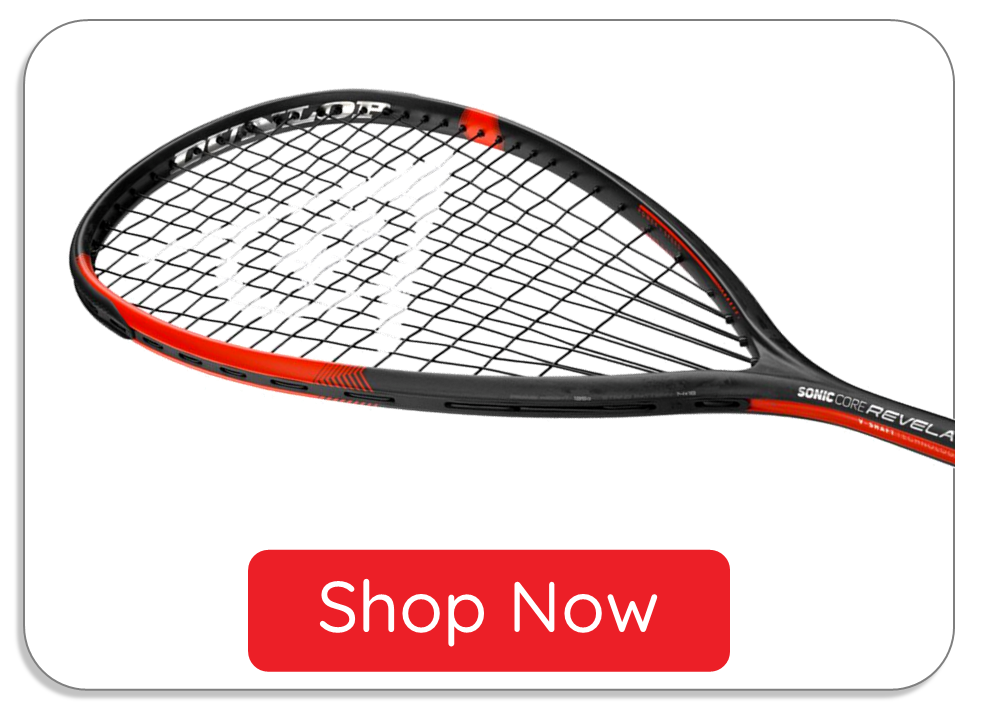 Click below to return to the main Dunlop Sonic Core page...