The Dunlop Sonic Core Ultimate 132 is ideal for players who like to take their time accurately placing the ball exactly where they want.
I recently jumped on court to put this racquet to the test and review its power, control, feel, and maneuverability on a range of different shots, here are my thoughts...
(Below is our video review of the Dunlop Sonic Core Ultimate 132. If you'd prefer to read our review, it continues under the video)

Racquet Specs: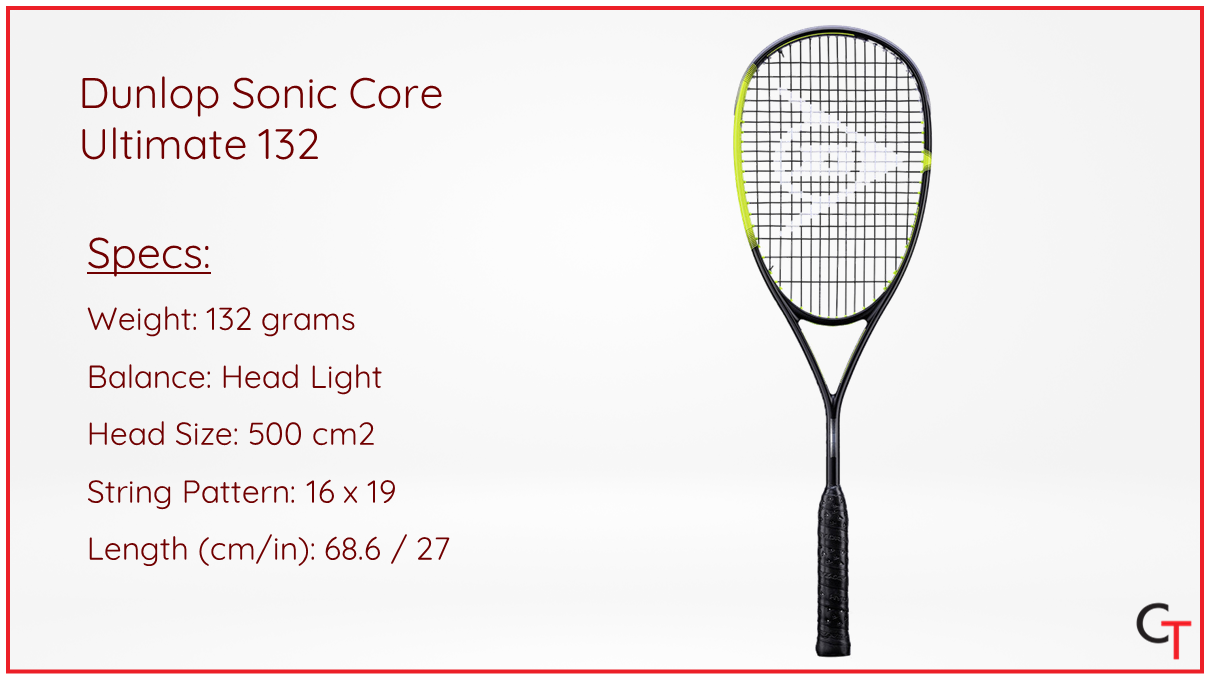 Lengths
The Dunlop Sonic Core Ultimate 132 really allowed me to feel and control the ball well when hitting to the back.
Weighing 132 grams unstrung, this racquet is ever so slightly on the heavier side so I could get some weight behind my swing, however, the head light balance point really allowed me to swing through the ball fast when I needed to as well.
The frame has a really nice flex to it thanks to the Sonic Core technology that provides excellent levels of rebound and dampens vibrations too. This really enhances the feel of the Ultimate 132 and also gives users more forgiveness on off-centre hits.
Although I could hit with a nice bit of power I'd say that this racquet feels more control orientated overall.
I also found that I could hit with great levels of control on softer hits and I didn't have much difficulty placing the ball where I wanted it to go either.
Volleys
Volleys with the Sonic Core Ultimate 132 really gave me a feel for the liveliness of the string bed.
Controlling the ball shot after shot felt smooth and seamless and, thanks to minimal vibrations, I didn't notice any strain on my arm despite hitting multiple shots in fast succession.
The control of the Ultimate 132 is partly attributable to the dense 16x19 string pattern. The sweet spot is pretty big and I really felt confident in my shot accuracy, even when I was slightly out of position.
With that said, I could also still pack a punch on harder volleys when I needed to, especially with a bigger swing and when I had more time on the ball.

Short Game
When taking the ball in short with a few drops and volley drops, I found that the Sonic Core Ultimate 132 felt very similar to another racquet in the Sonic Core range, the Elite 135.
Again, the dense string pattern really helped me guide the ball in exactly where I wanted it to go, especially when I had a lot of time on the ball.
The racquet's traditional frame shape and large 500cm2 head size are probably also to thank for the sublime levels of control provided by the Sonic Core Ultimate 132.
Maneuverability
To test maneuverability, I hit some figure of 8 routines and incorporated a few winners and crash nicks (both straight and cross court).
As expected, this racquet wasn't necessarily the fastest to play with due to its weight, but, I could still react to the ball if I needed too due to the head light balance point. The risk of mishitting the ball was also pretty low thanks to the large sweetspot.
This racquet really worked its magic when I had a bit more time on the ball, I was able to slot nicks and winners in on repeat with a bigger, more controlled swing.
I'd just like to add that Infinergy technology is also incorporated into the frame to reduce vibration levels by up to 37%, so when I was hitting multiple shots in fast succession, the impact on my arm was still minimal.
Final Thoughts and Recommendations
I'd recommend the Sonic Core Ultimate 132 to quite a wide range of players if I'm being totally honest.
Whether you're a club-level player or a more advanced player, I think this racquet could really benefit your game, especially if you prefer to hit with a larger swing and are looking for a bit more forgiveness when hitting the ball hard.
The flex in the frame is incredibly comfortable and smooth, and the control this racquet provides is impeccable.
Overall, I'd give it a 9/10 for control, a 9/10 for feel, an 8/10 for power, and a 7/10 for maneuverability
If the Dunlop Sonic Core Ultimate 132 sounds like it might be the racquet for you, check it out on our website by clicking the button below ...