Used by Indian squash legend, Saurav Ghosal, the Head Graphene 360+ Speed 120 is designed to provide players with explosive power combined with accurate touch.
Unfortunately, I don't have any video footage of me playing with this racquet (as I do in the other Speed racquets).
Below is my written review of the racquet including its strengths and weaknesses as well as what type of player it benefits the most...
Racquet Specs:
Lengths
The weighting of this racquet makes it a great all-rounder when it comes to hitting lengths. Although it's pretty light (coming in at 120 grams) which makes it fast to play with, it also has that head-heavy balance point so you can get all of that weight behind the ball to access more power too.
Ultimately, when playing lengths, I think that the Speed 120's main strength is its explosiveness. You can deliver great power shot after shot, generate some serious head speed, and deliver a flurry of fast-paced drives on repeat thanks to that weighting.
This racquet also gives users excellent levels of feel and control thanks to Head's renowned Graphene 360+ technology featured throughout the frame which provides an ultra-clean, smooth feel upon impact with the ball.
Volleys
Again, explosivity is the key factor when it comes to volleying. If you've ever watched Saurav Ghosal play, you'll know just how good he is at pouncing on those volleys and taking them early to keep his opponent's on the move and dominate the T.
When you're playing at such a fast pace, it can be tough to control the ball accurately. Thankfully, the Head Graphene 360+ Speed 120 has a large 500cm2 head size which gives it a very large and forgiving sweet spot, meaning you can afford to hit off-centre shots every now and again without completely miss-hitting the ball.
The 120 gram weighting allows you to hit with a short punchy swing on the volley, but, yet again, that head heavy balance point helps you deliver power and pace on command.

Short Game
If you've ever watched Saurav Ghosal play, you'll know just how good his touch is and the Head Speed 120 is designed to assist just that.
It's always great to have some extra time on the ball when taking it into those front corners, however, I'd say that this racquet also works its magic when you're taking the ball very early and fast.
Along with the powerful open 12 x 17 string pattern, Head has also utilised its Stringbed X-Tension Technology, both of which increase the rebound effect on the strings meaning you can guide and cut your drops in with some pace and still make them die far into the front.
Plus, the Octagonal Power Technology located in the shaft provides incredible levels of feel and touch for playing those drops with accuracy.
Maneuverability
The Head Graphene 360+ Speed 120 has great levels of maneuverability.
Again, that light 120-gram weighting lets you play with a short punchy swing shot after shot, but if you have a bit of time on the ball and want to play with a medium-to-large-sized swing, then that head-heavy balance point will help you out.
The racquet's huge sweet spot also helps a lot when reacting to balls coming directly toward you at a fast pace. Again, explosivity is the key with the Speed 120!
Final Thoughts and Recommendations
As I previously mentioned, this racquet could be classed as a good all-rounder, however, I'd definitely recommend it to players who lean closer towards a fast-paced playing style.
If you're looking to take the ball early and fast with a shorter swing whilst still delivering some serious power, the Graphene 360+ Speed 120 could be just what you're looking for.
This racquet does an awesome job of providing and assisting with pace, especially when strung in the open 12 x 17 stringing pattern, however, if you're looking to access a little more control, you can also get this racquet strung in a more dense 16 x 17 fanned string pattern too.
I'd give the Head Graphene 360+ Speed 135 an 8/10 for control, 8.5/10 for power, 8.5/10 for maneuverability, and 8.5/10 for feel.
If the Head Graphene 360+ Speed 120 sounds like it might be the racquet for you, check it out on our website by clicking the button below...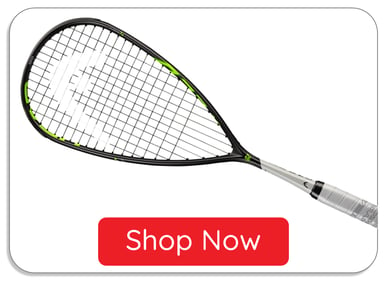 Click below to return to the main Head Speed page...