There are a number of reasons why Paul 'Superman' Coll (one of the best players in the world) uses the Head Graphene 360+ Speed 120 Slimbody Squash Racquet. It's light, fast to play with, and incredibly accurate too!
I decided to jump on court and put it to the test, here are my thoughts...
(Below is our video review of the Head Graphene 360+ Speed 120 Slimbody. If you'd prefer to read our review, it continues under the video).
Racquet Specs:
Lengths
The accuracy that this racquet provides is absolutely incredible!
Despite being pretty light at 120 grams, I found that the Speed 120 Slimbody's evenly distributed weighting made it perfect for playing tight deep drives with both large and short swings.
This racquet has amazing levels of control, touch, and feel thanks to the Graphene 360+ technology so you can guide the ball exactly where you want it to go. With that said, the open 12 x 17 string pattern also gives you access to some decent power without having to exert too much energy.
Volleys
Again, the light weighting of the Speed 120 Slimbody makes it incredible for fast-paced, controlled volleying.
You can generate really good head speed with ease on a short punchy swing which may be down to the thinner and more aerodynamic 16mm beam featured on this Slimbody version.
The larger 500cm2 head size of the Speed 120 Slimbody also gives it a large, forgiving sweet spot which is very beneficial when volleying and taking the ball early during fast-paced play. If the ball is coming directly toward you and you need to react fast, this large sweet spot is very helpful for controlling the ball under pressure.

Short Game
When taking the ball into the front corners with the Speed 120 Slimbody, the 'all-round' nature of this racquet made it perfect for taking the ball in fast and early to catch your opponent off guard.
However, its even balance point can be utilised by taking a little more time on the ball to ensure your drop is as accurate as possible. The awesome levels of feel delivered by the new Octagonal Power Technology in the shaft made me feel in control of every single shot from every single angle.
Ultimately, you're free to play with different paces as much as you want with the Graphene 360+ Speed 120 Slimbody. Whether you want to chop it in fast and early or take your time to guide it in softly and accurately, the specs of this racquet make it excellent for control.
Maneuverability
As expected, since the Head Speed 120 Slimbody weighs just 120 grams, it was pretty maneuverable during a figure-of-8 drill.
I can apply pace (even with a shorter swing) without exerting too much energy or I could lift and guide the ball softly for even more accuracy.
Again, the racquet's large forgiving sweet spot and amazing levels of feel allowed me to play confidently, consistently, and accurately just like Paul Coll, even when reacting to the ball coming towards me at a fast pace.
The Head Graphene 360+ Speed 120 Slimbody was great fun to play with and nothing was more enjoyable than cracking some nicks into the front corners with it!
Final Thoughts and Recommendations
I'd say that the Head Graphene 360+ Speed 120 Slimbody really is a great all-rounder.
It's ideal for players looking to control rallies on their own terms using precise accuracy, but also for players looking to control the pace by taking the ball earlier with a shorter and more deceptive swing.
I think it really gives players the opportunity to control the pace of the game.
I'd give the Head Graphene 360+ Speed 120 Slimbody a 9/10 for control, 8/10 for power, 9/10 for maneuverability, and 8.5/10 for feel.
If the Head Graphene 360+ Speed 120 Slimbody sounds like it might be the racquet for you, check it out on our website by clicking the button below...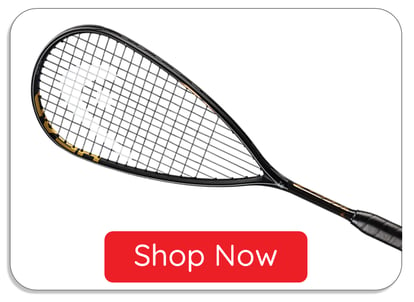 Click below to return to the main Head Speed page...