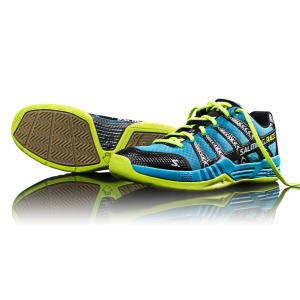 I have been using the Salming Race R1 shoes for a little over a month and I am very impressed with them. They are a very light pair of shoes. I have found them to be very comfortable. They grip the squash court floor very well and provide the support required for the hard movements we as squash payers make on court. They are a terrific pair of shoes for squash.
The top of the shoes are primarily a mesh material with an EXO Skeleton structure around that to provide the required support. Being mostly mesh definitely helps keep them quite light. Light shoes for squash are a definite benefit. They have to have the strength though to support the hard directional changes squash player makes though and they do.
I find the Race R1 from Salming to be pretty comfortable. They are very soft on the top of the shoe due to being primarily mesh. Due to this they require no real break in period. You can just put them on and play right when you take them out of the box. From a width perspective they are average. I have a pair of Asics Blast-5 as well and I find I have to pull the laces a little tighter on the Asics than on the Salming's. Both pairs are the same size so the Blast is definitely a bit wider shoe.
Traction on the squash court is imperative and they do not disappoint in this area. Squash requires a lot of directional changes. We plant are feet and expect our shoes to grip the floor so we don't slip. The Salming Race R1 I have found to be terrific at this. Grip though is not the only factor though in supporting the movements we as squash players make. The shoe itself has to hold our foot in place well inside the shoe. If you are moving laterally hard to cut off a ball and plant your foot hard to stop and change direction it is critical that your foot be held in place and the shoes do not let your foot start to roll. The Race R1 performs very well at this.
Overall the Salming Race R1's are a terrific pair of shoes for squash. They perform incredibly well for such a light shoe. Traction is very good and support is as well. If you are looking for a good performing, good looking, light pair of shoes the Salming Race R1's are an excellent pair of shoes for squash.