2020 has been a strange year for us all. The pandemic (which I'm sure you're probably sick of hearing about) has impacted everyone's lives in ways we would have never expected. Sports, in particular, took a huge hit worldwide, and indoor sports such as squash seemed to be amongst the worst affected.
However, and that's a big however, the unique ways that the squash community has handled the pandemic was absolutely incredible to see, and, despite multiple setbacks, we've still seen some amazing professional squash too! I'm hoping to shed light on the positives that came out of 2020 and what we can look forward to in 2021.
Speaking personally, I was on a great track at the start of the squash season, I was playing a lot, training a lot, and doing a lot of coaching at my local club. Then the pandemic hit, squash clubs closed, and I suddenly had quite a lot of time on my hands!
Like everyone else in this day and age, I turned to social media to see what everyone else was doing. Knowing much of the rest of the world was in the same boat was a little more comforting, and I was interested to see how everyone else in the squash world was coping.
I was pleased to see nothing but positivity, people helping other people, and a ton of fitness videos!
Coming Together in the Pandemic
Being a full-time professional squash player during the pandemic must be incredibly difficult. I can't imagine how it feels to have your passion, your income, and the thing you spend most of your time on every day taken away.
It was certainly a worrying time for squash players, with all clubs closed and tournaments cancelled, there was nothing to train for, so despite all this spare time, motivation was very low at times.
Instead of complaining about it, professionals, amateur players, and squash fans from all over came together to share training regimes, challenges, general help, and all-round awesome content.
Overall, the general mood was very uplifting despite the situation. All of the content that was posted during this time was much more about bringing people up who may be struggling, keeping things positive, and looking to the future.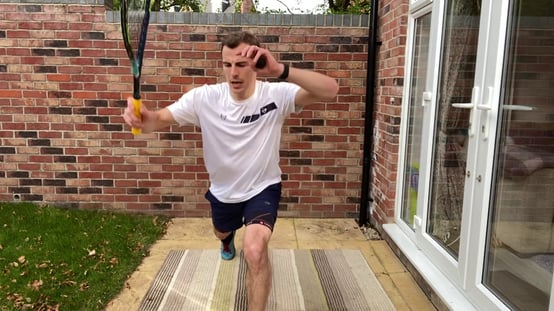 (Image from Nick Matthew's YouTube)
Personal favourites of mine included Nick Matthew's fitness workouts, Daryl Selby's trick shot challenges, and Grégory Gaultier's exercise challenges (all of which are still available if you scroll back far enough on their social media accounts, Nick Matthew's routines are also on his YouTube account which is a little easier to find).
Many amateur players also got involved in these challenges and some of their trickshot videos even went viral!
Amongst all the uncertainty, it was really humbling to see everyone come together in this way, it really says a lot about the sport.
Professional Squash and the PSA Tour
When the pandemic first began, with no live squash to watch, the PSA made sure to give squash fans their regular fix of professional content.
The PSA began posting awesome segments like 'Signature Shots', 'PSA Rewinds', and, our personal favourite, the 'Greatest Battles' videos, the most recent of which highlights some of the closest matches between top players.
By August time, the PSA Tour had issued a provisional calendar for upcoming tournaments and a return to squash for the pros. The first tournament back, on the 16th September was the Manchester Open, a PSA World Tour Silver event held at the National Squash Centre in Manchester.
Leading up to the tournament, I was intrigued as to how players would be playing and whether anybody would have any noticeable changes in style or technique, or even if anybody was a little rusty from lack of competitive play.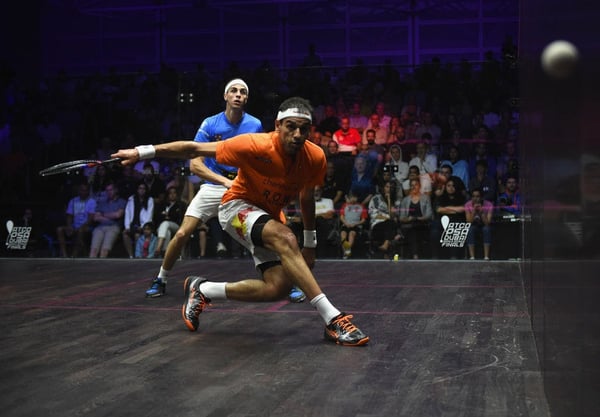 (Image from PSA website)
There was absolutely no crowd to cheer them on and no face to face coaching in between games, this was arguably a whole new challenge for professional squash players to deal with.
Overall, it seemed like everybody was playing pretty well, although there were a few more scrappy rallies than usual, but that was to be expected! Regardless, I think everybody is really happy that professional squash is back.
However, it's important to remember that many lower level tournaments haven't returned yet, meaning lower level players looking to climb up the ranks have been hit quite hard.
The PSA Foundation launched its 'We Are One' fund in August, in order to support professional squash players who are experiencing both financial and emotional difficulties due to the impact of the ongoing global COVID-19 pandemic. What an awesome initiative!
Looking to 2021
I think most people have high hopes for the future, COVID has been going on for almost a year now, however, there are good things on the horizon. Vaccines are now rolling out across the planet, and hopefully once that kicks in, us amateur players will be able to get back to playing competitive squash!
A lot of good stuff has came out of 2020 that will hopefully pass over into 2021. Professional squash content seems to be booming now more than ever too. Squash has clearly took a big hit from COVID, but, it was on a great growth trajectory and I think that it shouldn't be long before the sport is back on track.