I'll have to apologise in advance as I'm a little over a week late with this, but on October 15th, French squash legend Gregory Gaultier announced his immediate retirement from professional squash.
At the age of 38, he's been a much loved player on the PSA World Tour through a number of different phases and generations of squash.
It's only fitting that we dedicate an article to the incredible career and legacy of the 'French General'...
Gregory Gaultier has been the most successful French squash player of all time and he achieved some absolutely incredible things over the course of his squash career.
Even in his later years, Gaultier has always been known for his gritty, relentless style of play. He possesses the rare combination of being physically, technically, and mentally proficient all at the same time.
Gregory Gaultier was easily one of the most entertaining players on the tour, whenever he had a match I'd make sure to watch it whenever possible. His flare and passion made him amazing to watch both during and between rallies.
The image further down shows exactly that.
For those of you who didn't know, Gaultier actually had 15 months away from professional squash due to a career-threatening knee injury in 2018. After two surgeries and a lot of rehab, he returned to the sport in the 2020 J.P. Morgan Tournament of Champions.
The picture below is Gregory celebrating after beating Omar Mosaad in an epic match. You can watch the full clip of the celebration in 'The General is Back' if you fast-forward to the 4:20 mark.
Against the odds, Gaultier's return to pro squash was absolutely awesome to behold. You can see just how much it means to him in the celebration.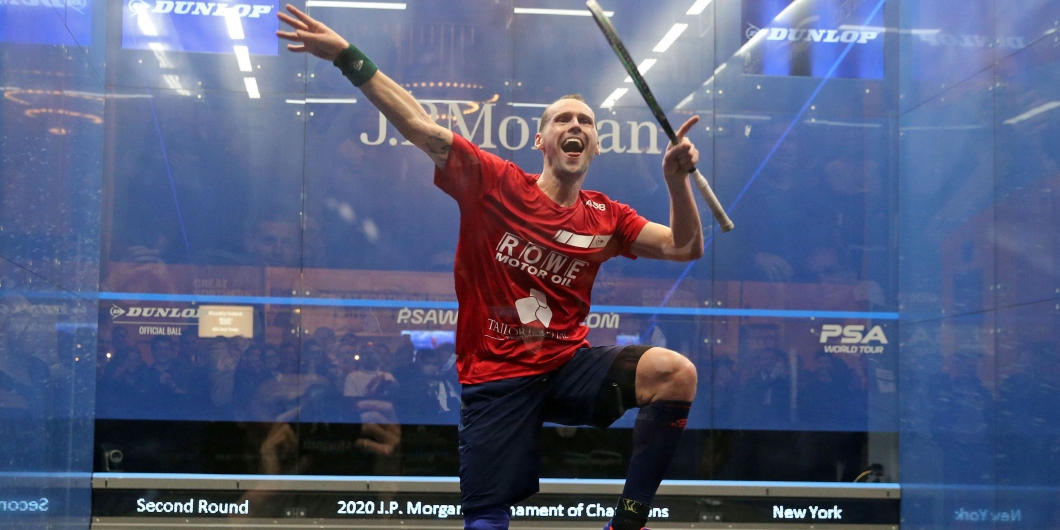 Image from PSA website
In his Instagram retirement post, Gaultier mentioned:
"The last 3 years were mentally and physically the toughest by far, having a year off with 2 surgeries was an unexpected challenge to face and not the way I wanted to end my career. however, I'm still proud that I managed to play and compete again. I will always take some comfort that I did all I possibly could to get back to the top and I will take it as a life experience."
His return to squash clearly showed his passion for the sport and his sheer determination to be the best that he can be.
With regards to his achievements throughout his career, the list is pretty long!
Gaultier claimed a World Championship title, three British Open titles, three PSA World Tour Finals victories, and, a total of 44 PSA Tour titles and 586 wins overall. He also spent 20 months at World No.1 and holds the record for being the oldest World No. 1 of all time.
According to Gaultier's Retirement Announcement from the PSA: 'Gaultier's efforts leave him fifth on the list of all-time PSA Tour title winners, behind only Jansher Khan, Jahangir Khan, Mike Corren and Peter Nicol. Gaultier also holds the men's all-time record for the most matches played on the PSA Tour (since records began).'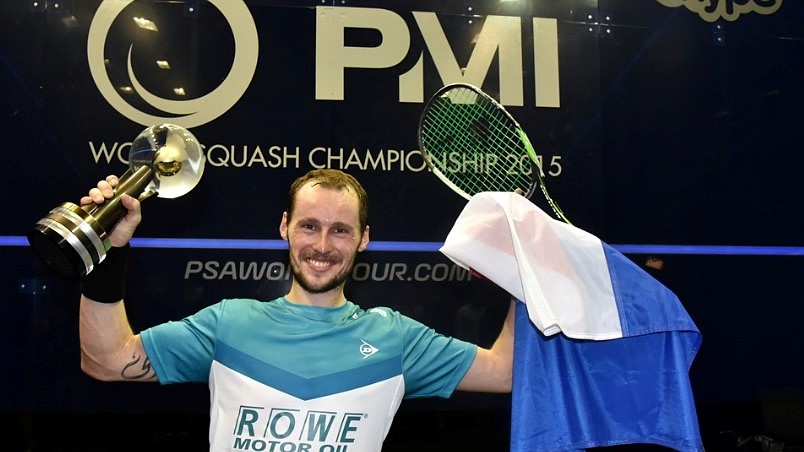 Image from World Squash website
Gaultier spent around two decades performing at the highest level of squash. Being able to play at the standard he did and maintain it consistently for that length of time is very rare in the majority of competitive sports.
Gregory Gaultier is going to be a huge miss on the PSA World Tour and all of us here at Control the 'T' Sports wish him all the best in his retirement.
He's certainly earned a rest!
---
This article was taken from our On The 'T' Newsletter, if you're interested in receiving more content like this, please feel free to sign up using the subscribe section in the top right of this page (or underneath the article if you're on mobile), thanks!