Aged just 23, France's Victor Crouin has skyrocketed up the world rankings over the course of his professional career so far.
Currently positioned at a career-high ranking of World No.9, Crouin has 19 titles under his belt and 187 match wins (at the time of writing this article).
He's easily one of my favourite players to watch. I've made efforts to watch Crouin's matches on Squash TV whenever I can for a while now, however, I can pinpoint the moment I became a proper fan of Victor's, and that was when he won the Open de France in Nantes (2022).
He overcame Marwan ElShorbagy 3-2 (12-10 in the fifth) to take the title and I remember being on the edge of my seat throughout the entire match. According to Victor, this is possibly the most memorable match in his career in terms of emotion!
I remember being in awe after watching him pull off two of the best crash nicks I've ever seen in that fifth game (one at 9-9 and the other at 10-10). Hitting those kinds of shots at any stage in a match takes a lot of confidence, but, doing it at those stages of a big final is absolutely insane!
Anyway, this week I'm thrilled to be able to share an exclusive interview with Victor in which he answers questions about his life, his career, and his goals for the future.
Before we dive in, I'd just like to say a huge thank you to Victor for answering these questions at such a busy time of the new season. He only recently played in the Paris Squash Alpine platinum event, and by the time you're reading this, Victor will also be playing in the Qatar Classic in Doha (another platinum event).
Good luck Victor!
Let's crack on with the interview...
Victor's Bio:
Age: 23
Height: 170cm
Weight: 65kg
Born: Marseille, France
Sponsor: Dunlop
Highest World Ranking: 7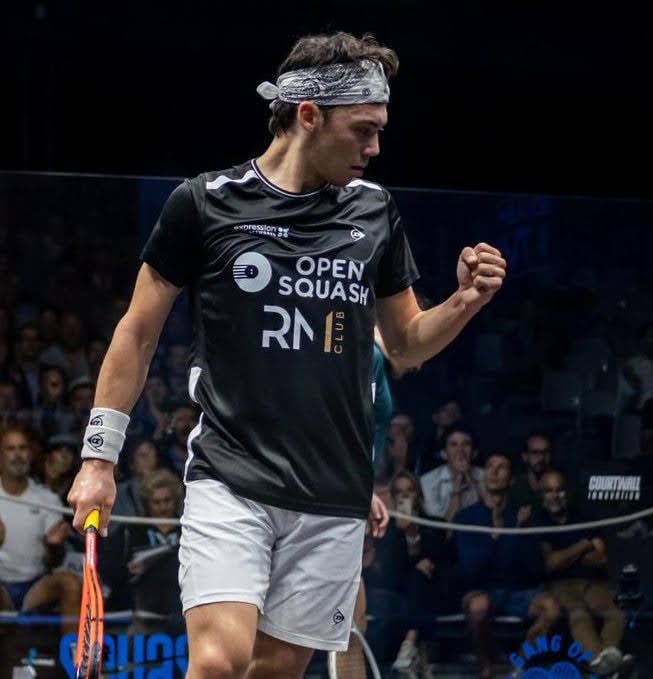 Photo credit: Steve Cubbins
Please tell us a little bit about your squash journey so far including where, why, and how you got started in the sport?
Well, my dad has been a squash player for more than 20 years. He hit the ball for the first time in his twenties and, when I came along, I remember going to local amateur tournaments and watching him compete. I first picked a tennis racket when I was 4, and then joined the squash wagon at the age of 6.
I played both tennis and squash until I was about 10 years old (alongside playing the piano). I was quite active as a child; my mum was a "taxi driver" for most of my childhood – one that would make me do my schoolwork in the car while driving to the tennis or squash courts by the way!
When I was 10, I became very competitive in tennis. I started to participate in regional camps and local tournaments. The competitive aspect quickly backfired though and I lost taste in the game of tennis.
Perhaps my dad playing squash also influenced my personal decision but I then decided to spend more time on the squash court. There was probably less pressure as well within the squash community as it is smaller and I had my dad around…
Anyway, I went through the normal French schooling system in a town called Toulon in the south of France (usually famous for its military/naval base as well as its rugby team) until the beginning of high school and was coached by my dad.
I then moved to Aix en Provence to a boarding school where I attended the French National Squash Center and trained with the best French players for three years.
I then returned home for a year during which I played full-time professional and devoted a lot of my time to applying to colleges in the US. A year later, I was studying at Harvard University. I graduated in 2022 and I have been playing as a full-time professional since the summer of 2022.
How would you describe your own playing style?
My approach to the game and training has been heavily influenced by Thierry Lincou and his former coach, Paul Sciberras.
Given my physical attributes, I have always tried to use height and variations of pace to outplay my opponents, keeping the ball straight and tight mainly.
Recently, I have tried to add more variety to my short game.
Could you share a memorable moment or match from your career that has left a lasting impact on you?
There are a dozen matches that I could have chosen, especially during my junior days when I felt more pressure and therefore more relief and emotions when winning titles/matches. I was also part of some memorable college and team matches in general.
But I think the final in Nantes last year was the best match in terms of emotions I have been a part of. I also have to mention the World Junior Championship final lost to my then-teammate-at-Harvard Marwan Tarek.
Who do you look to for inspiration and motivation, who are some of your squash idols?
Thierry Lincou and Greg Gaultier before anyone else but growing up, I was also a fan of Nick Matthew and James Willstrop. More recently, Ali Farag and Mohamed El Shorbagy.
To be honest, I have always tried to take something away from all the great players of the game because each one of them has a unique talent or skill that you can draw inspiration from.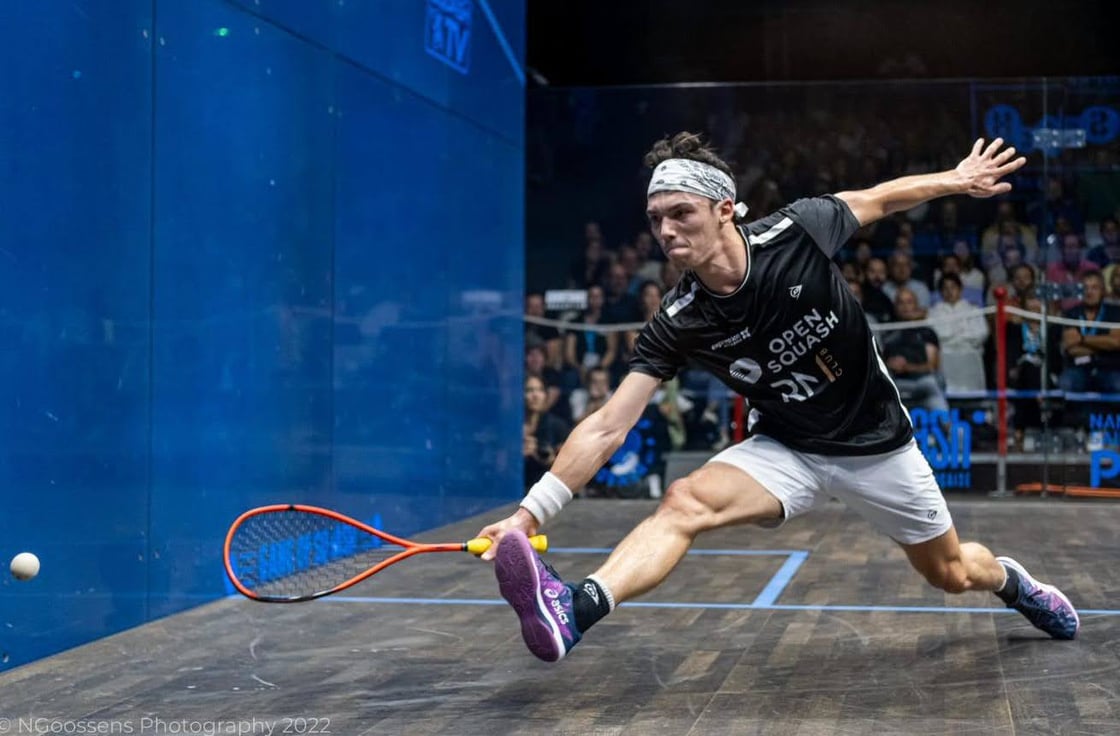 Photo credit: Steve Cubbins
Are there any specific areas of your game that you have been working on during the off-season?
Nothing specific to be honest.
It was the first summer I was able to put in a good training block so I focused heavily on the physical side, working on endurance, speed, and power.
What's your favourite shot?
Backhand volley fake straight!!
Do you have any squash rituals (either on court or in the lead-up to games and tournaments)?
Not really… My routines can change from one tournament to another but once I settle with a certain warm-up, then I stick to it for the rest of the event.
Obviously, it doesn't change much from one event to another but depending on space and conditions, it can vary a little bit.
How do you mentally prepare for matches and tournaments?
Video analysis, scripting on a journal, discussions with my coach, goal setting.
What are your favourite tournaments of the season?
Nantes, Paris Open, New Zealand Open, TOC, Canary Wharf.
The Paris Squash Alpine recently took place and was the first major PSA World Tour event held in France since 1994. As this event was held in your home country, it must have been an extra-special event for you to be a part of, did you enjoy the event? How did you feel about your performance?
Playing in Paris at the Palais de Tokyo in front of the Eiffel Tower was very special, and a dream come true.
I had a taste of what it's like to play in front of a French crowd last year in Nantes but a Platinum event is different as it regroups the very best players in the world and we all want to do well in these few events.
Friends and family came to support and to make some noise, and emotions ran high throughout the event. I am happy about my performances, although I would have liked to create an upset in the quarter-final stage!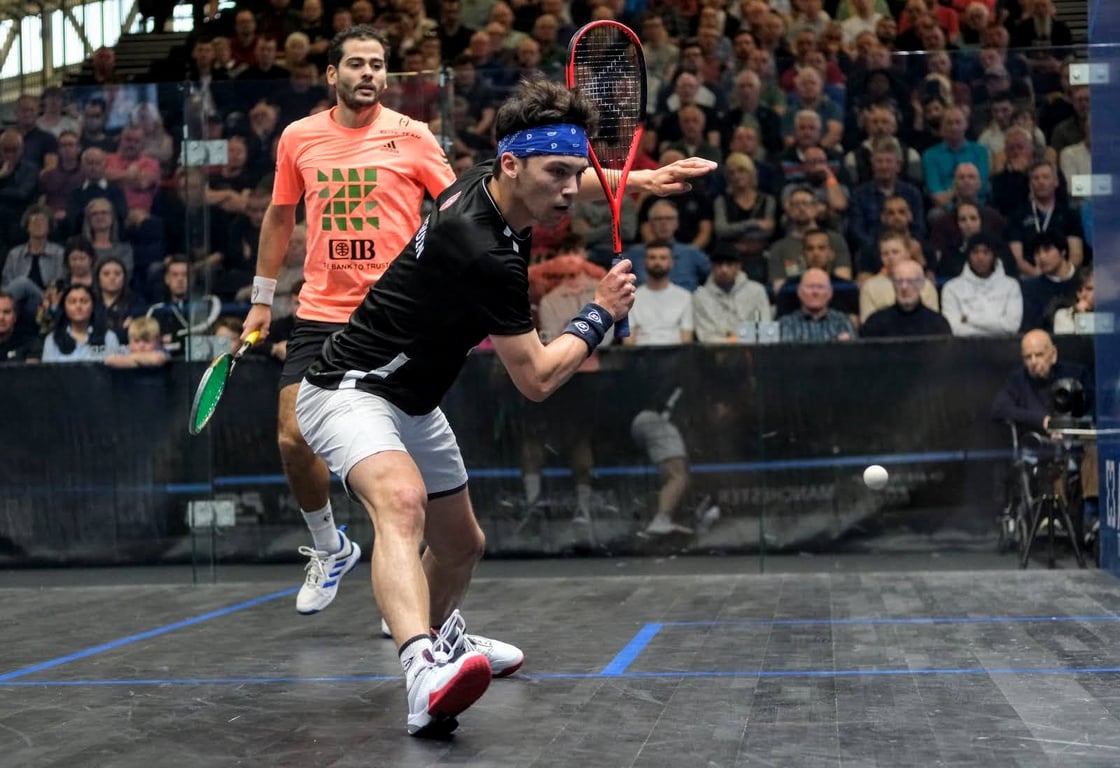 Photo credit: Steve Cubbins

Do you have any specific targets for this season?
I'd like to move into the Top 6 in the world this season. Concretely, I want to make semis and finals of the big events as well as winning more titles this season.
What are some of your longer-term goals and aspirations? (squash and non-squash related)
I want to become World No.1 and World Champion.
Reaching the top of the world ranking would be a dream come true and a goal I have had since I started competing internationally in the junior circuit.
I was never the very best but have always trusted myself and my potential. It is a difficult target but with enough years of work and experience, I believe I can achieve this goal.
On a broader level, I want to inspire kids to pick up a racket, to understand the benefits and opportunities that arise from going to college and having to balance both squash and academics and finally to pursue a professional squash career.
We are lucky to be able to live off our passion and I think the professional circuit will continue to grow in the next decade.
What advice would you give to aspiring squash players who are looking to improve their game and reach higher levels of competition?
The journey is more important than the outcome/result.
You must enjoy training, travelling, and the flow of emotions that comes with competing. Pressure is a privilege; it means we care about what we are doing. We need to embrace it and use it to transcend ourselves on court.
A squash career is an exploration of ourselves – our bodies and minds.
Always strive to be 1% better at the end of the day.
Be present and intentional during the few hours of training and don't neglect the work that needs to be done off-court before and after squash sessions.
Sleep, hydration, and nutrition are the pillars of good recovery; the rest brings marginal gains.
Final Thoughts...
And there you have it, a great insight into the life and mind of Victor Crouin.
I must add that, based on the atmosphere and excitement of French tournaments combined with the growing number of exciting upcoming French players, it seems as though squash in France has a particularly bright future ahead.
Thanks to French squash legends such as Camille Serme and Gregory Gaultier who are still heavily involved in the sport through coaching and events organisation, we certainly have a lot to look forward to.
If, like me, you'll be watching the Qatar Classic on Squash TV, make sure to give Victor's matches a watch if you can (especially if you haven't watched him play before)!
---
This article was taken from our On The 'T' Newsletter, if you're interested in receiving more content like this, please feel free to sign up using the subscribe section located at the bottom left of this page (or underneath the article if you're on mobile), thanks!