It feels like I only recently watched the PSA World Tour Finals at the end of last season, but, I'm thoroughly excited that we're now entering the new 2023 - 24 PSA World Tour Season!
If you're into watching professional squash, I'm sure you're anticipating it as much as I am. If you're thinking about watching professional squash and are somewhat new to it all, then perhaps now is the perfect time to start.
In anticipation of the coming season, I thought I'd focus a blog post on a few of the key tournaments to watch at the start of the season, I'll also delve into some of my favourite players and who to watch in these events...
I often write articles about professional squash because I absolutely love watching it myself and I like to take the opportunity to encourage others to start watching it as well.
Hopefully, this post intrigues a few of you enough to try out Squash TV!
We saw some real drama towards the end of last season with a bunch of big names on the men's and women's Tours battling it out for that World No.1 spot, and, I'd honestly say that it's very hard to pin down a definite World No.1 in either.
This is where the off-season comes in. Players will hopefully be coming back refreshed and prepared for another big push, and, many will have updated their tactics, techniques, and training routines to try to get the edge over other players.
I can't wait to see the changes!
With regard to prize money, it's no secret that professional squash players don't make as much money as top athletes in other more mainstream sports. However, improvements are constantly being made.
The PSA recently announced that the 2022 - 23 season brought in record amounts of prize money for players. According to their article, a record total of $8,947,290 worth of player compensation was on offer throughout the 2022 - 23 PSA Tour season, representing a 9.4% increase from the season before.
The aim seems to be to keep this upward trend this year and increase prize money again, with a number of new events being added to the calendar for the coming season which is really exciting.
Although, I think it seems to be the top players that make most of this money from winning (or placing highly) in the major events. In my opinion, it's the players further down the rankings that should also be focused on this season.
I know a number of full-time players in the top 100 who struggle to make a living from squash. If money wasn't an issue, I would assume that the overall standard of these lower-down players would increase.
Regardless, it's great to see a positive trend here!
Tournaments To Watch
Anyway, the first three months of this coming season feature a platinum event that I would definitely advise watching.
The first of which is perhaps the one that I'm most excited about...
The PSA recently announced that France to would be hosting a new major PSA World Tour Event for the first time since 1994. I haven't read a whole lot more about the event, named the Paris Squash Alpine, but I do know that it takes place between August 27th and September 2nd.
Since this is a platinum event, as expected, the draw (which is out now and viewable on the PSA website) features the best of the best players in professional squash including the majority of players from the men's and women's top 5.
The tournament will feature 96 players in total and, what I'm most excited about, is the a glass show court that will be situated on the grounds of the Palais de Tokyo (one of Europe's largest contemporary art centers) which I believe is very closeby to the Eiffel Tower.
Many of the big squash tournaments on the PSA calendar feature show courts in iconic locations including Time Square in New York, by the pyramids in Egypt, and in an aircraft hanger in France.
These courts always look awesome and hopefully, get new people interested in the sport too. I found an artist's render of what the show court at the Paris Squash Alpine should look like, and it looks amazing (I have featured it a little further down).
Prize money for the tournament is set at $380,000 which will be split equally between the men's and women's events.
The next big event is the QTerminals Qatar Classic which takes place between September 9th and September 16th. Again, this event will feature the majority of the big names in professional squash.
In some very thrilling news, the Qatar Classic (held at the Khalifa International Tennis & Squash Complex in Doha) will be featuring a women's event for the first time since 2015!
The last winner of the women's Qatar Classic title was Laura Massaro, it's very exciting that a new name will be getting etched onto the women's trophy this year...
The Qatar Classic is also where current World No.2, Diego Elias, won his first platinum title in 2021, so I imagine he will be hungry to get it a second time! The winner of last year's Qatar Classic was current World No.3 Mohamed ElShorbagy.
Prize money is set at $375,000 which will also be split equally between the men's and women's events.
Lastly, the US Open takes place between October 7th and October 14th and is always one of my favourite tournaments of the season.
Prize money for this event is $383,000 and it's a very high profile tournament!
Taking place in Philadelphia, the men's winner of this event last season was Diego Elias. He was facing Ali Farag in the final, however, Farag had to pull out due to injury which was a shame!
In the women's event, Nouran Gohar won the title last year after beating Nour El Sherbinin 3-1 in a pretty tense final.
I certainly wouldn't know who to bet on in any of these events, but if you want to get into watching professional squash, these three tournaments are the best three to help you get to know the players, the names, the rivalries, and the standard too.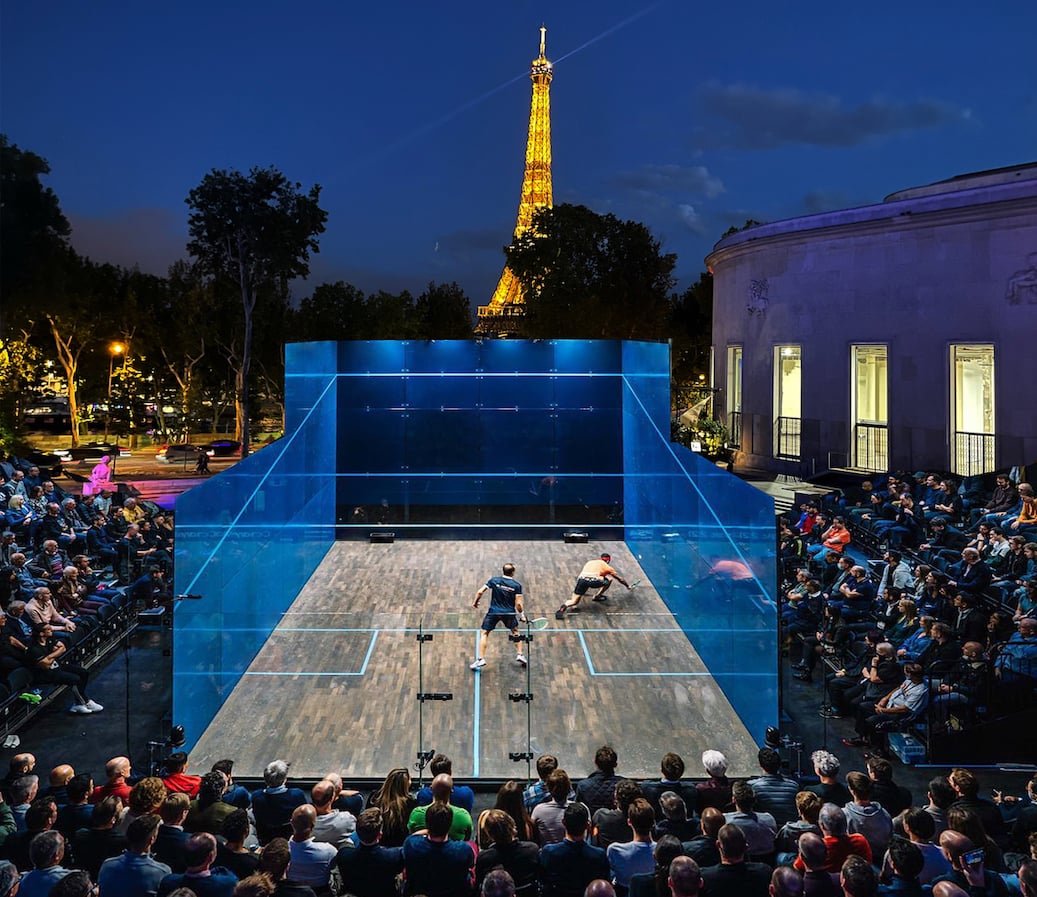 Players To Watch
We ended last season with Ali Farag, Diego Elias, and Mohamed ElShorbagy and World No 1, 2, and 3 in the men's rankings, and Nouran Gohar, Nour El Sherbini, and Hania El Hammamy as World No 1, 2, and 3 in the women's.
I'll chat a bit about the rest of the big names as well as who to watch from the men's Tour, and then will do the same for the women's Tour.
The Men's Tour...
So, as I mentioned briefly in the section above, Ali Farag (AKA Mr Fantastic) was out with an injury for a decent portion of last season, however, he made an absolutely incredible comeback to finish the season as World no.1.
He won the British Open, the PSA World Championships, the Manchester Open, and the El Gouna International after returning to the Tour. Farag is known as being a gentleman on court and his style of play involves him being extremely good at retrieving shots and then controlling rallies using tight lengths and lots of volleys.
In the running for number one is also Diego Elias, AKA the Peruvian Puma, who had a short stint at the top last season, but then dropped back down. Elias is a treat to watch, he's a pretty tall guy and his great at volleying and chopping in accurate drops.
He's crept further and further up the rankings over previous seasons, and, now he's battling with the best of the best to try to get back to World No.1. Elias' consistency and patience are is definitely two of the main things he has improved on.
However, there is also Mohamed ElShorbagy (AKA the Beast) in the mix who is one of my favourite players to watch on the PSA World Tour. ElShorbagy recently changed nationalities from Egyptian to English, so I'm always routing for him as an Englishman myself!
He has one of the most explosive, attacking styles on the PSA World Tour and his ambition of reaching World No.1 once more before he retires is no secret. He's hungrier than I've ever seen him, so, if you're wanting to watch some exciting squash, definitely watch Mo!
He takes everything incredibly early and uses the middle of the court so well. He takes all the time away from his opponents and doesn't allow them to get into a rhythm.
Sitting at World No.4 is Mostafa Asal. Asal is quite a controversial name within the squash world, but, I won't be going into too much detail as it's certainly a nuanced topic.
What I will mention is that Asal is currently undergoing a 3-month ban, effective immediately, for misuse of the racket, unsportsmanlike behaviour and dangerous play on court.
The topic of Asal has somewhat divided the squash world, many of his fans believe that his opponent's use his reputation against him to sway refereeing decisions, and that he is being scrutinised too harshly when other players who have perhaps displayed similar unsportsmanlike behaviour aren't subject to the same criticism.
Those who are not fans of Asal believe that he uses aggressive tactics and physicality to block his opponents and win at all costs.
I am somewhat on the fence on the topic still, the specific incidents in question that he was banned for definitely did happen and I think some kind of punishment was needed, however, I have definitely seen evidence of referee bias and other players on the tour using similar tactics.
Anyway, there's absolutely no arguing the young Egyptian's talent. He is an absolutely incredible player for his age. It will be very interesting to see if he has made changes when he returns to the court after his ban.
Last, but not least, is New Zealand's Paul Coll, AKA Superman. Coll has reached the World No.1 spot before and I remember it very well! It seemed like Coll had unlocked the secret to overcoming the Egyptian players (who are known for their more attacking style of play).
Coll was controlling all rallies with incredibly accurate lengths and volleys, and, he would play a very very disciplined, patient game with minimal risks and mistakes.
However, it didn't take long for the other players in the top 5 to adapt their game to Coll's new strategy and he has since dropped a little further back down the rankings.
I'm a big fan of Coll, he's one of the fittest players on the PSA World Tour and his focus is second to none. It'll be interesting to see if he can creep back closer to the top again this season!
So, those guys are the top 5, however, there are a ton of other men's players who I would urge you to watch. Here are a few of my favourites:
Mazen Hesham - Currently sitting at World No.7, Mazen Hesham is known for his unorthodox, disruptive style of play and he is a master of hitting accurate winners.
Karim Abdel Gawad - Possibly my favourite player to watch. He also recently returned to the Tour after being away with an injury. He's very tricky, super accurate, and an absolute pleasure to watch.
Miguel Rodriguez - Referred to as the Colombian Cannonball, Rodriguez is 35 years old and still pushing younger players to their absolute limit with his explosive, relentless game style. It's always going to be a thriller when Rodriguez plays!
Joel Makin - Similar to Paul Coll, Joel Makin is unbelievably fit. He can retrieve almost anything and will grit through the toughest, most gruelling matches.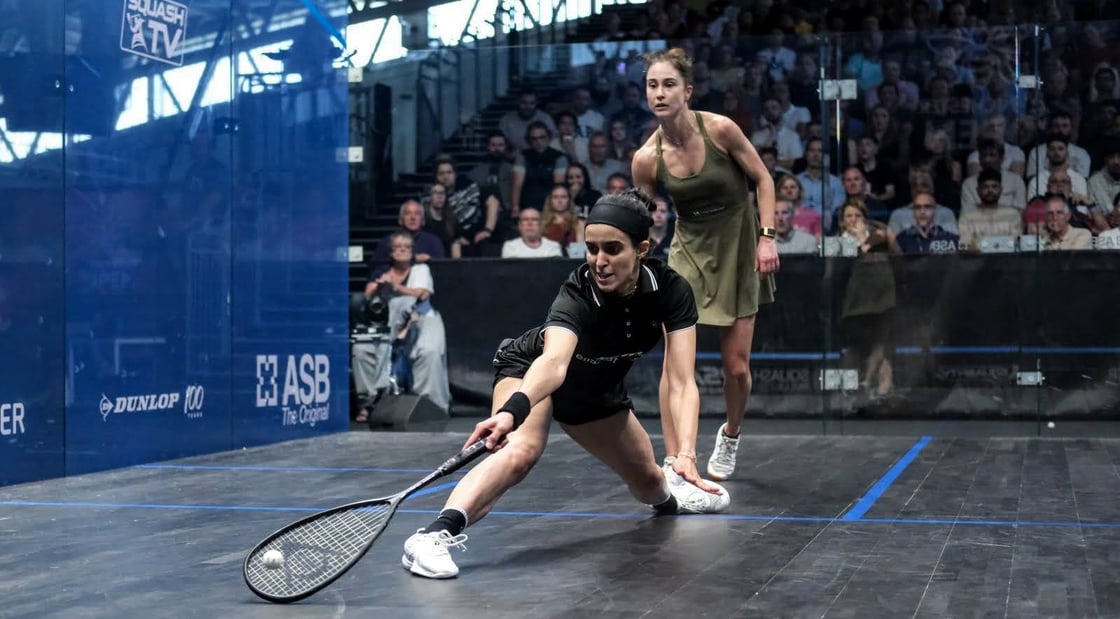 Photo credit: Steve Cubbins
The Women's Tour...
I know I said that it's hard to decide who is the clear World No.1 out of the men, however, I think it's even harder to do so on the women's Tour.
The top three players in the world, (Nouran Gohar, Nour El Sherbini, and Hania El Hammamy) are neck-and-neck almost every single time they come up against each other.
Gohar, nicknamed 'The Terminator', is absolutely relentless. She hits with unbelievable pace and power and will never ever give up.
It could be argued that she is a clear No.1 as she won a huge number of titles last season including the US Open, the Black Ball Squash Open, El Gouna International, and the CIB World Tour Finals.
The vast majority of finals of big events like the above are between these top three ladies and Nour El Sherbini (AKA the Warrior Princess) also overcame Gohar in a number of finals including the PSA World Championship, the Tournament of Champions, and the British Open.
El Sherbini plays a similar style to Gohar, but, perhaps it's slightly slower and more controlled and accurate. She is absolutely awesome to watch and has been very dominant on the PSA World Tour since a pretty young age.
However, Hania El Hammamy is also relatively new on the scene and she is possibly my favourite player to watch on the women's Tour. Aged 22, I believe El Hammamy's nickname is 'the Leopard' but I don't think that's official yet.
Something that should be noted is that El Hammamy and Gohar have quite a tense rivalry. It's very clear when they play that neither player will give the other an inch. They are there to win and they will do so at all costs.
I think this rivalry is absolutely great for squash, it can get feisty at times, but that's part of the entertainment.
Hania El Hammamy is yet to reach that top spot, whereas El Sherbini and Gohar have both held it for quite an extensive amount of time. It would be awesome to see her reach it this season!
Last season, Hania won the CIB Egyptian Open and the Hong Kong Open but then lost out to either El Sherbini or Gohar in nearly all of the other finals she made it to.
I'll be keeping a close eye on what these three players will have changed in the off-season.
At 4 and 5, Joelle King and Nour El Tayeb also should not be discounted. King was very consistent last season, every time I watched her she put everything into her matches and reached the late stages of a number of big events as well as winning the New Zealand Open and the Singapore Squash Open.
Nour El Tayeb is another great player to watch. Despite being slightly on the smaller side, El Tayeb's athleticism is absolutely awesome. I can't count how many times I've seen her do the splits or a dive and then carry on the rally.
Considering El Tayeb returned to the Tour in December 2021 (less than six months after giving birth), climbing back to the top 5 is an incredible achievement.
Again, there are also a bunch of other players on the women's PSA World Tour that I'd urge you to watch...
Amanda Sobhy - Sitting at World No.6, the US left-hander is a great player to watch. She's awesome at volleying and controlling the pace of play, plus, she's a great personality and ambassador for the sport off the court as well!
Nele Gilis - Gilis is a Belgian player who also hugely boosted her consistency last season. Working with Rob Owen, one of the best coaches in the world, Gilis is now regularly reaching the latter stages of events using her impeccable accuracy and shot selection.
Amina Orfi - Amina is a little further down the rankings, sitting at World No.43, however, she's only 16... which is just ridiculous. She won her first PSA title this season, winning the HCL SRFI Indian Tour and she also won the Sutton Coldfield International and reached the final of the Squash on Fire Open. For a player of Orfi's age to be competing with the top players, she definitely has big things to come...
Georgina Kennedy - Gina is also from England (like myself), so it's always fun to support her in competitions. Despite her smaller build, Gina is another relentless player who uses her accuracy and shot selection to overcome opponents. She has taken some major wins in her career so far and I'm excited to see her move further up the rankings in the coming season!
---
This article was taken from our On The 'T' Newsletter, if you're interested in receiving more content like this, please feel free to sign up using the subscribe section located at the bottom left of this page (or underneath the article if you're on mobile), thanks!