There's a reason that our slogan is 'helping you find the right gear for your game', we at Control the 'T' believe that everybody has different playing styles and that it's important to know what gear (racquet, shoes, grip etc) will suit your game best.
If you're a more experienced player with some long-term squash experience under your belt you probably have a go to racquet and go-to footwear, whereas someone who is newer to the sport may still be finding their style and need some direction... that's where we come in!
Being able to identify your own playing style is the crucial first step in finding the gear that will perfectly complement the way you play. You might be a fast mover, a hard hitter, an endurance player, or a control focused player, you may be a mixture of a few styles, but it's important to know!
I had a chat with current world number 54, Richie Fallows, about the gear he uses and why he uses it. Richie is a professional and does this for a living, so it's fair to say he knows what he's talking about!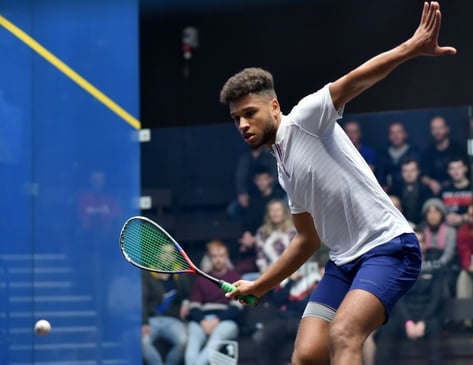 Racquet of choice...
Richie currently uses the Tecnifibre Carboflex X-Speed 125.
A few words from the man himself:
"I've used the Carboflex racquet for 10 years in total now and almost feels as if it's moulded to my hand now! I would say I'm a player that plays aggressively, and I feel that the Carboflex allows me to play like that, it's easy to rip through a shot but also steady enough for me to use my short game. I would say it covers all playing styles and will allow you to play your own game."
I must say, I'm also a long time user of the Carboflex myself and I absolutely love it, it's one of those racquets players just keep coming back to. The Carboflex is used by many of the top names in the world of squash for a reason, the list includes a few players you've probably heard of like Mohamed ElShorbagy, Marwan ElShorbagy, Nour El Sherbini, and Miguel Rodriguez.
I've seen Richie play quite a few times, and, going back to what he mentioned above, the Carboflex 125 suits his playing style down to a 'T'. He's incredibly fast, takes the ball very early, and attacks frequently, the Carboflex X-Speed 125 assists with all of those aspects thoroughly so it's fair to say that it's the right racquet for Richie's game.
Footwear
Richie uses the Asics Gel Blade 7.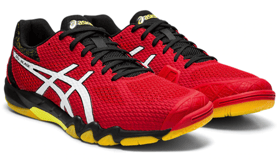 His thoughts:
"I believe that footwear is the most important piece of equipment that you have as a squash player, I also think Asics are at the top in terms of squash footwear! WIth all the different models that they make, for me the Gel Blades have been the most comfortable on court. I always go for lighter footwear, although lighter shoes tend to have a bit of a reputation for not being supportive, I feel that the Gel Blade has plenty of support for my style of play"
I assure you that it's a complete coincidence, but I also use the Gel Blade 7 as my shoe of choice...
The Gel Blade series is a popular favourite for a lot of high-standard players, it has a thin sole keeping you low to the court which assists fast movement. It's certainly lightweight, however, it doesn't have a large amount of cushioning compared to other indoor court shoes, so if you're maybe an older player or you're prone to injury, the Gel Blade 7 may not be the right shoe for you.
Final Thoughts...
Knowing what gear is right for you may sound like an easy task, maybe after a bit of research you can get a good idea, but, my advice is to always ask for advice!
I personally try to regularly ask my opponent how they think I played, what I was doing well, and what I was doing poorly, as your opponent knows better than anyone what your strengths and weaknesses are since they have experienced them first hand!
If you're searching for a new racquet, a new pair of shoes, or even if you just have a few questions about squash gear, please don't hesitate to get in touch with Control the 'T' Sports, we're more than happy to answer any of your questions!
Contact us here - https://controlthet.com/pages/contact-us
Are you interested in the gear featured in this blog post?
We have a few sizes of the Gel Blade 7 left on our site, so act fast!
The X-Speed 125 has been discontinued with the release of the new Airshaft models. We have the X-Speed version on sale now, while supplies last ...
CLEARANCE SALE: