Two of my favourite professional squash players on the PSA World Tour faced each other in the quarter-finals of the recent British Open.
Karim Abdel Gawad and Mazen Hesham are both renowned for their impeccable shot making skills, creative improvisation, and cunning deception.
It was obvious that it was going to be a thoroughly entertaining match right from the start and I must say I was on the edge of my seat for the entire match.
I'm aware that not all of you watch professional squash, so I will be including a few links to clips of the match where I can so you get a taste of the action too.
So, here's my match analysis of Gawad vs Hesham...
A bit of background on both players first, Karim Abdel Gawad is an Egyptian pro, aged 31, who currently sits at No.15 in the World Rankings.
His squash career has been incredible, he's one of the few players who can say that they have been World No.1 and World Champion. Out of the 39 finals he has reached, he has managed to claim 25 titles.
Gawad only recently returned to the PSA World Tour after a long time out due to injury and many people thought we wouldn't see him get back to where he was before.
But, his performance in the British Open serves as a clear reminder that he is back and raring to go.
Gawad has always been one of my favourite players to watch and it's been absolutely incredible to see him return to the court and play as well as (or even better than) he used to!
He's got a wonderful technique that's smooth and calculated. His precision when taking balls into the front is absolutely unmatched and he does it with awesome levels of cut, making the ball land unbelievably short.
He always plays the right shot at the right time and has a very calculated approach to play, being able to control the T and the pace of play very well using his accuracy.
Now onto Mazen Hesham (aka 'The Squash Falcon')!
Aged 29, also Egyptian, and currently sitting at World No.9, Hesham has reached 13 finals and claimed 8 titles including the recent Malaysian Open Squash Championships.
Unfortunately, Hesham has been struggling a lot with injury over the past few seasons including a hip injury and ongoing pain in his shins, meaning that he nearly always has a physio with him at tournaments to help out between games.
Despite this, he's been a very consistent member of the top 10 and I'd say his history of titles and wins doesn't do him enough justice.
Hesham has a very unorthodox style of play and mixes things up with unexpected angles and flicks which must make him an absolute nightmare to play against.
His backswing (mainly on the backhand) has a huge tipover that makes his shots very difficult to read, even when I'm watching him play I can never guess where the ball is going to go next!
Now, onto the British Open, Hesham's route to this quarter-final was a little tricky. He overcame Timothy Brownell 3-2 in his second round and then managed to beat an in-form Baptiste Masotti 3-1 in round three.
I'd say that Gawad's route to this quarter-final was a bit tougher. He battled through a big five-setter to prevail 3-2 against Miguel Rodriguez in his second round and then faced 'The Beast', Mohamed ElShorbagy, in the third round.
This was another five-setter and I was actually considering focusing a newsletter on that match too because it was so insane. Gawad won 11-9 in the fifth, stopping ElShorbagy's hopes of becoming World No.1 again.
An absolutely massive result for 'The Baby Faced Assassin' (Gawad).
Now onto the main match between Hesham and Gawad...
The two have faced each other a number of times in the past with the head-to-head ratio being 2-2 before this match (however, Hesham won both of their most recent clashes which is an interesting note).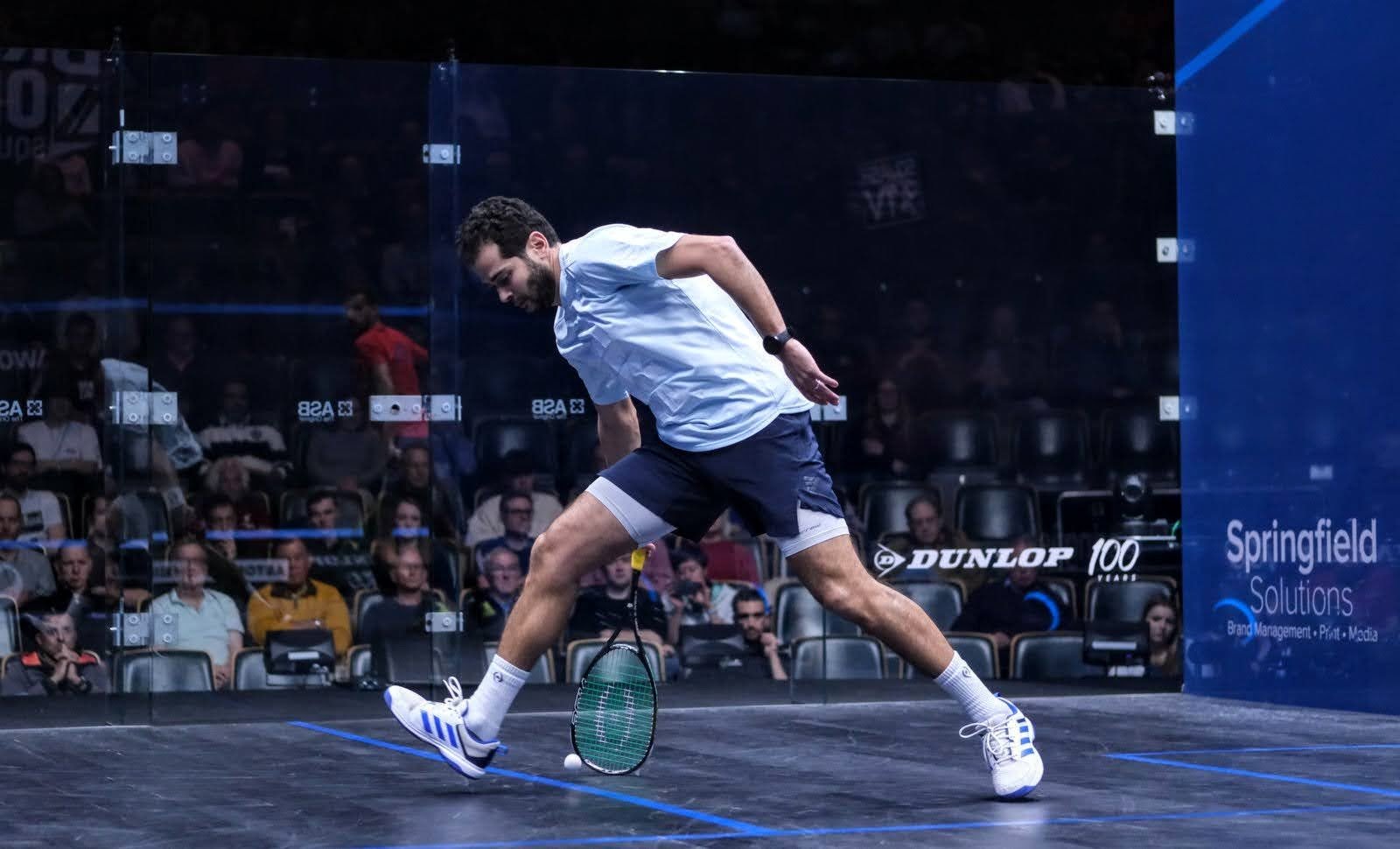 Photo credit: Steve Cubbins
An interesting factor that has had an impact on this years' British Open is the fact that many players are observing Ramadan, and therefore fasting throughout the daytime meaning no food and no drink during this time.
Ali Farag faced Tarek Momen in the match before this and you could see the impact that no water between games (and no food beforehand) had on both players' performance. Fatigue seemed to set in fast and Ali could barely talk during his speech after the match.
When it came to Hesham and Gawad's match, they would have been able to stop fasting around an hour before they played (I believe). So I was interested to see how they would both deal with this.
I don't think we actually found out whether or not they ate anything before going on, but I'd be intrigued to know since the time window was so slim.
But, this didn't seem to have a huge impact on either player's performance as they put on a masterclass from start to finish.
Although both players looked pretty exhausted towards the latter stages of the match, this may just have been due to the repeated tough movements required to pick up each of their shots to the front of the court!
Anyway, Gawad came out of the gate looking a little stronger than Hesham during the first game. He was commanding the T incredibly well and, although the pace wasn't insanely fast, Karim was able to get his drives so deep and tight that he didn't need to use pace to stay in control.
He was putting Hesham under so much pressure and then creating his own opportunities to take it in short, which he's already incredibly good at. Gawad took that first game somewhat convincingly 11-6.
But then the second game got underway and Hesham, all of a sudden, stormed off with a surprising lead. A few mistakes started creeping in for Gawad and Hesham started to sharpen up and find his length. It was an incredible turn around for the Falcon.
Gawad managed to claw it back in the second half of this game, but Hesham just had the edge, taking it 11-9.
I can't stress enough just how mesmerizing the rallies between these two were, just take a look at this clip from the second game and take in the angles, widths, and shot selection of both players, but make sure to come straight back to the newsletter (click here to watch it)!
Something really interesting about that clip that I didn't notice until Joey and PJ (the commentators) pointed it out was that straight after that rally, Hesham was clearly tired and bends down with his hands on his knees, but as soon as Gawad begins to turn around, Hesham abruptly stands straight back up to hide his fatigue from his opponent.
Usually, if I'm that tired I stop being bothered about whether or not my opponent notices it, but this just shows that every factor counts when it comes to professional matches like this and that players of this level are always thinking about these kinds of things.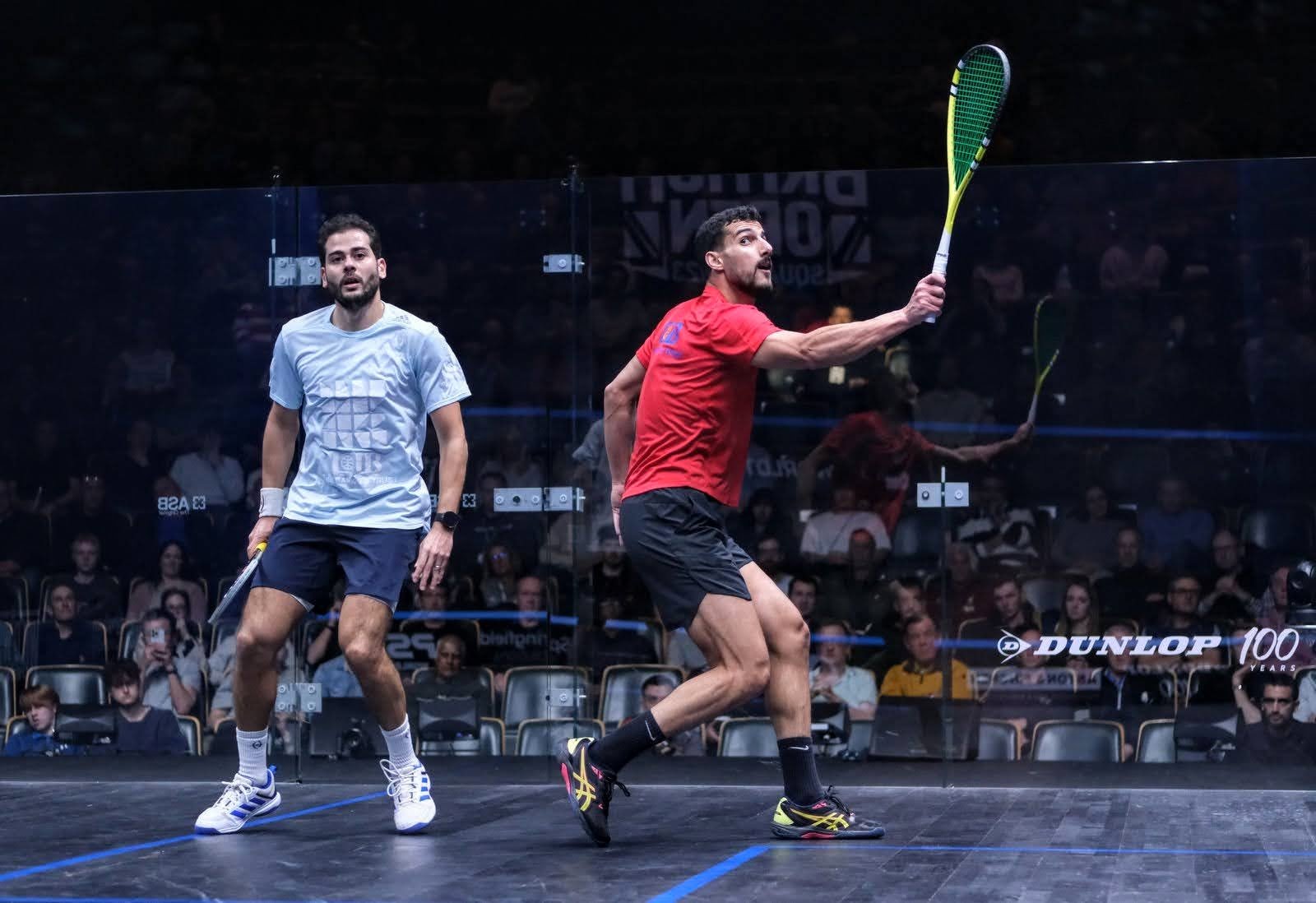 Photo credit: Steve Cubbins
They play such a different game compared to all other pros on the tour and this is what makes them both so exciting to watch. Not to discredit any other players, but at the moment, the game of squash is a lot more conservative and patience-orientated with many rallies being low-risk and fitness based.
But players like Gawad and Hesham work their magic by going for unpredictable shots and using deception which makes for very entertaining game play. Click here for another clip of Hesham cutting in a textbook winner from quite a tough angle (but again, remember to head back to the newsletter).
In that clip, you can see Gawad knew exactly where the ball was going even after Hesham's hold, but the shot was still just too accurate, awesome stuff!
Now, something I hadn't yet mentioned is that I did have some money riding on this match.
I very rarely place bets, however, to get myself excited for the night of quarter finals, I had bet a grand total of £5 on an accumulator with Ali Farag to beat Tarek Momen (which he did), Joelle King to beat Rowan Elaraby (which she did), Nouran Gohar to beat Sarah-Jane Perry (which she did), and Gawad to beat Hesham...
I believe my potential return was around £14, so there were big bucks at stake.
With that said, when Hesham pulled it back to 1-1, I was absolutely thrilled, I decided that I'd happily lose that £5 to see this game go on longer.
The third game was a real physical test for both players, with Hesham going ahead again and Gawad clawing it back until they reached 10-10. By then, you could visibly see that both players were looking pretty fatigued.
Each point had me right on the edge of my seat. Despite the tight score, both players weren't holding back on their shot making, with the attempted winners coming in thick and fast.
At this point, Hesham seemed to just be ever so slightly more in control and he took that third game 14-12. I began to see my precious £5 disappearing before my very eyes.
I must say, I was pretty confident that Gawad would win this match beforehand, but the display that Hesham was putting on was absolutely incredible.
As the fourth game got underway, I was expecting a drop in quality from both players because of how tight the third was, but again, I was wrong.
Hesham got off to a very convincing start with Gawad making a few unforced errors.
Gawad looked as though he wasn't sure what else he could do, whereas Hesham clearly had the fire in his eyes after taking the third game.
If you're wondering what the quality was like in this fourth game, just take a look at this clip in which Hesham wins a painful looking point to go 8-3 up, but, of course, come straight back to the newsletter (click here to view the clip)!
It was pretty clear from this point that Hesham was going to take the win so I jumped on my betting app and managed to cash out for a measly £1.16, so I didn't lose all of the £5 thankfully.
With that said, I don't want to discount Gawad at this point, because he was still fighting for every single point, but the momentum was just too far in Hesham's favour now and The Squash Falcon took the fourth game 11-6.
The best thing about this match was just how much both players were enjoying it. Physically, it looked absolutely brutal, but the tactical shot-making and entertaining rallies made it almost like an exhibition match, despite it being in one of the most prestigious tournaments of all time.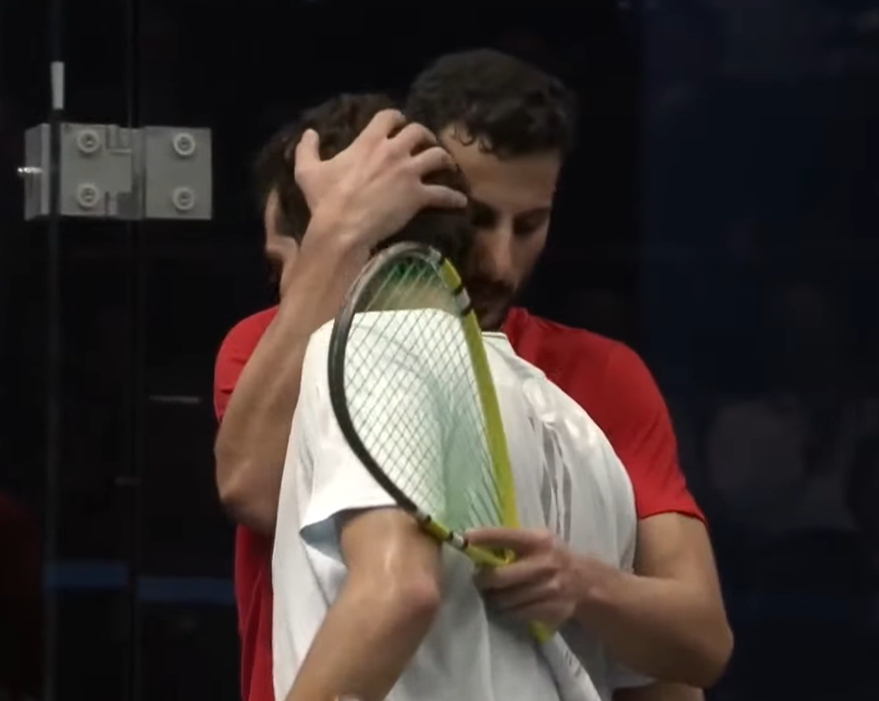 Hesham noted this in his post-match interview, stating:
"First of all, a big shout out to Karim (Abdel Gawad) for this performance. He's my favourite player on tour and I think the tour is missing players like him and guys with his skill and talent and class, I feel like it was an exhibition match as we were both enjoying it, and enjoying the shots we were playing. The first thing he said to me was go for this tournament – he's such a nice guy and a great friend. We compete in good spirit and I'm really happy."
Gawad telling Hesham to 'go for this tournament' is such a humble and powerful thing for him to say straight after a loss.
As I mentioned, I don't think Hesham's record is a good reflection of his standard as a player and it would be absolutely awesome for him to progress into the later stages of tournaments and get some more titles in the bag.
I'm rooting for him in this British Open, although I don't think I'll be putting any more bets on him.
As I write this, he will be mentally preparing for his semi-final against an in-form Ali Farag which will take place in a days' time. A massive test for The Squash Falcon, but he'll be willing and eager to prove himself!
So, there is my analysis of what I would classify as one of the coolest professional squash matches of the season. It's amazing to see Gawad back playing at the standard he was prior to his injury and it's also unbelievable to see Hesham reaching those later stages of the big events.
Also, you'll be thrilled to hear that, during my hunt for clips, the PSA literally just posted highlights from this high-tempo match on their YouTube page so you can see a great chunk of the action for yourself if you missed it.
Click here to check out the highlights, but make sure to head back and read the 'Around the Web' section below.
Update: Since writing this, Hesham unfortunately lost his next round match to an in-form Ali Farag who went on to take the British Open title for the first time in his career. Congratulations Ali!
---
This article was taken from our On The 'T' Newsletter, if you're interested in receiving more content like this, please feel free to sign up using the subscribe section located at the bottom left of this page (or underneath the article if you're on mobile), thanks!