Currently ranked at World No.7, Gina Kennedy is an English squash professional who, after absolutely skyrocketing up the rankings last season, has now solidified her place as one of the best players in the world right now.
Aged just 26, Gina has already achieved a heck of a lot including winning 11 titles, reaching 15 finals, and making the last eight of every tournament during the second half of last season. According to her PSA record, Gina now has a win rate of over 70% which is incredible.
Kennedy really came onto the map in June 2021 after returning from a four-year break (while she studied at Harvard University). She then went on to win seven of her first nine tournaments, which is an astounding achievement.
I absolutely love watching Gina play, especially since she's also from England like me. She is incredibly fit, plays an exciting, attacking style of squash, and never ever gives up without putting up a huge fight.
Anyway, Gina was kind enough to answer a few questions about herself, her squash, and her aspirations for this article
Let's dive in...
Gina's Bio:
Age: 26
Height: 166cm
Weight: 58kg
Born: London, England
Sponsors: Head, Teuton
Highest World Ranking: 6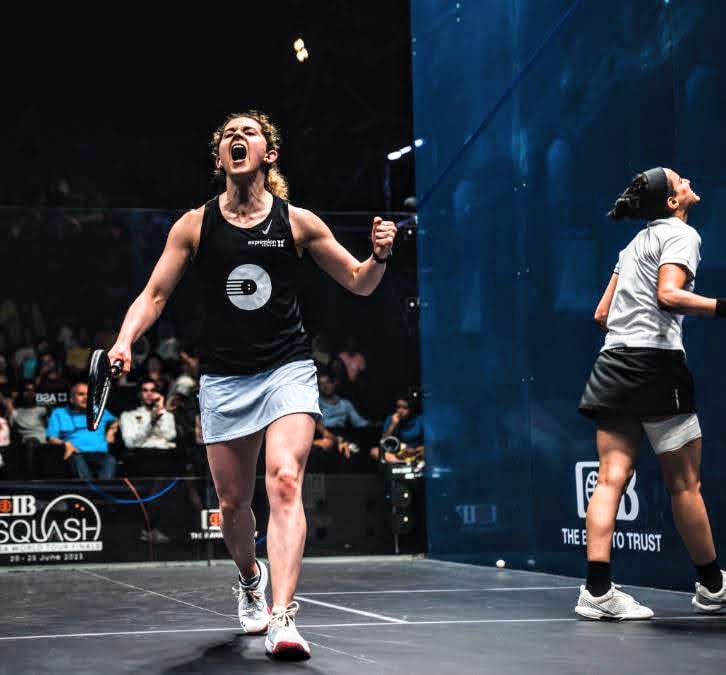 Photo credit: Steve Cubbins
Please tell us a little bit about your squash journey so far?
I have been playing squash since I was about 9 years old. I used to play tennis at my local club, The Parklangley Club, and my friend's dad asked my parents if I would consider playing squash with his daughter.
I absolutely fell in love with it but, at the time, I was a competitive runner, so squash was only considered to be a fun hobby for me. At about 13 years old, I decided to give up running and focus solely on squash, and haven't looked back since!
I still train at The Parklangley Club and I am so grateful for the support they have given me since I was 9 years old!
How would you describe your own playing style?
I would describe my playing style as very fast and attacking!
I am definitely known for my physicality so I try and use my speed to my advantage to inject some pace and get onto the ball as early as possible.
I absolutely love the physical side of the game so I want to make my matches as physically tough as possible!
Could you share a memorable moment or match from your career that has left a lasting impact on you?
My semi-final match in the Commonwealth Games against my teammate Sarah-Jane Perry will always stand out as a match that has left a lasting impact on me.
Playing SJ, who is a good friend and my England teammate, on such a big occasion was very special.
We had a huge battle on court in front of a home crowd in Birmingham and the atmosphere was absolutely electric. I had never experienced anything like it before and it will always be one of my favorite moments.
Who do you look to for inspiration and motivation, who are some of your squash idols?
My coach Ben Ford inspires me a lot. He goes above and beyond to help me and the passion and commitment that he has given to me each and every day for 14 years now really motivates me to work as hard as possible so that I can make him proud!
Nicol David has always been an idol of mine as I really resonate with the way she plays the game. I love her athleticism and her attitude both on and off the court and I have always tried to resemble her style.
I am also very inspired by the English girls, especially Laura Massaro and Alison Waters. I grew up watching them play and it is inspiring to see what they both achieved.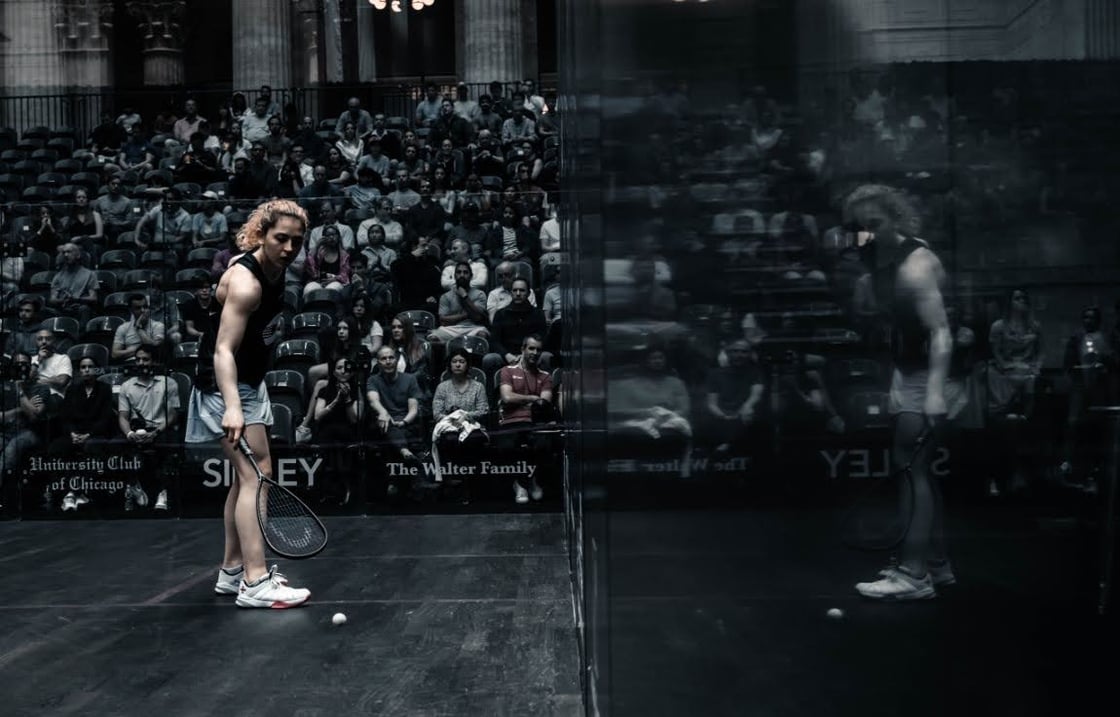 Photo credit: Steve Cubbins
What are some of your go-to pieces of kit?
I am sponsored by Head and so I use Head rackets, bags, grips, and strings. I use the Speed Slimbody 135 which I absolutely love!
Last season I began a partnership with Teuton for my shoes, and they are definitely the best squash shoes I have ever played with. When I am training I am a sucker for Lululemon leggings!
Are there any specific areas of your game that you have been working on during the off-season? If so, what are they and what sort of training routines/drills have you been doing?
I am constantly trying to improve my short game so I have been doing a lot of solo practice this summer to sharpen up and improve my ball control.
What's your favourite shot?
My coach would like me to say backhand volley drop but I do love a backhand boast!
Do you have any squash rituals (either on court or in the lead-up to games and tournaments)?
If I eat something before a match and I win, then I like to eat the same thing the next day as I (irrationally) think that changing my routine will result in a poor performance!
This will differ from tournament to tournament depending on where I am and what food is available! I also have a specific warm-up routine that I have to complete before playing.
How do you mentally prepare for matches and tournaments?
I was fortunate enough to be coached by Mike Way whilst I was studying at Harvard and, in addition to being a fantastic squash coach, Mike was an incredible mental coach too.
He taught me so many things about the mental side of the game and I use a lot of his ideas in order to prepare myself for matches.
Not only this, but I gain a lot of confidence knowing that I have put the work in in my training before I head off to a tournament, so I always make sure that I am doing everything I can to feel good in the lead-up to every event.
What's your favourite tournament of the season?
I would have to say my favorite tournament is the Cleveland Classic. I won my first bronze and first silver title at this tournament and I feel so at home when I am there!
I stay with the most wonderful host family (shoutout to Andrea and Mike Cunningham!) and I have the best memories there. I cannot wait to go back next year!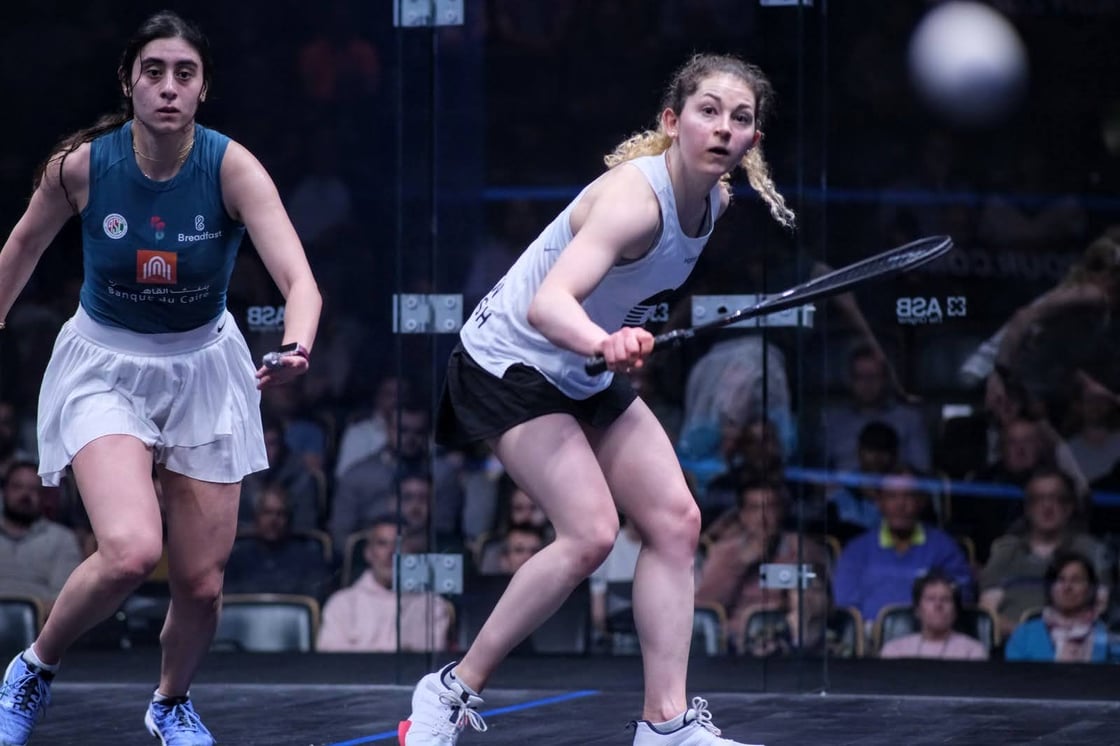 Photo credit: Steve Cubbins
Who are your most favourite and least favourite players to play on the PSA World Tour and why?
Me and Tinne Gilis are really good friends so it is always fun to play her as we always have a huge battle (usually 3-2)! I haven't played her in a while but I also love playing against Sabrina Sobhy.
We have a similar playing style and we went to Harvard together, so we know each other very well and it is always an enjoyable battle.
I also think everyone will agree that it is never fun to play against Sherbini when she is at her best because she can get you off-court in a matter of minutes!
Following your awesome rise to the top of the rankings last season (from World No.167 to World No.10), do you have any specific targets for this season?
Of course I always want to try and climb the rankings but my main target for this season is to try and focus on implementing my best squash in every match I play.
The rankings will take care of themselves so I just want to try and enjoy myself this season and not put too much pressure on results.
What advice would you give to aspiring squash players who are looking to improve their game and reach higher levels of competition?
I would say that it is important to not be too disheartened if results aren't going your way right away. T
There is no linear progression in sport and, whilst you might feel like you are improving a lot in training, it could take a while for the improvements you have been making to translate into your matches.
Be patient and know that as long as you are working hard and enjoying yourself, then the results will take care of themselves over time.
Final Thoughts...
There you have it, a great insight into the squash, life, and career of one of the top players in the world right now.
Gina is still early in her career and, in my opinion, she has more than demonstrated her ability to stay consistent and compete with all other top 10 players time and time again.
It's only a matter of time before Gina breaks into the top 5, it would be awesome to see her do this before the end of the season!
If you ever get the chance to watch Gina play (either on Squash TV or in person), I would highly recommend it!
---
This article was taken from our On The 'T' Newsletter, if you're interested in receiving more content like this, please feel free to sign up using the subscribe section located at the bottom left of this page (or underneath the article if you're on mobile), thanks!