Sarah-Jane Perry, from Birmingham (England), has had an incredible squash career so far.
She currently sits at 14 in the PSA World Rankings (and her highest ranking is No.5), she has an impressive 11 titles under her belt and 240 wins in total.
Being from England myself, I have been lucky enough to see Sarah-Jane Perry play in person on a few occasions, she is absolutely great to watch. She plays a very attacking style of squash with lots of volleys and kills which is really entertaining.
Sarah was kind enough to chat with us in an interview that I'm thrilled to be sharing with you all!
She delves into her career, memorable moments, plans for the future, and even gives some advice to aspiring players...
Sarah's Bio:
Age: 33
Height: 183cm
Born: Birmingham, England
Sponsor: Dunlop
Highest World Ranking: 5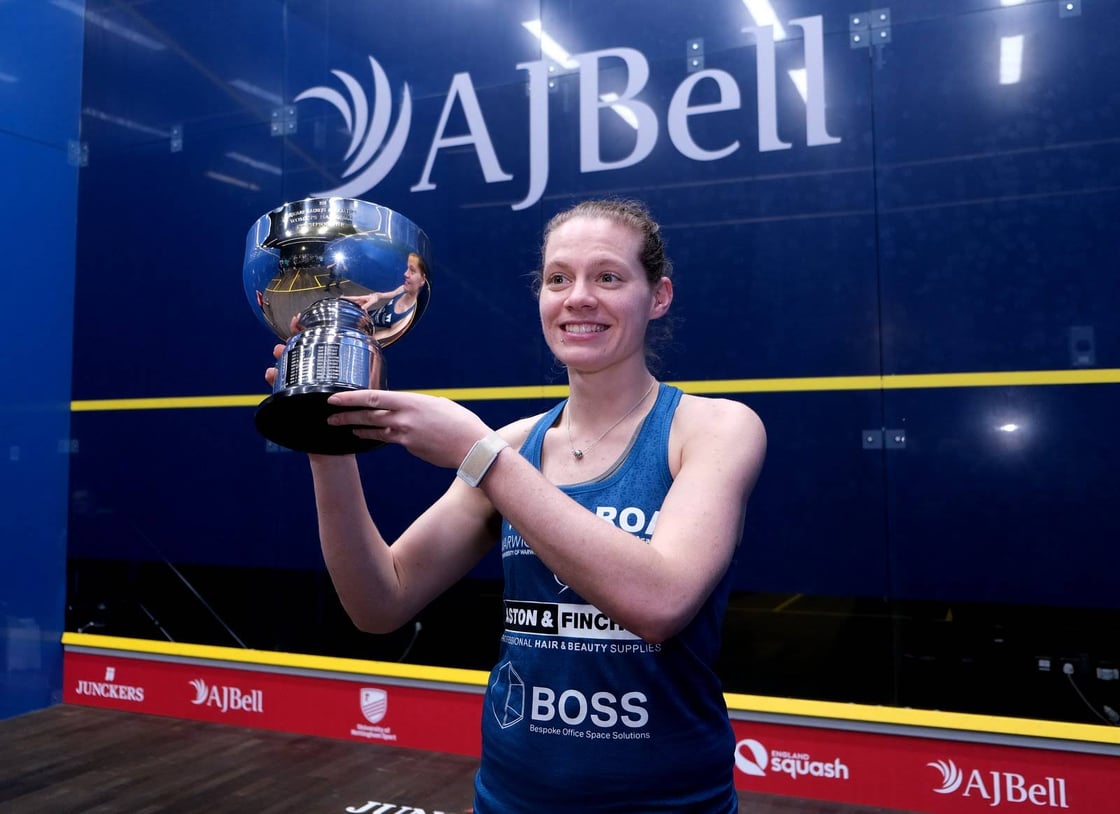 Photo credit: Steve Cubbins
Please tell us a little bit about your squash journey so far including where, why, and how you got started in the sport?
My dad played for the teams at our local club which was Four Oaks Squash Club in Sutton Coldfield near Birmingham.
I began going to the junior sessions around 5 years old and carried on playing at Kenilworth Tennis & Squash Club when we moved to Kenilworth when I was 8.
Steve Townsend became the head coach and started coaching me when I was 10 and I started playing junior tournaments around 11/12.
How would you describe your own playing style?

I would say my style is quite attacking, using as much variety in pace, height, and angles as possible to break up my opponent's rhythm.
Could you share a memorable moment or match from your career that has left a lasting impact on you?
Winning the world teams with England in Canada is something I will never forget.
There have been a lot of moments I have been proud of for my own personal achievement but it was particularly special to be part of a team representing my country and being World Champions.
Who do you look to for inspiration and motivation, who are some of your squash idols?
I look to people who have succeeded by doing things their own way, not the expected way.
I've always been a huge fan of James Willstrop's squash and could watch him play all day!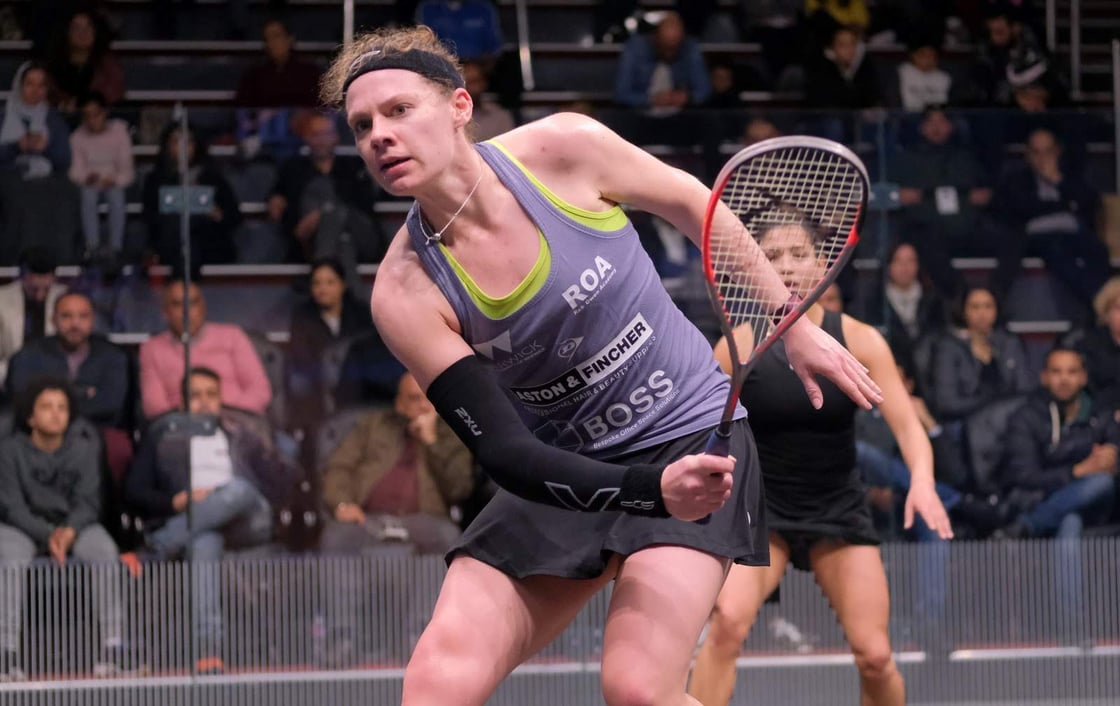 Photo credit: Steve Cubbins

What are some of your go-to pieces of kit?
My signature Dunlop racket (Sonic Core Revelation Pro Lite) is obviously the most important piece of kit…the new limited edition one is even better, I love the balance and the control it has.
I always use the clear Dunlop Pro AF string and Dunlop PU grips.
I always carry a pair of squash shoes in my hand luggage in case my luggage gets delayed as I wear custom orthotics and wouldn't be able to play without them!
Are there any specific areas of your game that you have been working on during the off-season? If so, what are they and what sort of training routines/drills have you been doing?
I've been working on my movement, being more efficient, and being more balanced on the ball.
This has involved a lot of ghosting in patterns, specific work in the gym to get stronger in certain areas, and pressure-feeding drills to bring it all together.
What's your favourite shot?
Backhand drop!
Do you have any squash rituals (either on court or in the lead-up to games and tournaments)?
I have plenty of things as part of my pre-match routine in the rest of the day before my match but nothing I would call a ritual or superstition.
How do you mentally prepare for matches and tournaments?
I always like to go into a match with a really clear idea of how I'm going to play to my strengths and give myself simple instructions to achieve this.
I can then visualise this pre-match and try to get into the same zone mentally and physically for the actual match.
What's your favourite tournament of the season?
Tournament of Champions is always an incredible event with an atmosphere unlike any other tournament.
The British Open is always special with the home crowd and more of my friends and family able to be there to support me.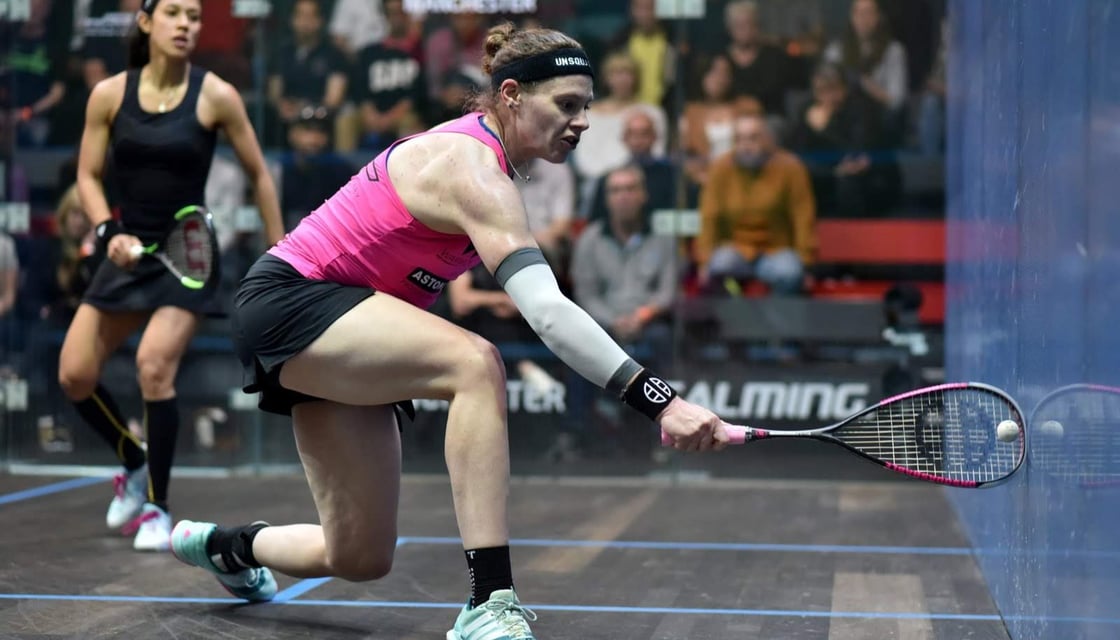 Photo credit: Steve Cubbins
Who are your most favourite and least favourite players to play on the PSA World Tour and why?
I always used to love playing against Raneem El Welily.
There was something extra special about being on court with her, almost appreciating the greatness of her squash whilst being part of it as well…difficult to explain but it was always enjoyable.
I've definitely been my own worst enemy on court during my career but that's the challenge of a sport like squash that is so physical, technical, tactical, and mental.
Do you have any specific targets for this season?
My target for this season is to play the squash I know I'm capable of now my body is in a good place from both an injury and illness perspective.
What are some of your longer-term goals and aspirations? (squash and non-squash related)
I want to reach the end of my squash playing career (hopefully not soon) knowing I've given everything I can and enjoyed the ride along the way. It's as important to enjoy the journey as it is to aim for an end goal for me.
You have been on the PSA World Tour circuit since 2007 which definitely makes you one of the most experienced players in the world right now. Do you think that this experience gives you a certain competitive edge over players who are newer to professional squash? If so, how?
I played my first WISPA event in 2007 but didn't really join the tour until I finished university in 2011, still a long time but feels like it's flown by.
Of course that gives me more experience than the majority of my opponents but that's only one aspect. There are so many ways to have the upper hand in a squash match, which is one of the main reasons I love the sport so much.
What advice would you give to aspiring squash players who are looking to improve their game and reach higher levels of competition?
Don't overlook the basics; you are never too good to improve your swing, movement etc. That said, make sure you know your strengths, build your game around them, and make them super strengths.
Final Thoughts...
There you have it!
Sarah-Jane Perry is easily one of the most experienced squash professionals on the PSA World Tour right now, so, it's incredibly intriguing to hear her perspective on the topics above.
I hope you found this interview as interesting as I did, and, lastly, a huge thanks to Sarah for answering these questions and allowing us to learn from her wisdom!
---
This article was taken from our On The 'T' Newsletter, if you're interested in receiving more content like this, please feel free to sign up using the subscribe section located at the bottom left of this page (or underneath the article if you're on mobile), thanks!