In my humble opinion, having a good grip is equally as important as having a good squash racquet. While playing sports with high intensity levels, such as squash, getting sweaty palms is inevitable. Over the years, grips in general have changed and developed significantly from using materials like terry-cloth to using tacky rubber. A squash grip needs to find a healthy balance between comfort and grippiness, and Karakal's long-time established PU Super Grip has nailed that combination.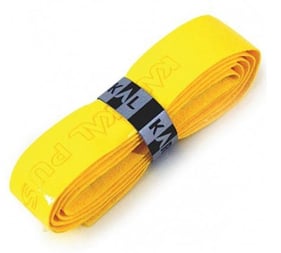 The Karakal PU Super Grip is the go-to grip for racquet sports players...
Background:
The grip was introduced over 28 years ago, and over the years it's had time to improve and adapt to become the well established grip it is today. Made from Polyurethane (the 'PU'), the technologies and innovations of the grip have progressed over time, the grip now features Karakal's new SRF (Slow Release Formula) Surface and 'Nano' sized particles at a molecular level for durability, gripping power, and comfort.
The PU Super Grip is what's known as a replacement grip, meaning that you must remove your existing grip from the racquet and put this one on instead, unless you like a very thick grip, in which case you can layer two grips on top of each other.
Why is it so popular?
The Karakal PU Super Grip really ticks all the boxes of what you would want a grip to be and is now considered the go-to grip for the majority of squash players. Super absorbent,
super tacky, extra thick, and extra long life.
For players who are passionate about more than one racquet sport, the PU Super Grip has universal length allowing it to be used for squash, badminton, racquetball, tennis etc.
It is easy to put on your racquet, and its sticky self-adhesive layer means that the grip won't move around in your hand or on the racquet once you put it on. Speaking from personal experience, the grip is durable, and the perfect combination of comfiness and grippiness. In other words, the grip is thick and squishy enough to absorb the impact from hitting the ball, but is also incredibly tacky so you can be certain it isn't going to slip out of your hand.
Options and styles:
Another reason why Karakal grips are a favourite for the majority of racquet sports players is the huge variety of colour options. Although it's not mentioned by Karakal, some people believe that different colours have different feels to them, and for whatever reason, yellow appears to be the most popular colour on the market.
However, if you're like me and just like to match your grip colour with the colours on your racquet, I'm sure Karakal will have an option for you.
The PU Super Grip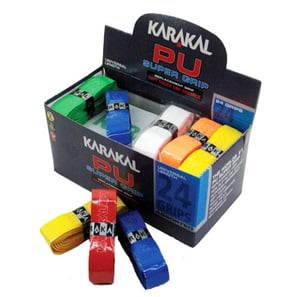 Coming in the majority of basic block colours so you can mix and match and find your favourite colour combination.
(Click on the image or the 'view in store' button to check out these grips on our site).
The PU Super Grip Duo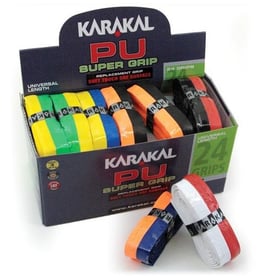 If you're looking for a more jazzy option and one colour just isn't enough, Karakal's PU Duo Super Grip features a combination of two contrasting colours.
(Click on the image or the 'view in store' button to check out these grips on our site).
The Point 75 Air Overgrip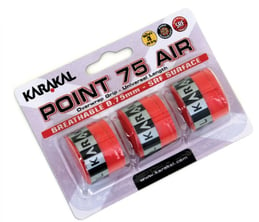 If you're looking for something a little thinner, Karakal also do overgrips, and the Point 75 Air Overgrip might be your answer. With 0.75mm thickness, it comes with a breathable surface to keep things cool, an elasticated base for flexibility, and is still nice and tacky.
(Click on the image or the 'view in store' button to check out these grips on our site).