You may be aware that we sponsor a number of exceptional squash players here at Control the 'T' Sports and I'm thrilled to announce that we have a new addition to Team CT!
Liam Marrison is a 22-year-old professional squash player from Markham, Ontario, and he's been playing squash since he fell in love with the game at the age of around 8.
After playing throughout the Junior Circuit and in professional singles, he's ready to take the Tour by storm!
Liam answered some intriguing questions for this blog post so you can get to know him a little better...
Q. What's your current ranking
My current ranking is 135 in the world.
Q. What is your current racquet of choice?
I currently play with the Dunlop Revelation 135 tear drop.
Q. Do you have any other 'go-to' pieces of kit? (E.g. shoes, a favourite t-shirt, socks etc)
When it comes to kit I can't really be bothered too much. The only thing that's an absolute must for me, is any Asics shoe. They are simply superior.
Q. Tell me a bit about your squash journey (perhaps when/why/how you started, how long you've been playing etc)
I transitioned from hockey into squash, so needless to say when I started I was getting my butt kicked. I grinded the squash Ontario silver circuit, until I was able to work my way into golds.
After years of hard work I was making Canadian teams, and competing at a high level internationally.
Q. Who are some of your squash idols?
Willey Hosey is one of my biggest squash idols.
He coached me a little bit as a junior and was a legend in his day. He is one of the funniest people I've ever met and a fantastic squash player. I definitely attempted to model my game and character after him.
Q. If you had the chance to play any player in the world, who would it be?
If I had to play any player in the world, I would choose Mohamed ElShorbagy.
He has been dominating the game since such a young age and is an absolute beast both physically and mentally.
It would be an honour to hop on court with him.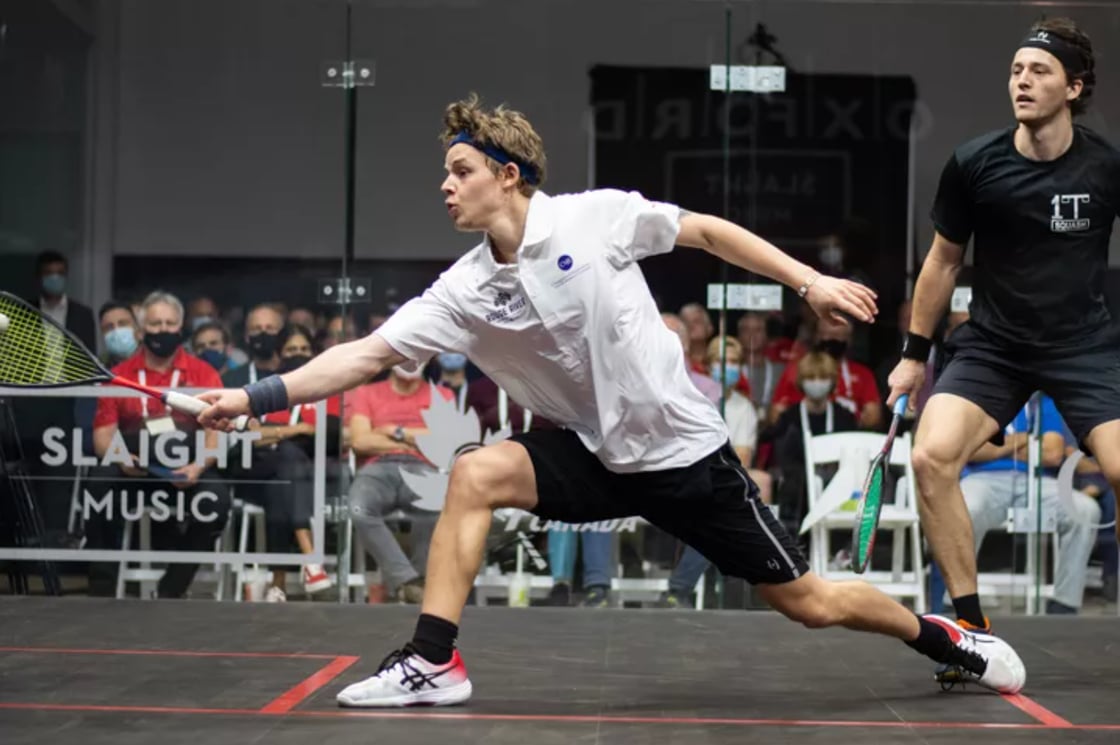 Q. What's your favourite shot?
My favourite shot is the Mizuki. I love to play it from all areas of the court on the backhand side, and typically, it catches out 90% of players until I overuse it.
Q. How would you describe your own playing style?
My playing style is chaotic. I'm calm on court in terms of my attitude, but I go in phases of attacking aggressively and grinding out long hard rallies.
I feel like I have good hands, and I also have solid speed and fitness. This results in random bursts of both skill sets. Which can both help and hinder my game depending on the day.
Q. What's are your favourite and least favourite drills?
The drill I despise the most, has to be straight, straight, cross. In my opinion it is so useless because people just cheat over and volley everything, which results in poor quality drilling.
My favourite drill has to be Egyptian alley games. This is where you can only play down the wall, but each player gets once cross court shot per rally.
Q. How do you mentally prepare for matches and tournaments?
Mentally, for tournaments and matches, I find I play my best when I'm relaxed as possible.
I typically chat with a lot of random people before my matches and listen to some calm music to keep me distracted and avoid getting too nervous.
Other than that, I just make sure to eat well and do a proper lengthy warmup along with film analysis of who I'm playing.
Q. What would you say is your favourite (or most important) personal squash moment so far?
I think my personal favourite achievement so far in squash was taking down Shawn Delliere in 5 sets after 80 minutes of hard squash.
I had just come back from training in Spain, and I was having a shaky start to my PSA career. So, it felt really nice to see the hard work I had been putting in finally pay off.
Q. What are some of your future goals and aspirations? (both squash and non-squash related)
My biggest goals in my squash career, are to crack the top 50 in the PSA singles rankings, win a men's Canadian nationals, and hopefully if it gets in, one day make an Olympic team.
Q. What's one piece of advice that you'd give to a beginner?
My biggest advice to any beginner starting squash, is just to stick with it and enjoy the community side of the game.
Squash is such a hard sport to improve quickly in. So, having patience is key. Also, the social side of squash is so enjoyable, as it's such a small and tight community. You have to take advantage of it the best you can.
And there you have it, a bit of an insight into the life and game of Liam Marrison!
If you follow us on social media, we try to post regular updates on Team CT's tournament participation and news, so make sure to keep an eye out for Liam's name.
---
This article was taken from our On The 'T' Newsletter, if you're interested in receiving more content like this, please feel free to sign up using the subscribe section located at the bottom left of this page (or underneath the article if you're on mobile), thanks!