In case you didn't already know, we sponsor a number of professional and up-and-coming players here at Control the 'T' Sports. We often refer to our players as 'Team CT' or 'Team Control the T' and we make sure to keep as up-to-date as possible with their tournament schedule and latest results.
It's always exciting to watch Team CT progress their game and reach their goals, whilst demonstrating an incredible standard of squash.
Anyway, we have a new addition to Team C and, if you like to follow Canadian squash players on the professional circuit, you have probably already heard of her...
Her name is Nicole Bunyan!
To get to know Nicole a bit better, I asked her a few questions about her squash journey, her goals, and much more.
Nicole is currently ranked at World No.46 and she's having a great season so far. In October, she reached her highest ranking of 39 and she's showing absolutely no sign of slowing down.
And, even off the court, Nicole certainly keeps herself busy, but I'll let her talk about that... let's dive into the interview:
Q. Tell us a bit about yourself
I'm Nicole! PSA player, strength & conditioning nerd, and creator of Squashletic. Originally from Victoria BC, and currently living in NYC. Played in college at Princeton University, and majored in Ecology & Evolutionary Biology, and minored in French Language.
Q. Could you tell us a bit about your squash journey?
I was always around the squash courts growing up, because both of my parents play. However, I was more interested in playing "squash golf" and making up other sorts of games than actually playing squash. I was also involved in other sports and activities that took up lots of time!
At the age of 10, I finally succeeded in convincing my mother to let me quit tap dance - on the condition that I replaced it with a different sport/activity. I chose squash! It started off as a very casual thing, playing once a week in my first year, then twice a week in the second year. Around the age of 13/14 I started to play more seriously and compete in National events (rather than just provincial).
Q. What made you make the leap to pro and how did you find the transition to full-time play?
I had a successful senior year in college, so I thought I would give playing pro a shot! However, I also wanted to do several other things, like work a job in NYC, so for the first few years, I split my time between playing pro/training, and working.
Fortunately, all of my jobs were fitness and squash related, which in some ways, made it easier to fit in training sessions. But on the flip side, this meant that I often used some of my best mental and physical energy for my clients, leaving me feeling a bit drained for my own sessions.
It wasn't until Covid hit that I was able to step back from both training/competing and coaching, and re-evaluate my priorities. After some trial and error, I managed to take my personal training business online for squash players, which was how Squashletic was born!
This has since allowed me the flexibility to prioritize my mental & physical energy for training and competing, while still being able to support myself financially. So in a lot of ways, you could say that my transition to full time play was in 2021!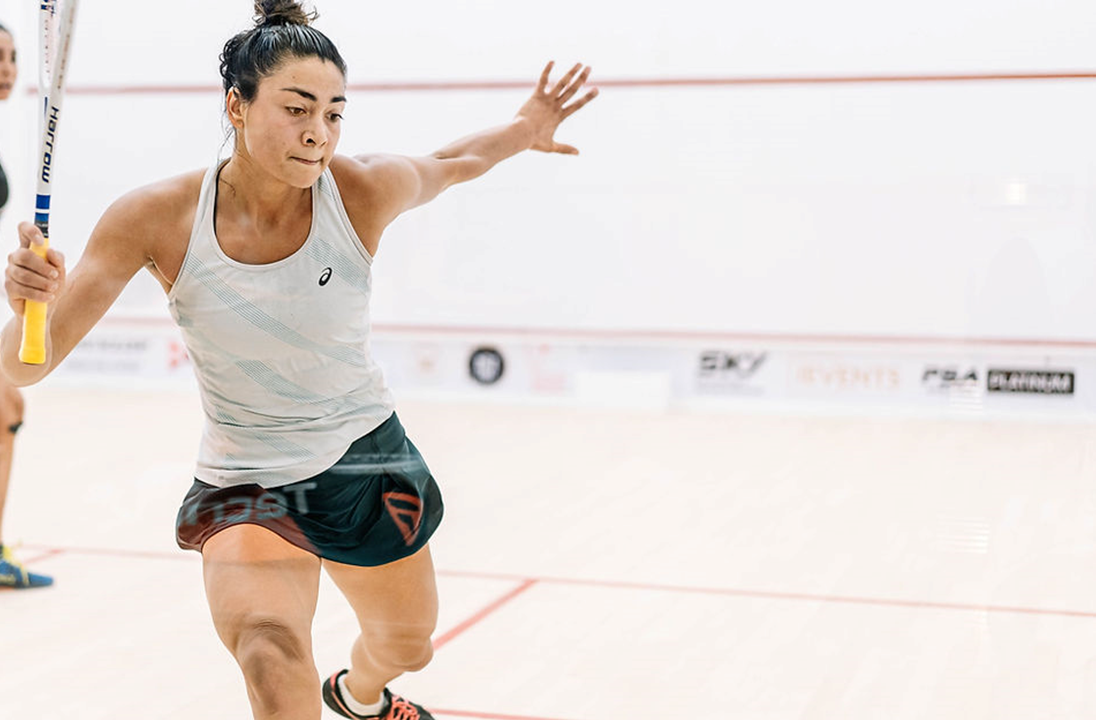 Q. Tell us a bit more about Squashletic and your coaching?
There are two main ways to work with me. The first is through the Squashletic Training App. This is a great option for squash players who are self-motivated and need some structure in their training.
Every month I release a new training template with new sessions, PLUS the previous months' sessions are stored in the library as well, so there's lots of flexibility to pick and choose what suits you best. Members also have the option to email or DM me regarding training questions if they'd like some personalized guidance.
The second way to work with me is through customized programming. This option is ideal for squash players who want their training tailored to their areas of improvement, goals, and needs.
For instance, I work with a couple of junior girls who need advice regarding balancing training and schoolwork, prepping for tournaments, and even college consulting.
I also have a client who lives in a city where there is limited access to coaching, so he and I work on squash technique together via virtual sessions and video analysis.
Finally, I also work with some masters athletes who have physical limitations and injuries they need to be mindful of. As you can see, there's lots of room for flexibility and customization when I work with a client 1:1.
A customised program not only means that workouts and exercises are tailored to the individual, but it also means that support, guidance, and overall program are specifically suited to their lifestyle, goals, and abilities.
Q. What are your hopes and plans for the future of Squashletic?
Since I've been on the road since for the better part of the past 5 months, I haven't had as much time to work on growing Squashletic. Fortunately, it's stable and easy for me to work on while I'm traveling and competing, so this hasn't posed too many issues.
However, I would love for the membership base to keep growing, since I ultimately want to be known as the "squash fitness expert" and help as many players as possible with their training needs!
In order to do this, I'll need to invest a bit more time and energy into promotion and marketing, and also keep improving the platform to increase the value of my product. Just like playing squash- entrepreneurship is never "finished" and there's always something to improve!
Q. Can you reveal any of your top coaching tips for players looking to step up their game to the next level?
If you don't like doing something in training, it probably means that you need to address that and do more of it.
For instance, if you always dread strength training because you find it boring or you don't know what to do, you should find a plan you can stick to (I can help with that! 😊), so that you actually make progress and improve.
Or, maybe you're really tight and rarely stretch or do mobility work- so you continue to avoid it. Same thing goes for squash movement/ghosting, or for cardio & conditioning.
Weaknesses in your game CAN be improved if you 1) identify them correctly, and 2) work on them consistently! A lot of people are motivated to improve weaknesses right after they experience a loss, but then the motivation wears off and the weakness is never really fixed. It's important to stay dedicated to the process so that the issue doesn't return!
Q. Just a few of quick-fire questions, what would you say is your biggest career moment so far?
Winning a PSA title! (Hoping the best is still yet to come!)
Q. What are some of your future goals?
In the short term (i.e. by the end of the 2022/2023 season), to crack the top 30. I've made it as high as 39, but I'd like to get some more wins under my belt and move toward the top half of the top 50.
Q. What's your favourite shot?
Forehand boast, or forehand kill!
And there you have it, hopefully, that gives you a bit of an insight into Nicole Bunyan!
We're thrilled to be working with a player of Nicole's caliber and we can't wait to see her progress on the PSA World Tour.
---
This article was taken from our On The 'T' Newsletter, if you're interested in receiving more content like this, please feel free to sign up using the subscribe section located at the bottom left of this page (or underneath the article if you're on mobile), thanks!