If you watched the recent Black Ball Open, you might have been lucky enough to see the match between Mohamed ElShorbagy and Diego Elias.
I don't remember the last time I was so engrossed and excited by a squash match so, this week, I'm going to talk about why I think the match should go down in history as one of the best matches of all time.
I'll start with a brief summary of the match and what went down, however, I want to focus the main body of this blog post on Mohamed ElShorbagy's strategy, as he executed a style of play that may have changed the game of squash forever...
This match between Mohamed ElShorbagy and Diego Elias was the semi-final of the Black Ball Open which might not sound too significant on its own, however, context is very important here.
For Diego Elias (AKA 'The Peruvian Puma'), there was a heck of a lot riding on this game and this tournament. Elias currently sits at World No.2 (as I write this) and, if he were to win the Black Ball Open, he would claim the World No.1 ranking.
This would make him the first player from Peru to do so and would seal his name amongst the select few squash legends who have reached that top spot.
However, Mohamed ElShorbagy (AKA 'The Beast') was a pretty big obstacle to be standing in his way.
ElShorbagy has also had a bit of a rollercoaster season and currently sits at World No.5, however, many squash fans have been predicting a big comeback from him for a while now.
Well, we might be witnessing this comeback in action...
So, a quick summary of the match, ElShorbagy came out explosively to take the first game 11-7, and Elias then returned fire to scrape the second game 11-9. In the third, ElShorbagy came out guns blazing to win 11-4 and go 2-1 up, Elias then took the fourth game 11-7 which brought the game to the fifth...
I was on the edge of my seat for that entire fifth game with Elias creeping ahead up until he had one match ball which was saved by Mohamed ElShorbagy to make it 10-10.
ElShorbagy then won the fifth game 12-10 to take the match.
Elias put in an incredible performance here and, in full honesty, I couldn't decide who to root for! Although Mohamed is an Englishman like myself and is one of my favourite players to watch, I would also absolutely love to see the Peruvian reach that World No.1 spot.
Elias is known for his smooth, accurate, free-flowing style of play which, when combined with his fluid movement and ability to dominate the T through precise volleying, allows him to control rallies and finish them off with very soft, short drop shot winners.
However, ElShorbagy didn't allow Diego to play his own game at all by playing a style of squash I've never seen in my life, and that's what I want to talk about in this newsletter.
Mohamed ElShorbagy played the most ridiculously attacking style of play from start to finish. He was cracking every single ball with pace and was taking every shot as early as humanly possible.
Even the commentators were stunned by the energy and excitement he was showing when moving toward the ball, it was like he couldn't get there quick enough.
Mohamed has always been an attacking, fast-paced player, but this game was something else. It was another level.
He volleyed everything he could with significant power, he used countless angles to twist Elias around, and even his boasts were hit harder than I'd hit any of my shots.
And, after every single shot, he moved back to the T. But most of the time he was either directly on the T line, or even in front of it, which is a very tough thing to do.
The other thing that was very visible was just how much he was enjoying this match.
'The Beast' will have been well aware of how important this match was to Elias and how much pressure was on his shoulders, so perhaps his smiling after every big rally was a tactic, or perhaps since there was less pressure on him, it allowed him to fully relax and enjoy the match.
But just check out the image below, have you ever seen a player look that happy at 10-10 in the fifth?!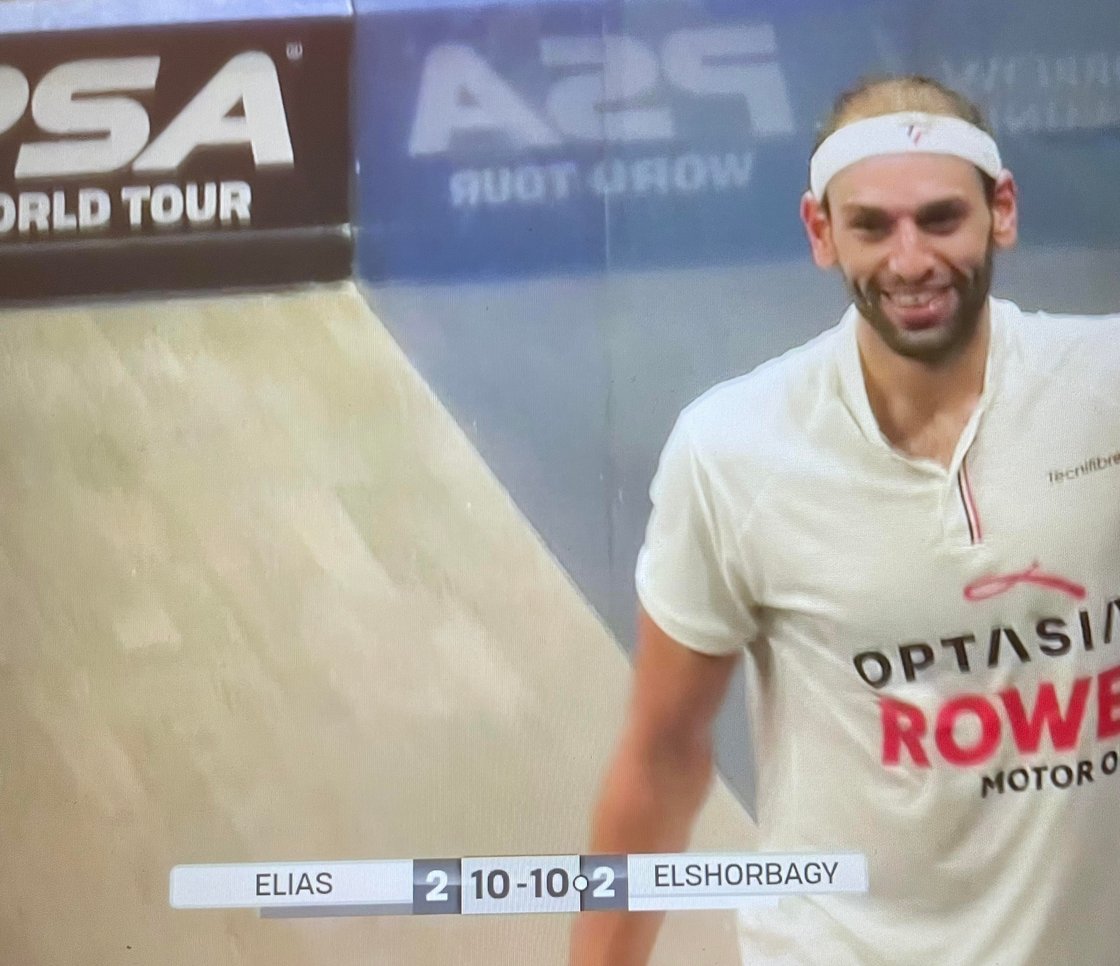 There's something unbelievably inspiring about Mohamed ElShorbagy in my opinion. He is extremely experienced having spent 50 months at World No.1 himself between 2014 and 2021, however, he's had a number of drop-offs over the past couple of seasons and it's clear that he's had a bit of a rough time.
In his post-match speech, which was very heartfelt, he actually admitted that he was almost going to retire last season. Well, thankfully he didn't.
He also talked about his close friendship with Elias and compared this match with when he was trying to reach the World No.1 spot a number of years prior.
He talked about how fellow players such as Gregory Gaultier and Ramy Ashour made it very tough for him to reach the top, and that this match with Elias was a similar situation that will just prove to make the Peruvian stronger in the long run.
But anyway, back to the match itself, Mohamed's attacking style of play was like nothing I'd ever seen. I was stunned that it wasn't making him exhausted by the second or third game, but he just powered through for the whole match.
He had that smile on his face after every big rally, and, when the camera then panned to Elias, he would often look like a deer in the headlights.
You can tell a lot from facial expressions in squash and Elias seemed to be in a high-alert state of shock after every big rally.
The camera angles showing the player's facial expressions really added to the suspense of the game which made it even better to watch.
I'd like to go into more detail about ElShorbagy's strategy but, to be honest, it's hard to unpack how he was actually doing it. As I mentioned in the introduction and the title of this newsletter, I think this may have changed the game of squash.
Mohamed's ridiculously far forward T position combined with his lightening quick reactions, high power shots, and explosive movements meant that Diego Elias had absolutely no chance to play his own game, it was like he was hanging on for dear life.
He was forced to play reactive squash instead of proactive squash.
This fast paced playing style isn't anything new on the surface, players like Nour El Sherbini, Fares Dessoukey, and Mostafa Asal, often utilise it and do it very well. But, the extreme to which ElShorbagy was executing it is something I've never ever seen.
It was like something other than squash.
I often talk about Paul Coll's rise to World No.1 when it seemed as though he'd cracked the code to beating anyone through a slower-paced, consistent, style of play with pinpoint accurate lengths and volleys, only taking the ball in short at the right time.
For a brief period he was unstoppable, but then other players caught on and figured out how to dismantle this style of play and Coll has since dropped back down to World No.5.
Well, ElShorbagy's style of play here was the exact opposite of Coll's, and it worked unbelievably well. Furthermore, I don't know if there are any other players on tour who are capable of playing like that other than Mo.
This could very well put him on the trajectory back to the top as I really can't see how any other players on the PSA World Tour would be able to deal with this gameplay.
There are of course limitations to this style of play, especially for someone like Mo who's in the slightly older age bracket at 32 years old. It must be unbelievably physically taxing.
I don't know if you've ever tried to repeatedly smack the ball hard and fast while keeping it accurate, but I have and it's very very hard to do so consistently. This would be even harder to do rally after rally, especially so in the fifth game of a five-setter.
Mo somehow seemed to manage. Even though you could tell ElShorbagy was gasping for breath after a few of the final rallies, once the next rally had started, he was able to carry on his assault in fine form.
As I finish this newsletter, I'm watching his final against Tarek Momen, and he's playing a pretty similar style again. It's perhaps maybe 90% as attacking as his match yesterday, so perhaps fatigue has set in a little, it's still working very well.
With that said, he's just gone 2-0 up as I write this and he's looking very strong.
It would be absolutely awesome to see Mo reach the top again. He's already attained that legendary status, and to get back to the top again would be ridiculous.
I don't know how the other players are going to respond to this unbelievably attacking style, but I'm very excited to see what comes next.
There are only a few big tournaments left this season, so Mo is going to have to make them count.
And, in almost fairytale timing, as I finish off this newsletter, ElShorbagy has just won the final of the Black Ball Open after beating Tarek Momen 3-0, 11-7 in the third.
I can't wait to see if he can keep this up and I'll be rooting for The Beast to reach the top by the end of the season.
Also, I'm giving you all some homework...
The PSA just released highlights from Mohamed's match with Diego, I'd highly recommend that you give it a watch so you can get a taste of this insane style of play I'm been talking about, I'd highly recommend checking it out by clicking here.
---
This article was taken from our On The 'T' Newsletter, if you're interested in receiving more content like this, please feel free to sign up using the subscribe section located at the bottom left of this page (or underneath the article if you're on mobile), thanks!