We have a guest writer for this exciting article!
We recently started sponsoring Canadian World No.47, Nicole Bunyan, and she was lucky enough to have played in the recent PSA World Championships.
In this blog post, Nicole talks about her experience at the event and reflects on how her matches went, let's dive in...
After British Open, I learned that match reports should be written ASAP after the match has finished. Ideally, that day, when thoughts and feelings are fresh in your mind.
I kept putting that match report off, thinking I would sit down and write it on the bus or plane ride home. However, by then, the details were diluted in my mind, and I never got around to writing it.
So here I am, the day of my Round 2 match of the World Open (May 5th), writing to you with my two match recaps before I head off to dinner!
Round 1 vs Millie Tomlinson (WR #54)
I had a favourable draw coming into this year's World Open. Not because Millie is an easy opponent, but because she is only ranked a few slots lower than me.
The World Champs is the only tournament of the year where the Top 16 are seeded, and everyone outside of that is fair game to draw each other.
This means you could have two top 20 players playing each other in the first round, and two top 50 players playing each other!
I have previously drawn top 16 players in the World Champs (Tesni Evans, Rowan Elaraby, Nadine Shahin), so drawing someone outside of that bracket- let alone below my ranking was a massive opportunity.
There are big ranking points up for grabs in the Worlds, as well as greater prize money this year (equal $500k purses for men and women), so these factors certainly added to the motivation to make the most of my good draw.
My match was at 11 am, which is very early for a PSA match. Normally you won't play much earlier than 4, let alone noon!
Fortunately, we are staying 3 minutes away from the club, so it was easy for me to have a quick practice the morning of my match.
I did my very best to have breakfast at 7:30 am before leaving for my 8:15 am practice, but I struggled to consume even half of my overnight oats.
Nerves will do that to you!
I ate as much as I could (force-feeding yourself with an unsettled stomach is not a good solution, in my experience), and just made sure I hydrated well and packed a couple of fruit bars and electrolytes powder in case I needed a little kick pre or mid-match.
All the way through the warmup and the first few rallies I was quite nervous. I stuck to my game plan for the first rally of the first game, and then went completely off-track.
I lost the first 11-4, although I did manage to drag it out for 14 minutes, which is not an insignificant game length! This physical first game, combined with better discipline, helped me win the match.
Overall I felt pretty edgy throughout. I felt like most of the time I was just hitting the ball without paying enough attention as to the effect I wanted to have on my opponent.
It was one of those matches where I knew I probably wasn't going to feel very relaxed because of what was at stake, but I also knew not to overthink this.
Oftentimes, in a close first-round match that you are "expected" to win, you won't play your best, or necessarily "enjoy" it.
But if you can get through that match, it will release the shackles and you can usually go into your following matches in a more relaxed state.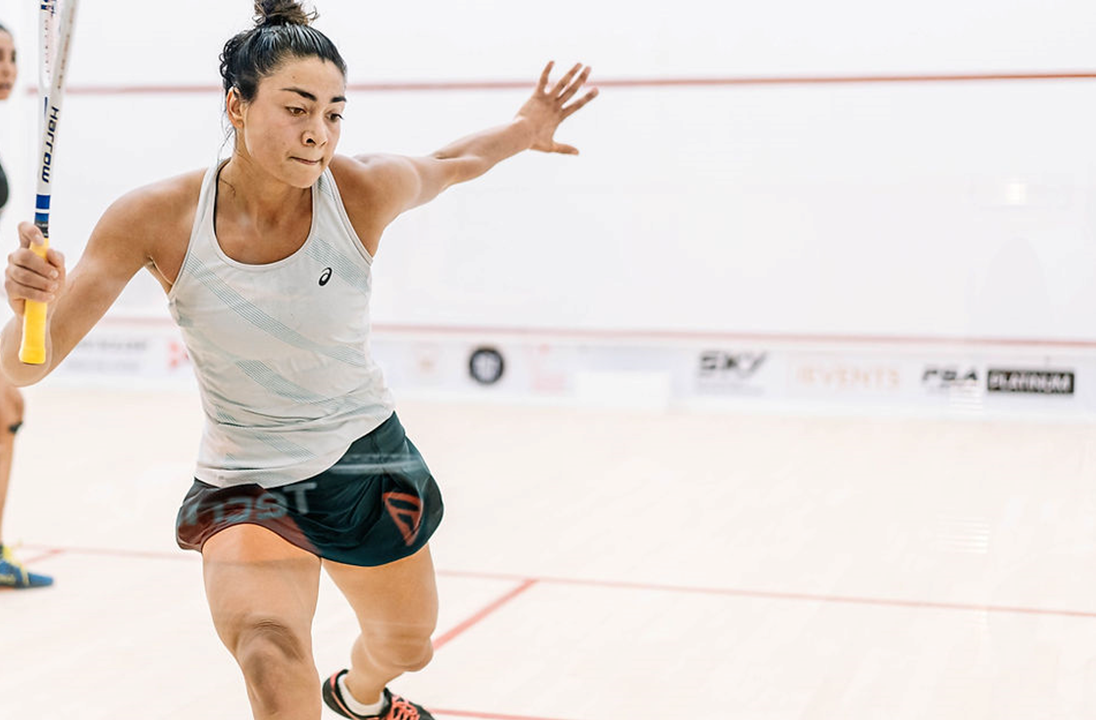 Round 2 vs Sarah Jane Perry (WR #9)
With my first round win behind me, I was looking forward to my match versus Sarah Jane Perry. I knew it would be a challenge, but I was glad to be up against her on a normal court instead of the glass court.
Going in, I also took note of a lesson I learned last weekend against Farida Mohamed in Florida.
Last Friday, I didn't enjoy my match one bit. I put pressure on myself, was tense, and was too caught up in "what if's" instead of getting stuck into the match and focusing on the tactics.
I felt disappointed by the loss, but more so by how poorly I competed. I didn't want to feel like that against SJ.
So, I went in to my 2nd round match with the following notes:
- Enjoy it
- Ask a question with every shot
- Be Positive
Of course there was more of an actual game plan involved, but these pointers helped my mindset, which then allowed me to be in a better position to execute the game plan.
The first game was neck and neck, and I narrowly lost it 11-9. I was a little disappointed coming off the court, as I knew that I probably needed to clinch that game to give me an edge.
If I had another gear to go up, then losing the first might not have made as much of a difference, but I was more or less playing at my max.
No, I wasn't playing perfectly, but I was playing above my level as much as I could.
Losing that all-important first game to a higher-ranked player meant I would need to either raise my level a notch or hang on and hope she didn't settle in and raise her game!
The second and third games were close up until 6-6 or so, and then SJ pulled away in the business end (as higher-ranked players often do). I gave her some poor & crucial errors, and she hit some incredible winners, which widened the gap.
I was surprised as to how "tired" I felt throughout the match, considering we weren't hitting the ball that hard or seem to be moving that fast.
I wasn't gassed, but my breathing rate was high, because I was having to do more work than usual.
I definitely wouldn't consider myself "unfit", but playing someone of a higher ranking will almost always make you feel like you are, because they'll take time away from you.
This is why a hard 30 minute match could feel more intense & exhausting than a moderate pace 45 minute match.
Up Next
I've now got a few days to train before Canadian Nationals kicks off in Montreal next weekend.
My parents and my coach, Rod, happen to be here, so I'm going to stay in Chicago for the few days leading up to the tournament to spend time with them and train.
Usually, I'd head back to NYC in between events to reset, but since I've got a good setup here, I thought I'd spend a few days focusing on training (and of course, get some Squashletic work done!).
If you enjoy reading match recaps, I hope you found this one interesting and useful in some way. If you did find anything particularly interesting, I'd love to know, so please don't hesitate to reply and tell me.
That way I can be sure to focus more on those areas in my future match recaps.
Happy training,
Nicole
---
This article was taken from our On The 'T' Newsletter, if you're interested in receiving more content like this, please feel free to sign up using the subscribe section located at the bottom left of this page (or underneath the article if you're on mobile), thanks!