This blog post focuses on another awesome upcoming player on the PSA Tour, Patrick Rooney.
I knew I had to write this after Rooney's incredible run at the recent Manchester Open in which he overcame Greg Lobban, Raphael Kandra (8 seed), and, Marwan ElShorbagy (2 seed)!
It was a pleasure to watch him play and win what was possibly the biggest win of his career to date against Marwan.
Starting with a bit of background, Patrick Rooney is a 24-year-old English pro who currently sits at 26 in the PSA World Rankings.
He's been on the PSA World Tour since 2014 and has claimed a number of titles throughout the years, including the Madeira International (which he has won twice), the Vitesse Stratford Classic, and the Arnold Homes Tring Open.
Rooney has been incredibly consistent while he's climbed the rankings. Some of his earlier milestones include breaking into the top 100 in 2017 and reaching the second round of a Platinum level event in 2019 (the British Open).
In 2020 and 2021, Patrick managed to reach World No.52, he made the last 16 in three platinum events (the El Gouna International, the US Open, and the Qatar QTerminals Classic). After reaching the London Open's semi-final, Rooney began 2022 at World No.30.
Fast-forward to today and (as I mentioned earlier) Rooney just managed to beat current World No.7, Marwan ElShorbagy.
Rooney's style of play is mesmerising in my opinion, he has a slightly unique swing but I can't really put my finger on why it's so unique, it just looks a little different. It's kind of a combination of short and flicky, but also big and sweeping. You'll have to watch him play to see what I mean.
He has an unbelievably fast swing and hits the ball with some serious pace, however, he's also a master of lifting the ball high into the back corners to get out of trouble.
The thing I love most about watching Patrick play is that he seems to have fun while he does it. His laid-back style and experimental shot choice are amazing to watch and he's got some absolutely class shots under his belt. This makes him a real crowd pleaser too.
To top all of that off, he's unbelievably fast at moving into the front corners making him very tough to win a rally against.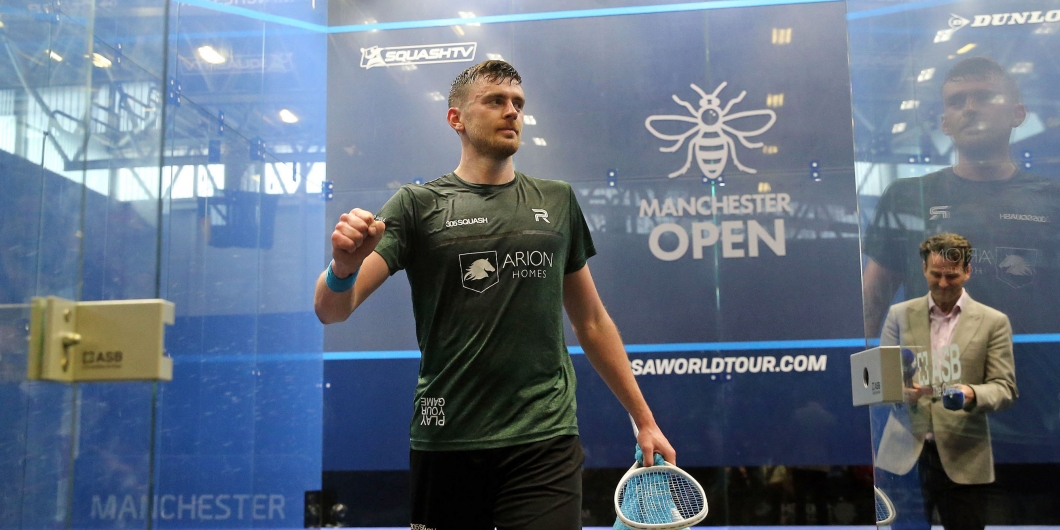 Image from PSA website
I watched his match against Marwan from start to finish and it was absolutely awesome so I thought I'd do a bit of match analysis.
The scores were 13-11, 4-11, 8-11, 11-7, and 11-9.
Both players started off really well and Patrick managed to scrape the first, the quality was incredible. However, in the second and third, Rooney lost his length a little and Marwan really upped the pace to take them both quite comfortably.
I thought it was all over at this point, however, Rooney managed to regain his tight, deep lengths and the comeback was on. Any time either player hit anything loose, it would be punished harshly with some variation of attacking shot. It was great to see.
Marwan is a master of controlling the ball and he's renowned for playing his best squash when under extreme pressure. When it comes down to the last crucial points, or, when his opponent is slightly ahead of him, this is when he's most dangerous.
For Rooney to win 11-9 in the fifth is a colossal achievement.
I'd also like to note that Rooney is a very honest player and I've noticed that he very rarely asks for lets or strokes unless he absolutely has to. This isn't something I see a lot of from other pros.
In his Manchester Open quarter-final against Kandra, I think there were only about two decisions and the squash was free-flowing and very entertaining.
If I'm being completely honest, I don't see a lot of flaws in Patrick Rooney's game, he's got the speed, the shots, the fitness, and the attitude to be a world-class player.
I'd say that the only small flaw in Patrick's game is that every now and again, he loses his length and can get a little ambitious with his attacking shots with unforced errors creeping in every so often, which is what let Marwan go 2-1 against him.
However, and that's a big however, he's improving very fast and is becoming more and more consistent at maintaining a very high-quality standard of squash throughout entire matches.
There are very big things coming for the Englishman and (being from England myself) I'll definitely be rooting for him in future tournaments! I'm also interested to see what nickname the PSA gives him, 'the Giant Killer' seems appropriate, in my opinion.