If you follow professional squash you'll have no doubt heard of the monumental recent achievements of Paul Coll!
In March, he became the first man ever from New Zealand to reach World No.1 in the PSA Men's World Rankings and, on top of that, he recently won the Windy City Open in Chicago.
This is a huge milestone for professional squash so I had no choice but to write up a blog post on Paul 'Superman' Coll (as he's often referred to on the PSA Tour)...
The reason Coll reaching World No.1 is so significant is because it's the first time since May 2017 (when Gregory Gaultier topped the rankings) that there hasn't been an Egyptian men's World No.1.
The Egyptians still heavily dominate the top 10 in March's rankings with 7 or the entire top 10 being from Egypt, however, Coll has now fully proven (in my opinion) that he is the best.
A bit of background on Paul Coll, he was born in 1992 and, from a young age played a range of sports including rugby, hockey, basketball, football, golf, and of course squash.
When he was 15, Coll was chosen to play in the New Zealand Junior Worlds squad, this is believed to be the point from which Coll decided to focus his efforts on squash over other sports.
Since then, he's been on a constant upward trajectory claiming a number of titles on the way.
In 2016, Coll made his name known on the PSA Tour by winning the Australian Open from an unseeded position. Following this, he won the Channel VAS $100,000 event in London which propelled him into the top 20.
Then, in January 2017, he became the first New Zealander since Ross Norman (in 1995) reach the top five. I must admit, from that point I wasn't sure if Coll had what it took to get any higher.
I thought he'd hit a plateau and I was unsure whether he'd ever be able to convincingly overcome Egyptian legends such as Mohamed ElShorbagy and Ali Farag who are also in the top 5.
Historically, he would reach some big finals but would struggle to overcome those top guys. However, Coll's game took a huge step up recently and my predictions were proven very, very wrong!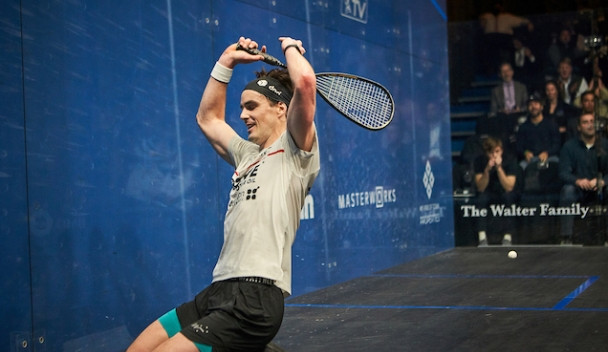 Image from Inside the Games website
During this season, Coll has now managed to beat Ali Farag (the previous World No.1) more and more consistently. He beat him to win the CIB Squash Black Ball Open 2021 final (3-0), in the Canary Wharf Classic final (3-1), and in the world-famous Allam British Open (3-1).
Something I found very interesting was that, if you look at the head-to-head win-to-lose ratio between Farag and Coll, Farag has beaten Coll 15 times and Coll has only beaten Farag 4 times... so, 3 of those 4 wins were this season. This is a crystal clear indicator that Paul has stepped up his game to a new level.
From my own analysis, it seems as though Coll has perfected the art of the patient game. He has by far one of the best length games on the PSA World Tour, his accuracy to the back is incredible. This allows him to grind away at his opponents until they hit a weak shot and then he can take the ball in short.
If he's under any pressure, he has developed a pinpoint accurate crosscourt lob to get himself out of trouble, and, Coll's straight drop (both volley and non-volley) has become far more accurate and consistent than it used to be, making Coll even more dangerous to play against.
Coll has also always been known for his fitness, explosive speed, and power, so his opponents often struggle to finish points against him as, unless they're hitting the nick, Coll is likely to reach shots before they bounce twice.
Paul Coll's mental resilience and mindset is one of the most interesting parts of his game.
The pressure of being World No.1 must be monumental. On one hand, if you reach that top spot, there's a chance that you could get complacent and feel as though there's nowhere else to go since you've reached the top.
On the other hand, the pressure is now on you to keep winning tournaments. You're pretty much expected to win all the time.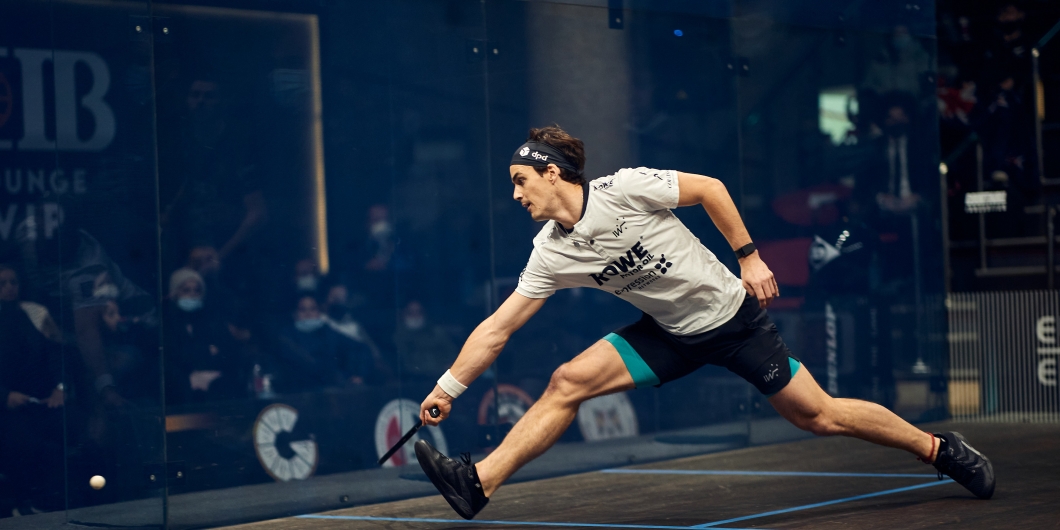 Image from PSA website
In a recent interview with the PSA, Coll stated "I am not going to wait for them to come after me and catch me, I am going to keep trying to improve and keep going forward. There is no way I want to stand still at No.1 or I won't stay there for long for sure."
Paul just backed up this statement by claiming the win at the Windy City Open, which is his second-ever platinum title.
Throughout the tournament, Coll managed to beat James Willstrop, Adrian Waller, Joel Makin, Tarek Moment, and then came back from 2-0 down in the final to win 3-2 against Youssef Ibrahim.
This shows unbelievable mental toughness and really solidifies Paul's position as World No.1.
At the moment, Paul Coll is definitely playing like a World No.1 and doing so consistently. The question now is, how long can he keep it up? Also, can he step it up even further?
I don't know the answer to either of them, however, Coll will have to be on his guard. Being in the spotlight of World No.1 means that players from all over will likely be closely observing his tactics and playing style.
If someone figures out a strategy for beating Coll he could have a real problem on his hands...
But for now, I think he deserves a bit of time to bask in the glory of his achievements!
His next challenge is to defend his title at the Canary Wharf Classic which has started yesterday (at the time or writing).
---
This article was taken from our On The 'T' Newsletter, if you're interested in receiving more content like this, please feel free to sign up using the subscribe section in the top right of this page (or underneath the article if you're on mobile), thanks!