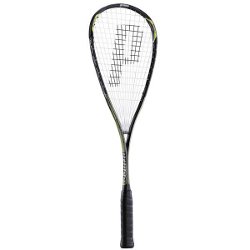 The Prince EXO3 Rebel Squash racquet is the latest offering from Prince. The EXO3 models have evolved from the Speedport and before that 03 series of squash racquets.
First lets take a look at the write-up from Prince:
"The Next Generation Of Racquet Design, only From Prince - EXO3 does what no other racquet can; it captures wasted energy at the moment of impact—up to 26% more—and channels it where you need it most—into every shot.
The revolutionary idea behind EXO3 is the patented Energy Bridge™, an exo skeletal structure that suspends the string bed from the frame, increasing virtual head size for up to an 83% larger sweet spot. In addition frame vibration is reduced by up to 50%.
The new Rebel is suited for players seeking a lighter weight frame with a more head heavy balance to swing through the ball. This racquet offers a crisp hitting feel with unmatched power."
Having just received stock of this racquet I was very eager to give it a try myself to see how it played. The Rebel is fairly light at 135 grams but it is head heavy so it plays heavier than that. Like most Prince racquets it has a high sweet spot due the to the string pattern that fans out from the Power Ring to the top of the frame. When you hit the sweet spot of this racquet there is a real bouncy feel to it. It produces tons of power with minimal effort required from the player on shots that hit the sweet spot. The sweet spot is fairly large as well. Off-centre hits do produce a little bit of vibration in the frame but not too much. Power drops off a bit on off centre hits as well.
It plays very similar to the Speedport Black as would be expected given that it is the same design, has the same frame weight and balance. Compared to the Speedport Black it did have less vibration on off centre hits which is good. The difference is the exo skeletal structure.
Overall it is a very good racquet. If you like the a slightly head heavy racquet, a racquet with a lot of power, or are looking to an upgrade from one of Prince O3 or Speedport series racquets the EXO3 Rebel Squash racquet is definitely worth trying out.
We have the Prince EXO3 Rebel Squash Racquet in stock. Check out our online store atwww.controlthet.com