Hopefully you all managed to watch the first PSA World Tour event to take place following the suspension of the PSA World Tour due to COVID-19. It might not have been exactly what we're used to in terms of professional squash, but the Manchester Open was, in my opinion, a great success.
Leading up to the tournament, I was intrigued as to how players would be playing and wether anybody would have any noticable changes in style or technique, or even if anybody was a little rusty from lack of competitive play. After getting the chance to watch the tournament and see for myself, I thought it would be worth writing up a blog post about it!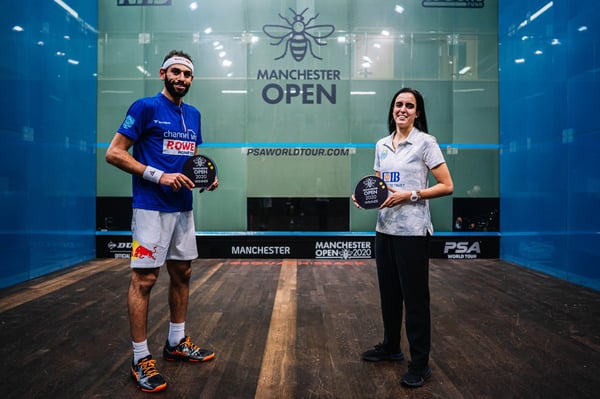 Playing Under Protocol
Played under strict COVID-19 protocols, it certainly must have been a weird experience for the players! There was absolutely no crowd to cheer them on and no face to face coaching in between games, this is arguably a whole new challenge for professional squash players to deal with.
I imagine, for many players, the atmosphere and roar of the crowd after a tough rally will sput them on and give them a strong blast of condfidence to keep pushing. When the only voice you're hearing is that of the referees, players might get stuck with their own thoughts and no external support, which could be incredibly difficult to cope with mentally!
In the tournament's earlier rounds, it did look like a few players were struggling with their mental and physical endurance, and a few mistakes began to creep in. However, with that said, I don't believe that this is due to being out of practice, I believe that this is due to playing matches with their rivals in a very new and unfamiliar setting and atmosphere.
Different professionals will cope with this in different ways, and it's important to understand just how strange it must be to deal with a change this large to something that they do for a living!
The Men's Draw
Alternatively, some players could actually benefit from the atmosphere mentioned above! Mohamed ElShorbagy, who actually ended up winning the men's draw, is a player of pure focus. Obviously, I can't say for sure, but after years of watching him play, it seems like he does a great job of spurring himself on during those tough matches. Whenever he begins to fall behind in a match, it usually takes him winning one monster rally for him to get back into gear and gain back his momentum.
This allowed him to take the nailbiting final against Karim Abdel Gawad 3-1, winning 13-11 in the fourth. Both the Egyptians played an incredibly solid game, but ElShorbagy's focus and determination allowed him to come out on top.
I feel like ElShorbagy is a player who doesn't necessarily need the crowd, at least not as much as some of the other pros. For example, after watching some of Paul Coll's incredible performances in the past, it appears as though he gets huge motivation from crowd reaction. However, contrary to my point, Coll still managed to perform incredibly in the Manchester Open, including an awesome 3-2 win over Egyptian rival Tarek Momen in the quarter finals!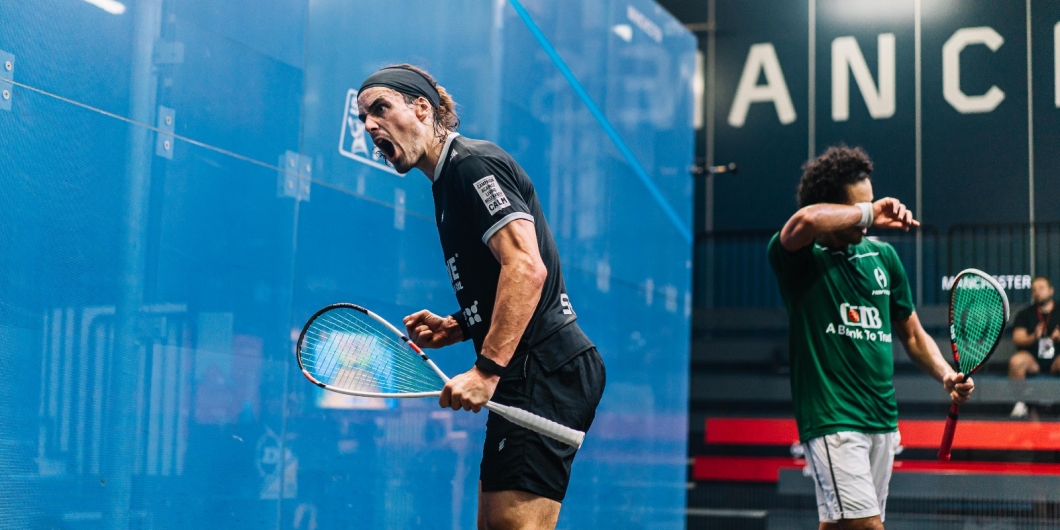 The Women's Draw
The women's draw had some incredible games to watch as well, French number 1, Camille Serme, had a few cracking matches including winning a five setter against rising star, Hania El Hammamy.
Serme was becoming a force to be reckoned with before the pandemic restrictions began, it's great to see that her momentum hasn't been slowed down during the break from professional squash. Serme's Manchester Open run was ended by Nour El Tayeb in the final, who played a flawless game of squash.
Serme actually had a flying start in the final, winning the first game 11-3 in just six minutes, however, El Tayeb upped the pace and got rid of the errors she made in the first and managed to take the next three games 11-8, 11-7, and 11-3.
Last thoughts...
Overall, it was an absolute pleasure to watch professional squash again, and I'm highly grateful that it's back! Hopefully in the near future, spectators will be allowed to attend and we can get that electric squash atmosphere back.