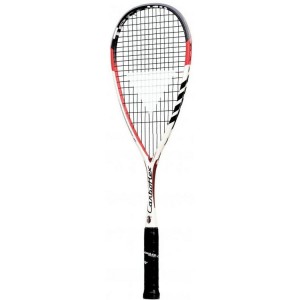 I have been playing with the new Tecnifibre Carboflex 130 Basaltex Multiaxial squash racquet for about a month now and have been extremely impressed. I played with one of its predecessors the Texalium version a few years ago and loved it. In fact I would say that was probably the period of time where I hit the ball the best in my squash playing history.
When this years version came out I was excited to try it. Its weight, balance and head shape have not changed so I had very high hopes for the racquet. It has not disappointed! I have found myself really comfortable hitting the ball with this years version of the Carboflex.
Now on to the specifications. The Tecnifibre Carboflex 130 Basaltex Multiaxial squash racquet weighs 130 grams. It has a slightly head heavy balance. It has a large head at 500 cm2 with long main strings. It comes strung from the factory with Tecnifibre's new 305+ 1.20mm Black string.
Its relatively light weight does not lend itself to power but the head heavy balance helps. I have found it really easy to swing and for a 130 gram racquet one of the more powerful I have played with. I find there for me there is a real balance between wanting a light weight racquet as they are quick to volley with and having enough weight to help with effective length game. A racquet that is too heavy for me I find to be slow on the volley. Too light and I don't get enough assistance from the racquet to get the power on my drives that I need. I have found the Carboflex 130 Basaltex Multiaxial to be a near perfect balance for my game. It is light so I find it quick on the volley and its head heavy balance and long mains give me the pace on my drives that I like.
I also like the feel on contact with this racquet more so than with last years model. This year model was designed to improve feel and responsiveness and I believe Tecnifibre has done an excellent job at this.
The new Tecnifibre 305+ 1.20mm black squash string is a great compliment to this racquet. The string is a cross between the X-ONE and the existing 305 green squash string Tecnifibre makes. It is designed to have a good balance between feel and power while providing enhanced durability. I do definitely like the feel of the string in general and on this racquet. Wear seems to be slower than with 305 green that I normally use.
Overall I really like the Tecnifibre Carboflex Multiaxial Squash Racquet. Anyone that has played previous editions of this racquet will feel right at home with it due to its similarities with previous years models. Players that are looking for a light weight racquet that is good for volleying and yet provides good power for the length game should also try this racquet out!
Click on the link below to be taken to our online store!