Around 5 or 6 months ago, a friend of mine mentioned an event called 'Squash Junkies' in Amsterdam. It was the first I'd heard about it, however, he assured me it was an incredibly popular team squash tournament.
I did a bit of digging and some of my friends decided to get a team together and attend Squash Junkies to see what it's all about.
Turns out, it's an absolutely incredible event and was easily one of the best weekends of my life!
The event consisted of teams from all over the world as well as a number of big names playing (such as Paul Coll and Nele Gilis), it also involved a questionable amount of partying and a deteriorating level of squash as the days went by.
It's definitely going to take me a few days to recover but it was absolutely worth it. I knew I had to write about Squash Junkies for a blog post...
So, a bit about the event itself, Squash Junkies is a team event in which teams from anywhere in the world can enter. Teams consisted of four males and two females and 32 teams in total entered the tournament (although there were a couple of no-shows which was a shame).
The event ran from Thursday the 27th of July until Sunday the 31st of July, match play began on the Friday morning, but the opening party began on Thursday evening which certainly set the tone for the event.
Our team (named 'The Angels Of The North' the iconic landmark called The Angel of The North in our home city of Newcastle) consisted of Michael Mattimore, myself, Andrew Black, Tegan Younger, and Emma Turnbull.
My friend Cai Younger was supposed to be playing, however, unfortunately, he had to pull out due to illness. Thankfully, there were plenty of players at the event who were willing to step in and help our team.
For our first few matches, we had Marco DiFilippo, and for our final two matches, we had Sam Freed.
Although all teams were playing to win (or do as best as possible), I'd say that the event was social first and competitive second for most teams.
Since teams are in an order based on each players abilities, you tend to get a similarly matched player more often than not, meaning you get some good matches.
However, I'd like to note that standard does not matter at Squash Junkies, whether you're a beginner or a more advanced player, there will be someone for you to have a close match with!
Anyway, we weren't sure what to expect when we got to the Meersquash Club on the Thursday evening. We arrived straight from the airport with our suitcases and bags to hear loud music from outside the club.
We stuck our head inside and it was packed with people which was exciting to see. We decided to set up our tents before heading inside to mingle.
Oh, yeah, I forgot to mention that many of the participating teams (including my team) camped in the parking lot area of the squash club, which thankfully saved us from having to pay for accommodation!
Once the tents were up, we headed inside and saw some familiar faces, and began chatting. Before we knew it, a bell rang that indicated happy hour had begun, for the next hour, all drinks were free!
You can imagine how that first night went after that...
Anyway, onto the squash. On the Friday morning, our first match was against a German team named 'Here For Beer'. We won three matches and lost three matches against this team, meaning that the final score came down to points... and we won by one point!
Unfortunately, this was our only match on Friday as we were in a group with one of the teams who had dropped out of the event.
However, Jason Morris, the host and organiser of Squash Junkies had an awesome itinerary prepared for the event to keep the social aspect booming. It's also worth mentioning that this year's edition of Squash Junkies was the 26th year of the event.
So, Jason has been successfully running the tournament for 26 years, which is an absolutely incredible achievement.
Anyway, Friday evening involved a buffet with an insane range of food options which was awesome. After that, we got coaches into Amsterdam city centre and went to a club for a night out there which was great fun.
A huge number of tournament participants were out and it was a great night for mingling and meeting some new people.
Paul Coll, Nele Gilis, and the rest of their team were all out too and I took the opportunity to speak to him a little and grab a photo which was a real fanboy moment for me!
Both Paul and Nele were great people to speak to and a lot of fun on the night out, they seem like a real squash power couple!
Below is the picture of myself and Paul (with my teammate Tegan too)...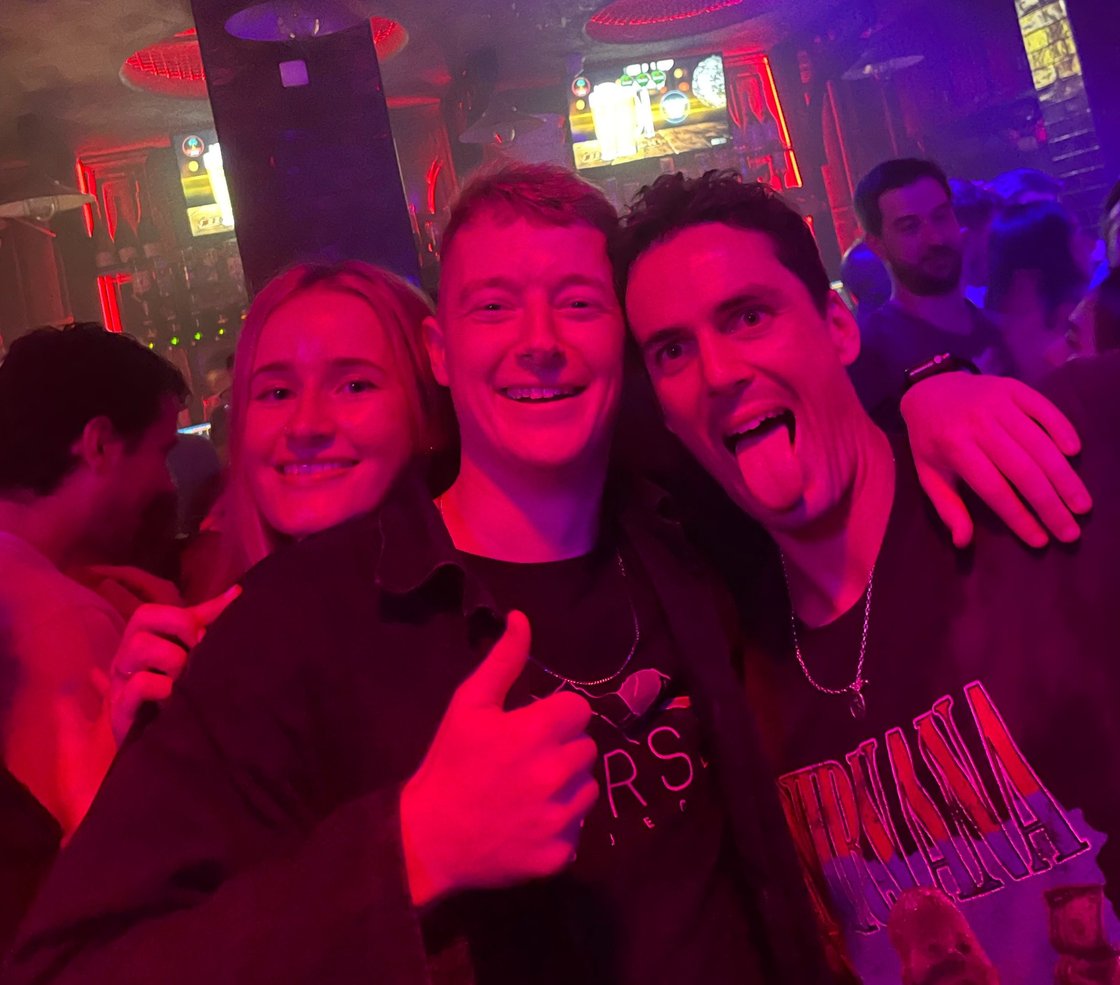 Following a rather late night and a noticeable hangover, we woke up on the Saturday morning for our second match against the 'Casanovas'.
They were a local team who, like many other teams at Squash Junkies, are regular attendees at the tournament. They were also absolutely great fun to play against.
They brought a big speaker outside the courts and, when warming up, each team member had a different theme song to warm up to.
There were also a few extra rules during matches, for example, if any player played a back wall boast, they had to drop and do a push-up and then get back up in time to get to their opponent's next shot.
Another rule was that, if any player served out, everybody had to do a shot which was absolutely hilarious. Our number 4, Andy, has a ridiculously high lob serve, and, due to the hangover, his accuracy wasn't exactly on point in his match. He proceeded to serve out a good four or five times I believe.
The Casanovas were a very strong team and we lost against them 2-4 I believe, but they were definitely my favourite team to play against. They involved our team throughout and it was all in great spirits and light-hearted fun.
Next, we played a fellow English team named Kingswood and took the win 4-2 (or 5-1). During my match, I realised that I was pretty dehydrated as I started cramping up in the second game which was a little scary.
As soon as I'd downed some water, I was good to go again and luckily managed to win it 3-1.
Then, our third and final match of the Saturday was against a team named Airtight 3 from Scotland. Turns out there were around four Scottish teams (Airtight 1-4), so there were a decent amount of familiar faces for me, which was cool.
I believe we lost this one 4-2, but, we had a good night of fun ahead of us!
The Saturday evening consisted of a sports-themed costume party, a BBQ, and a DJ with a dance floor (all located in the club). Our team came wearing the football strips of our local team (Newcastle United).
The strip consists of black and white stripes, so, when another team came up dressed as referees (who also wear black and white stripes), there was a little confusion.
Below is a picture of our full team (from left to right: Michael Mattimore, Emma Turnbull, Andy Black, Tegan Younger, and myself). We were planning to photoshop Cai in, but we felt as though that be too mean.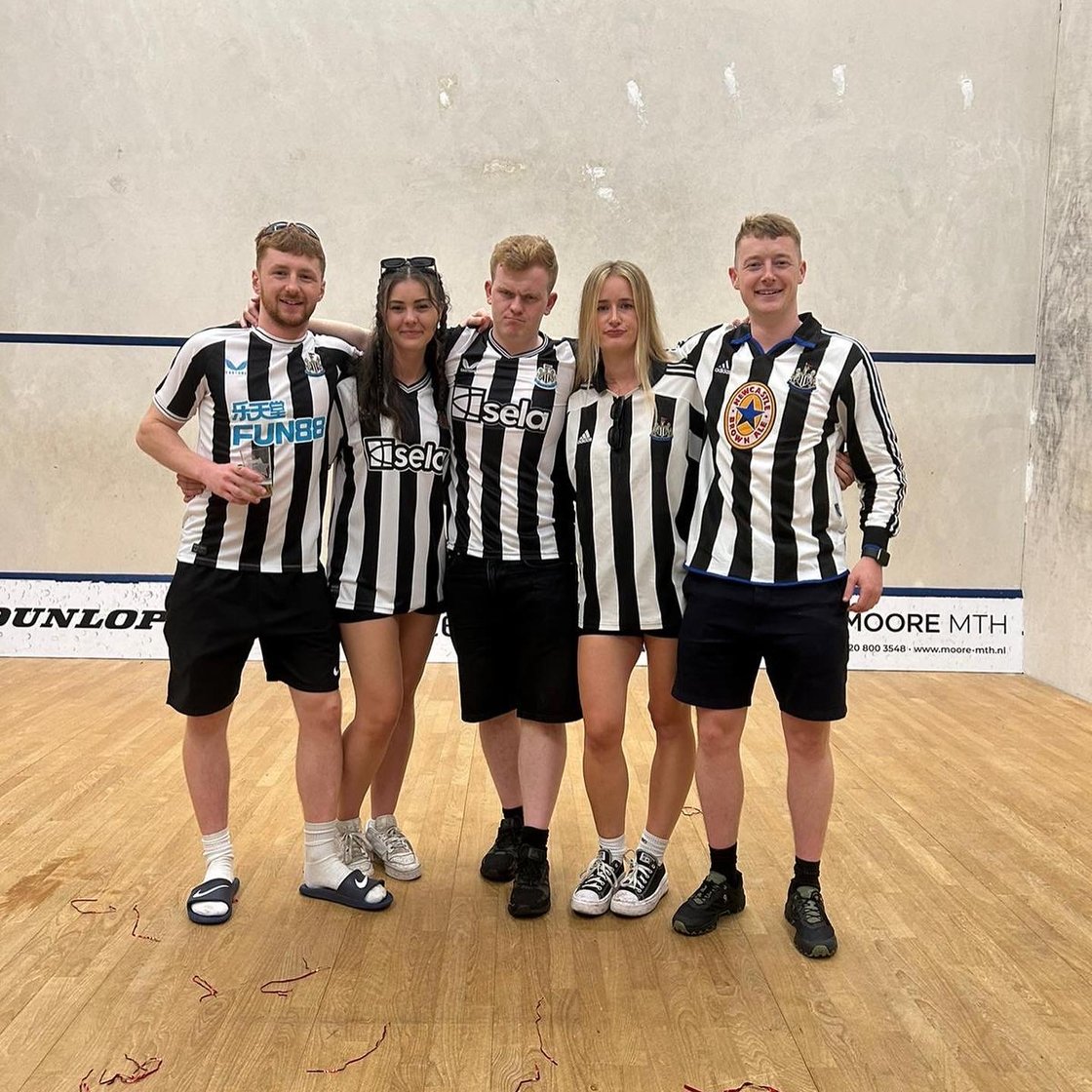 We had one final match on the Sunday morning against the 'Escorts', which was possibly one of the toughest matches I've played due to the exhaustion I (and the rest of the teams were experiencing at this point.
Our team won that match to take 11th place, although I lost my match.
Although we were all so exhausted, we had agreed by the second day of Squash Junkies that we would be coming back next year. I'm also hoping to convince more people from Newcastle to come along so we can hopefully get two Angels of the North teams in.
There are a lot of things that stand out about Squash Junkies. The tournament organiser has been running it for 26 years and he's built it into one of the most popular and exciting team events in the world of squash.
As I mentioned earlier, many of the attending teams had also been going to the tournament for a number of years in a row which is a real testament to how good it is.
The itinerary of the event is absolutely great. It isn't jam-packed and rigid, but, still ensures that things are switched up and that you're not just at the squash club for the entire time.
The vibe of Squash Junkies is like nothing I've experienced before. It's an unbelievably good environment for meeting new people and making new friends whilst getting to play against a number of new players.
It's fun, vibrant, and jam-packed with awesome squash. Getting to see Paul Coll and Nele Gilis play matches was quite a big deal for me, it's not often you get to be in the same club as players of this caliber. Their team won the event this year, so I would say that there's certainly a good chance that they will be back next year too...
Now, I consider myself to be very lucky because I live in England, meaning that we only have to fly for an hour to get to Amsterdam and attend the event.
However, I would like to take advantage of the reach of this article to encourage you to consider entering the event next year.
I'm very aware that, since many of you are from Canada and the USA, this would be a very big journey to commit to.
But, if you've been thinking about doing a trip to Europe and think you may be able to get a team of 6 together, then this could be the perfect opportunity to visit Amsterdam for 4 or 5 days and then travel to other nearby European countries and make a bit of a holiday of it!
Another thing I'd like to mention is that I think squash definitely needs more events like this. Obviously, Jason has been building this tournament up for 26 years to make it what it is today, but now, tournament entries fill up every year and there's usually a waiting list too.
If you've been thinking about starting a tournament of some sort at your local club, I'd highly urge you to do so. With the right formatting and organisation, it's definitely possible to create an incredible worldwide event like Squash Junkies.
I have heard of other similar team tournament events, one of which is in Scotland, that my team is hoping to attend too in the near future.
If more begin popping up, myself and many other people I know would always love the opportunity to travel, see new places, and meet new squash players!
---
This article was taken from our On The 'T' Newsletter, if you're interested in receiving more content like this, please feel free to sign up using the subscribe section located at the bottom left of this page (or underneath the article if you're on mobile), thanks!