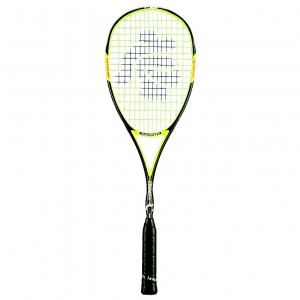 The Black Knight Magnum Corona6 Squash has just been released and it is an excellent edition to Black Knight's lineup of squash racquets. Anyone that has played with the original Magnum Corona will feel right at home with this racquet. The head size, weight, and balance are the same. The big difference is in the addition of the Thermal Core Technology.
Thermal Core Technology is a new process that heats the racquet core to higher temperature during the curing phase, so that the racquet structure is cured uniformly inside and out. This TCT modification to the carbon fibres makes the frame extremely responsive - stiff yet playing with the reactive properties of a more flexible frame. The resulting hit is the best of both worlds - the control of a very stiff frame with the power of a more flexible frame.
The addition of the Thermal Core Technology does change the feel of the Corona6 from that of the original Corona. So while the weight, head size and balance are all the same the actual contact feels different. The Corona6 is a stiff racquet yet because of the Thermal Core Technology does not feel like a board like some overly stiff racquets do.
The head is relatively small at 475cm2. The smaller head size definitely helps with control. Like the older Corona it is head light. It is a 140g racquet but Black Knight lists it dynamic weight at 135g meaning it plays lighter than it is. This makes it great for volleying and quick exchanges at the 'T'. While it is head light it is only by a bit which I think is generally good for most players. Mass in the head is important for most players as it helps you feel the racquet in your hand when playing drops and other touch shots.
Overall the Black Knight Magnum Corona6 is an improvement over the already good design of the original Magnum Corona. Anyone that is replacing the original Corona should check this racquet out as should anyone that is looking for a good control racquet.
We have it in stock and ready to ship should like pick one up. You can find it here at our online store.