An apology is in order...
A good few weeks back, I mentioned that I'd be attending the Edinburgh Open squash tournament and that I would write up an article on it.
That topic took a bit of a backseat as I really wanted to share the exciting interviews with Lucy Beecroft (available on our blog now) and, the newest member of Team CT, Iman Shaheen (available on our blog now) first.
Well, the time has now come!
In this post, I'll be discussing my own experience at the tournament including how I got on, and, more importantly, I'll talk about the awesome squash I was lucky enough to watch from some of the best players in the world in the main draw including Joel Makin, Patrick Rooney, Sarah-Jane Perry, Gina Kennedy, and Tinne Gilis.
This is the second time I've participated in the Edinburgh Open and, as expected, it was absolutely awesome.
The tournament took place between the 5th and 8th of January, and, since it's a monrad (in which you play all of your matches until your final position is decided), it's a bit of a shock to the system after the Christmas break!
Going from eating and drinking too much in December to four squash matches in just a few days at the start of January definitely sets you up for the second half of the season...
The tournament is popular for a bunch of reasons. Firstly, there are always a bunch of unbelievable players in the men's and women's main draws, and, if you've paid your entry to play in the tournament, you get to watch them play for free!
I don't think that there's another sport in the world where you'd have that opportunity.
But, I'll talk a bit more about the 2023 main draw matches in the next section.
The second reason it's so popular is the overall vibe and atmosphere of the event. It's full of squash lovers and friendly folk who are all incredibly welcoming.
Regardless of the standard, there's always a big crowd watching each court and supporting the players.
I'm from Newcastle (a couple of hours away from Edinburgh) and there were around 20-25 players from my local county who played the Edinburgh Open which was awesome because we all had a ton of support when we played.
Tournament organizer, (Simon Boughton) is also always up for a chat too which is great, although, I've got no idea how he finds time to chat while he simultaneously runs the main event as well as the A, B, C, D, E, and F events.
This brings me to another positive, players of pretty much any standard can enter the event and play.
What better way to further the game of squash eh?
Anyway, when it came to my own progress through the tournament, I didn't do as well as I'd hoped, losing out 3-0 in my first round to a very strong home player named Tino.
He was exceptional at dominating the T and playing attacking volleys on anything that wasn't glued to the side wall. It was a good match overall, but Tino, who has played squash full-time in the past, was definitely too strong.
In my second round (played on Saturday morning), I came up against another Edinburgh local named Jack Hogg. I was slightly concerned about how sore my body was after just one match, but despite this, I felt as though I played a lot better in this match and was controlling the rallies well.
Unfortunately, Jack had to withdraw before the end of the match due to a hamstring injury which is never a fun way to end a match. Thankfully it didn't look like anything too serious, but still a huge shame that he couldn't continue in the event.
In my third round (played on Saturday evening), I played Katriona Allen, a full-time pro on the women's PSA Tour from Enfield, England. I managed to win this match 3-1 and it was quite a tough one.
I took the first game quite easily 11-2, but then Katriona switched up her tactics and began volleying with a lot more pace (which seems to be my Achilles heel), she took the second game 11-8.
To counter this, I tried to slow everything down with a lot of lobs and then, once I was in control on the T, I'd take balls in short and fast mixing in boasts and crosscourt drops to twist her as much as possible. The court was pretty dead which definitely worked in my favour and I ended up winning the next two games 11-7 and 11-3.
It's traditional for everyone to have a big night out on the Saturday night so, needless to say, most players (myself included) were a little worse for wear for their final match on Sunday morning.
Of course, it was just my luck that I have a five-setter for my final match. Unfortunately, I lost out in the fifth and final game against Garry McKay. It was a strange game overall, we were both going for a lot of shots and the pace was pretty intense but the rallies were short.
Ultimately, Garry's shots were just that bit more accurate than my own and the scores were 13-11, 8-11, 10-12, 11-9, 3-11.
Although I didn't do as well as I'd hoped, I still had a great time and I had the opportunity to play four players that I'd never played before. What better way to improve your game?!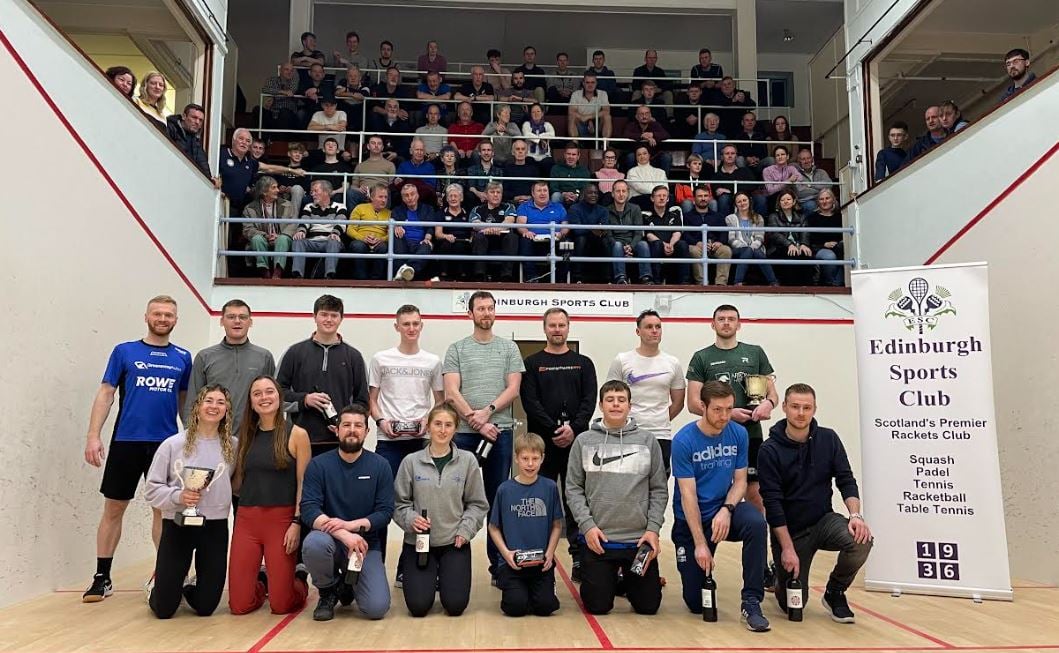 Now for the more exciting stuff...
As mentioned in the introduction, I was lucky enough to be able to watch a bunch of the best squash players in the world and it absolutely didn't disappoint.
The Edinburgh Open has a £40k distributed prize fund which must be one of the main reasons why the tournament attracts players of this caliber.
As many of you know, professional squash players don't make nearly as much as professionals in other sports and it can be pretty difficult for a lot of players to make a living, so it's great to see smaller tournaments managing to get larger prize funds like this one!
I don't know too much about the sponsors of the tournament, but Simon and the organisers have obviously put a lot of work in to be able to deliver prize money like that.
Anyway, I didn't watch any of the pros until the later stages of the tournament (on Saturday) and the first match I got to watch in the main PSA draw was Joel Makin vs Charlie Lee which was an absolutely incredible spectacle.
If you haven't heard of Charlie Lee, I imagine you'll be hearing his name more in the future. Currently ranked 64 in the world, Lee is 24 years old. He's incredibly accurate, especially when taking balls into the front, and he's unbelievably fast when moving into those front corners.
I remember playing against him a few times in junior tournaments and he had a similar style back then. Of course, it's come on leaps and bounds since then.
His game against Makin was very fast-paced and physical, however, Makin deals with that very well. He looked like he could keep on going forever.
Ultimately, Makin won that match 3-1 (10-12, 11-6, 11-7, 11-8).
Another stand-out match was Patrick Rooney and Greg Lobban's semi-final match.
Patrick is easily one of my favourite players on the PSA World Tour, he's got a unique technique, very explosive movement, and some unbelievable shots under his belt.
If you've ever watched him play, you'll know that he plays through nearly all interference too, which made for some insane rallies against Lobban.
Rooney, who was the 2 seed, won 3-1 (8-11, 11-1, 12-10, 11-4).
In the women's event, Tinne Gilis' match against Sarah-Jane Perry was absolutely amazing to watch. It went the full five games with both players putting a huge shift in to claim every single point.
Perry has a great on-court persona that I'd never really noticed when watching her on Squash TV. She had some back-and-forth with the crowd and the referees which made for a really entertaining match.
I'd also never really watched Tinne play before and I'm glad I did when I had the chance. She had played some flawless shots, especially to the front of the court, and her movement was very fluid.
Ultimately, Tinne took the fifth game 11-9 after a few nail-biting rallies resulting in lets (6-11, 9-11, 11-2, 11-8, 11-9).
I did watch a number of other matches, but if I talked about them all this newsletter would go on forever, so I'll briefly sum up the finals!
In the men's, Patrick Rooney faced Joel Makin and played an insane level of squash to take the win 3-0 (11-8, 11-7, 11-6).
Patrick is currently ranked 18 in the world and Joel is ranked 11 (having dropped a little bit recently). This was a pretty big win for Rooney who seems to only have beaten Makin once back in 2015 according to the PSA website's Head to Head section.
If you've never watched Patrick play, I'd advise doing so when you get the chance, he plays with such an exciting style and I'd say he's on the cusp of making a big leap up in the rankings.
In the women's final, an unbelievably in-form Gina Kennedy Georgina Kennedy took on Tinne Gilis. Gina is a force to be reckoned with this season and, in the Edinburgh Open, she overcame 1 seed and World No.4, Joelle King, to reach that final, so it was pretty clear that she meant business.
Although Tinne played well, Gina was too strong and took the title, winning 3-0 (11-5, 11-6, 11-5).
So there you have it, that was my experience at the Edinburgh Open! If you take anything from this week's newsletter, let it be one of these two things:
If you have any opportunity at all to go and watch some professional squash live in person, do it! And, if there are any tournaments nearby in which you'll get the chance to meet new people and play with new players, do it!
There are no negatives, even if you come dead last, you'll have gained very valuable experience to build on your game. After all, that's the goal right?
---
This article was taken from our On The 'T' Newsletter, if you're interested in receiving more content like this, please feel free to sign up using the subscribe section located at the bottom left of this page (or underneath the article if you're on mobile), thanks!