I haven't written a player profile in quite a while and, in light of the unbelievable season she's had, I thought it'd be a good idea to write one up on Gina Kennedy.
I love writing content on squash professionals because I always learn a ton, and, Gina is from England (like me) which is an added bonus!
A bit of background to start with, Gina Kennedy (according to the PSA website) is 166cm tall, weighs 57kg, and is only 24 years old, so she's got plenty of time to progress her game and carry on climbing the rankings.
Despite not being as tall as some of her opponents on the PSA world tour, Gina is renowned for her impeccable speed and her ability to grind out really long, tough, grueling rallies and matches.
She's one of those players that seems to get to every shot back no matter what her opponent throws at her. This style of play can be both physically and mentally difficult to face as you've got to work very hard for every single point.
The success of Gina's playing speaks for itself, in the space of just one year, Gina Kennedy has risen from World No.167 to World No.10.
That's an absolutely insane achievement.
To be more precise, out of 55 games, Gina won 50 of them, she also reached 11 finals and gained nine titles all within the last 12 months.
In a recent interview with England Squash, Gina said:
"I owe my ranking to Ben (Ford). It feels amazing to be amongst the top players, and having two English women in the top 10 for the first time since Laura Massaro retired, puts England Squash back on the map. I can't quite believe it. It was amazing to have my photo on the new rankings, I never thought I'd get there!"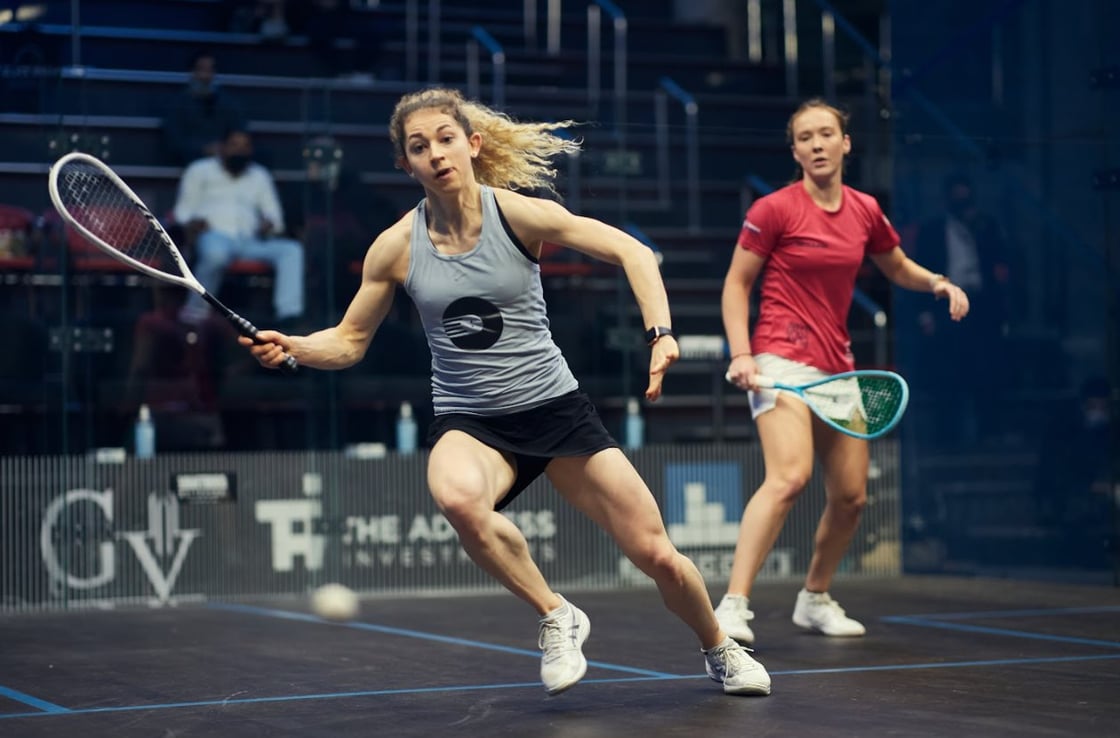 Image from Gina's Twitter
Gina only recently returned to professional squash in June 2021, after taking a four-year break to study at Harvard University.
As soon as she returned, she was on fire. Gina won seven of her first nine tournaments, including the Berkhamsted Linksap Open, TWC Squash Squared Open, and the Springfield Scottish Squash Open. She also made it to the final of the Squash On Fire Open in that period.
The next step in Gina's squash journey, on top of trying to claim some more prestigious titles, would be to reach the top 5 and that's going to be very tough. The standard of squash in the women's top 5 is absolutely incredible.
According to the 'Head to Head' feature on the PSA website, Gina has only played Nour El Sherbini (World No.1) once and lost 3-0, she's lost to Nouran Gohar on all 3 occasions they've played, and she hasn't yet played Hania El Hammamy or Amanda Sobhy.
It's important to note that I don't really think this proves anything about Gina's standard of play. She hasn't really had the chance to play those top four players enough to give a stronger indication of her ability to push them.
However, two matches that really put Gina on my radar were both against World No.5, Sarah-Jane Perry. Perry is an incredibly good player and Gina has beaten her both times they've clashed which proves that she's got what it takes to push the very top levels of women's squash.
As the season goes on and Gina begins to push the later stages of bigger tournaments, she'll have more chances to take the win against those top players.
I'm really excited to see how far she can get if she stays on the incredible trajectory she's been on over the past year. It's very clear that her learning curve is steep and she's got the drive and focus to keep on pushing!
I've done a lot of player profiles on younger up-and-coming players and it's become pretty clear that the next generation of squash is going to be awesome.
I often describe younger players like Gina Kennedy, Hania El Hammamy, Mostafa Asal, and Diego Elias as up-and-comers, but, the fact that they're all pushing the incumbent squash goliaths such as Ali Farag, Mohamed El Shorbagy, Nour El Tayeb, and Nouran Gohar, shows that they're no longer up-and-comers.
They've already established their name and reputation at a very early stage in their career. There's so much more that's still to come!