Tournament season is well and truly underway and if there's one thing that's great about tournaments, it's that there are options and opportunities for players of literally any standard out there!
Tournaments are really important when it comes to progressing your squash for a number of reasons so I thought it would be a great topic for this blog post.
I'll be going through a bit of information about tournaments, then I'll delve into a few tips and tricks for tournament preparation and recovery, and I'll finish by going through why you should be competing in them...
I'm extremely fortunate to have had a very dedicated mum and dad who both took me to countless squash tournaments around the country when I was younger.
This allowed me to progress my game so much in such a short amount of time and it really grew my love for the sport in the process.
When it comes to squash tournaments, I'm also very lucky that I live in the UK for two reasons... firstly, since it's such a small country, I don't have to travel very far if there's a tournament in a different city.
Secondly, squash is pretty big in my local city of Newcastle, and there are a bunch of tournaments that are played throughout the season. I make sure to play in as many as possible as often as possible!
I'm aware that many others aren't as lucky as me, and many people have to travel far and wide to reach squash tournaments. This is something that will hopefully change with time.
I assume many of you reading this have a local club that you play at, and there may be a few other clubs nearby so, hopefully, there are some tournament opportunities for you all without you having to travel too far!
A Bit About Squash Tournaments...
Tournaments can come in a number of different forms, you'll probably be familiar with most of them, although I may name them differently to what you might name them.
Some examples include the 'round robin' in which players are put into leagues (often of 3 or 4 people per league) and everyone in each league players each other, and then the winners of each league battle it out against each other to win the tournament.
There's the 'knock-out' style tournament in which you're usually guaranteed at least two matches. If you win your first round you progress through the main draw until you lose and then you're out (or you win the competition).
If you lose your first round, you go into a plate competition alongside the other players who lost their first round and then you progress through that until you lose and you're out (or you win the plate).
Then there's the 'monrad' tournament, in which you play until you have a definitive final place in the tournament results. Essentially, you'll usually play around four or five matches in total, regardless of whether you win or lose each match.
The outcome of a monrad is one long list of all the players from first to last based on their performance throughout the tournament, of course, if you win all of your matches, then you win the tournament, and if you lose all of your matches then you come last.
I'd say that 'knock-out' tournaments are probably the most common, however, all of the above are relatively common too. Of course, it's really important to know what sort of tournament you're playing in in order to prepare for the event...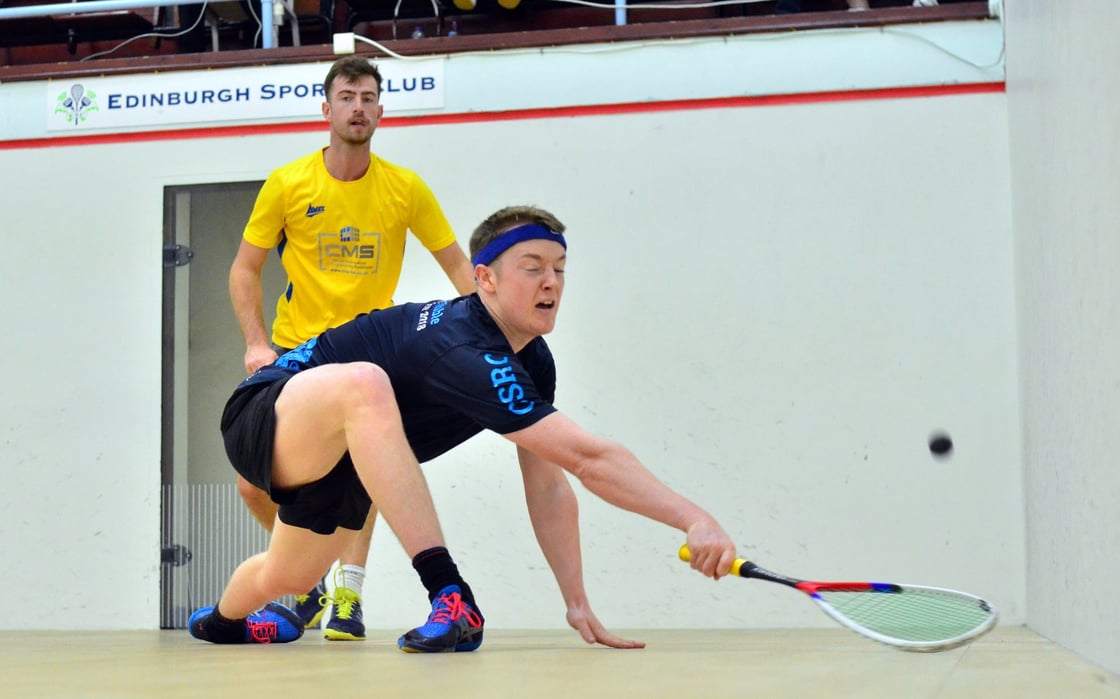 Just an FYI, I couldn't decide on an image to use for this newsletter so I decided to use this rather funny one (seen above) of me playing against my buddy Cai in the Edinburgh Open PSA event a couple of years back... that lunge was clearly not too comfortable!
Tournament Preparation and Recovery
As I mentioned before, it's important to know what type of event you're playing in in order to physically and mentally prepare for it.
Most importantly, if you're playing a monrad, you're going to have to be ready to play around 3-5 games over the course of 2-3 days, which is a lot of squash!
With that said, in almost any tournament, you're going to have to play at least 2 matches in a pretty short space of time, and that can really take its toll on the body.
If you haven't been playing much squash, I'd advise trying to play more matches in general in the lead up to the event and also, in particular, to try to play two or more matches within a short space of time (a few days at most).
This will give you a taste of what to expect that second match to feel like on your body, as it will no doubt be a lot tougher than the first.
If you are playing a lot of squash to train for the event, I'd recommend making sure you don't play in the two days prior to the tournament to make sure your body is fully rested and recovered from your training.
Make sure to stretch and warm up and warm down before and after matches, especially if you have another one on the same day or on the following day. It's important to do all you can to help your body recover and prepare for the next match.
Squash aside, another piece of advice is to make sure you're prepared with all the squash kit you could possibly need including at least one spare racquet (in case you break your strings or even your racquet), a change of clothes (especially socks), a towel, and a spare pair of shoes if you have them.
Cai (in the yellow top in the image further up) is notorious for forgetting his squash shoes which is always a bit of a nightmare!
Throughout the tournament, make sure to keep a water bottle handy at all times and keep sipping it throughout the day to keep yourself hydrated. Also, try to keep your energy levels up with electrolyte drinks and light snacks.
I'd love to give some more in depth advice on nutrition, but the truth is I have very little knowledge about what's best to eat before squash matches.
I'd advise doing your own research on this, but a lot of it is just common sense, make sure not to eat any massive meals in the lead up to a match but also ensure that you've eaten at least something to give you some energy.
Lastly, during the event, make sure you know what time your match is and what court you're on. You don't want to be rushing on court after not realising you're meant to be playing! I usually set an alarm just to make sure I don't miss my game.
One other thing, if you're lucky enough, some events will have hired referees to mark matches, however, most of the time either the winner or the loser of the previous match is in charge of scoring the next match.
I'd advise brushing up on your marking skills if needs be and, if you've never scored a match before, I'm sure the tournament organiser will be able to find someone else to score if needs be.
With that said, if you don't know how to score, it's probably a good idea to sit with other people while they're scoring as this is the best way to learn how to do it yourself.
All of this might sound like a lot to take in and remember, but a lot of it is common sense, you'll do just fine and your experience will be amazing!
Why Are Tournaments So Great?
As I mentioned, the squash scene where I live is pretty great, however, I often feel as though I end up playing the same players repeatedly when training and playing team matches.
Tournaments, on the other hand, is a perfect way to get on court against completely new players with different playing styles and of different standards. Playing new and better people is hands down the best way to improve your squash, especially at the amateur level.
Many players are willing to travel at least a little further than normal in order to play a squash tournament, but more often than not, if the tournament is large enough, players will travel from far and wide to take part.
As I mentioned in the intro, it usually doesn't matter what standard you are, there will be an event out there for you.
Take the Edinburgh Open (in which I'm playing in in the image further up), for example, the event is massive. There's a main PSA event and I was able to watch some of the best players in the world battle it out including Paul Coll, Joel Makin, and Karim Gawad.
But, there was also other draws for lower-standard players, starting from the A event and going all the way down to an E event (I believe).
Of course, this is very dependent on things like tournament funding, the club's accessibility, the number of courts etc, however, even smaller clubs with 2-4 courts can support a few different graded events for players of all standards!
Lastly, the social aspect of tournaments is possibly my favourite part. Since you're playing new players, it's a great way to make some new friends and contacts in the squash world.
Plus, since players travel from all over the place, many of them will stay overnight in hotels or with friends, for this reason, many tournaments organise non-official meals for players and even nights out.
We have a local tournament at my local club named the Gosforth Classic and we always go for a meal (usually a curry) and a big night out in Newcastle on the Saturday night with any player who wants to come along.
It's definitely the highlight of the event and we've always got some fun stories to talk about when we're all back at the club on Sunday to watch the finals (while hungover).
So, if you were thinking about entering a squash tournament, or even if you weren't, I hope this has helped sway you towards trying it out, I can absolutely guarantee that you won't regret it!
---
This article was taken from our On The 'T' Newsletter, if you're interested in receiving more content like this, please feel free to sign up using the subscribe section located at the bottom left of this page (or underneath the article if you're on mobile), thanks!