I recently managed to jump on court to try out the Dunlop Sonic Core Evolution 120 Squash Racquet. As a long-term Tecnifibre user, it was good fun to try out something new for a change!
Endorsed by squash legend and former World No.1, Nick Matthew, this racquet was manufactured for fast-paced players with a quick, short swing. Nick Matthew is renowned for his attacking style of play, when he was on the PSA World Tour, he was a master of volleying and punching the ball in short and straight with a bit of venom.
That's exactly the sort of playing style that the Sonic Core 120 is designed to assist!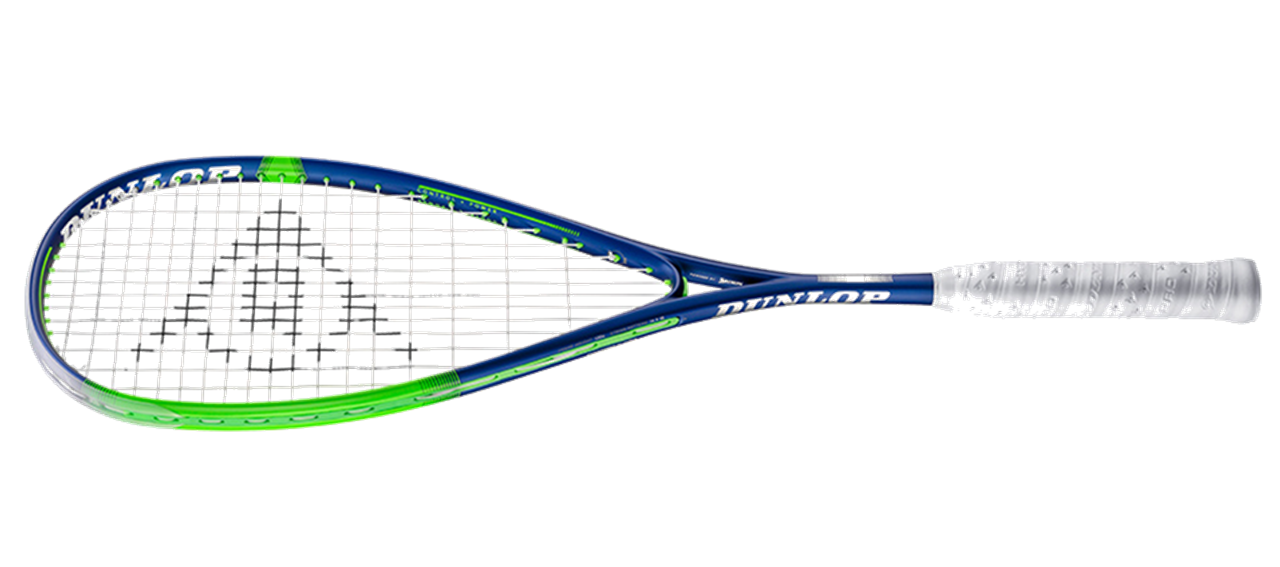 At First Glance
Some people really don't mind what their squash racquet looks like... I'm not one of those people, I like to have a nice-looking racquet when I'm on court.
Obviously, what I find to be 'nice-looking' is subjective, however, I really love the aesthetic of the Sonic Core Evolution 120. It sports a smart dark blue colour scheme with bursts of electric green to make it pop. Of course, it also features Dunlop branding on the strongs and around the frame, however, what's quite possibly my favourite touch is the small 'Wolf' logo inside the throat.
In case you didn't know, Nick Matthew's nickname on the PSA Tour was 'the Wolf'.
Specifications
As you can see in the graphic above, this racquet is advertised as 120 grams (frame weight) with an extra head light balance point.
After reading some other reviews on the racquet, the consensus seems to be that the Sonic Core Evolution 120 weighs 158 grams when it's fully strung with a bumper guard, and, according to Squash Source's review, 52% of the racquet's weight is at the head and it has a 36cm balance point.
It has a 490cm square head size which isn't too big, but still on the larger side, so I'd predict that it has a large sweet spot and is relatively forgiving when it comes to off-centre hits.
The racquet has a 14x18 string pattern, this is slightly on the denser side and I imagine it'll help to enhance control. Finally, with regards to frame shape, the Evolution 120 is advertised as a teardrop-shaped racquet, however, it still has a bridge, which should provide significant stability as well as a strong blend of both control and power.
How Does it Play?
I'm going to start off with a somewhat controversial statement to begin this section. After hitting a few straight lengths and volleys back to myself, I actually thought that the Dunlop Sonic Core Evolution 120 didn't feel particularly head light. In fact, I would describe it as quite evenly balanced.
As I mentioned above, I've read a few other reviews on this racquet and many of them describe the racquet as super maneuverable and good for a fast swing, however, I did read a few from people with a similar opinion to mine. So I guess it is definitely up for debate.
With that said, I'd still say it is maneuverable and light enough to play an aggressive game and volley with a good bit of punch, however, I don't know if I'd describe it as 'extra head light'.
Anyway, I stayed on the court with this racquet for a good while as I thoroughly enjoyed playing with it. According to the Dunlop website, this racquet has an 8.5/10 rating for both power and control. I'd agree firmly with this.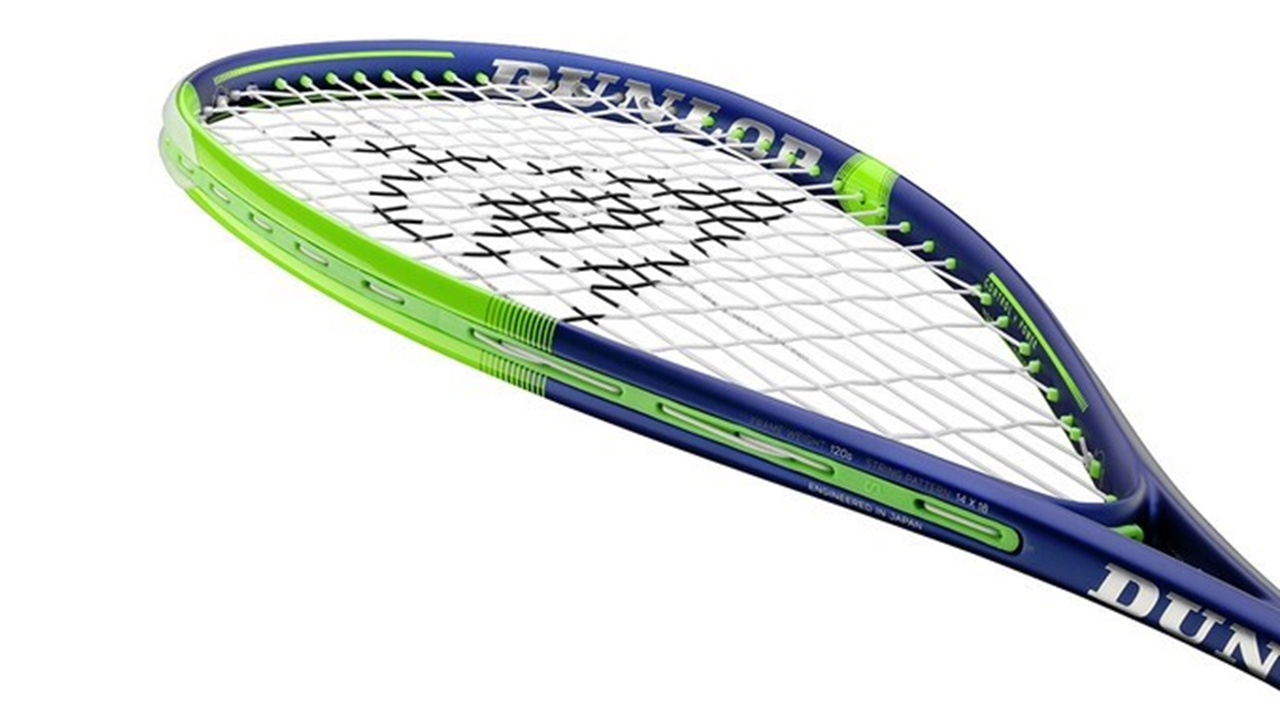 A lot of squash racquets are advertised as having both power and control, this can be quite exhausting. But, when it comes to playing with the Evolution 120, it was awesome for accessing power even with shorter swings and punchy volleys, and, I still felt under control with every strike.
It's a great racquet if you're looking to add a bit of deception as you can add some wrist to your swing and flick a last-minute cross-court with ease.
When playing deep lengths to the back of the court with a larger swing, I still felt like I had a lot of control and the power came almost naturally with each shot. The impact was very comfortable on my wrist and every swing felt very free-flowing
There was very little vibration on contact with the ball and I could really feel the large sweet spot, it gave me confidence every time I played a shot.
Technologies
Dunlop is a huge name in the world of squash and they have an incredibly respectable and extensive history of producing great squash racquets with innovative technologies.
Starting with the primary technology incorporated into every racquet in the Sonic Core range (including this one), Dunlop partnered with BASF, the company behind Adidas' insanely popular Boost foam technology. The foam, (named 'Infinergy®') is incorporated into the frame at the 2 and 10 o'clock positions, and, whilst being very lightweight, it has ultra-elastic rebound properties.
The purpose of this is to increase the racquet's sweet spot and dampening while reducing shock on impact with the ball resulting in a 37% reduction in vibration.
Combining this foam with the Sonic Core frame results in a much faster ball speed.
Next on the list of technologies is the Aero Profile frame shape that allows the user to reach shots faster and hit harder. The Sonic Core Evolution 120 has a 9% smaller cross-section in the hoop, giving a sharper leading edge for increased swing speed.
CX Pocketed Grommets combined with the aerodynamic cross-section further increase head speed for further maneuverability. Finally, GlidePolymer technology has microbeads that reduce friction and increase string movement for enhanced power.
Final Thoughts
From powerful lengths to delicate drop shots, to soft lobs, I'd say this racquet really assists all aspects of play and would suit players of all standards, from club level to tournament level.
I really liked this racquet and have recommended it to a few friends of mine who I think could seriously benefit from the specs. When it comes to Dunlop, you know you're getting a racquet that you can rely on!
---
Could the Dunlop Sonic Core Evolution 120 be your new racquet of choice? Check it out on our site by clicking below...