The Dunlop squash ball... the official ball of the WSF and PSA and the only ball used in professional international squash competitions. If you're a squash player, it's highly likely you use or have used a Dunlop ball at some point, and there's a reason for that.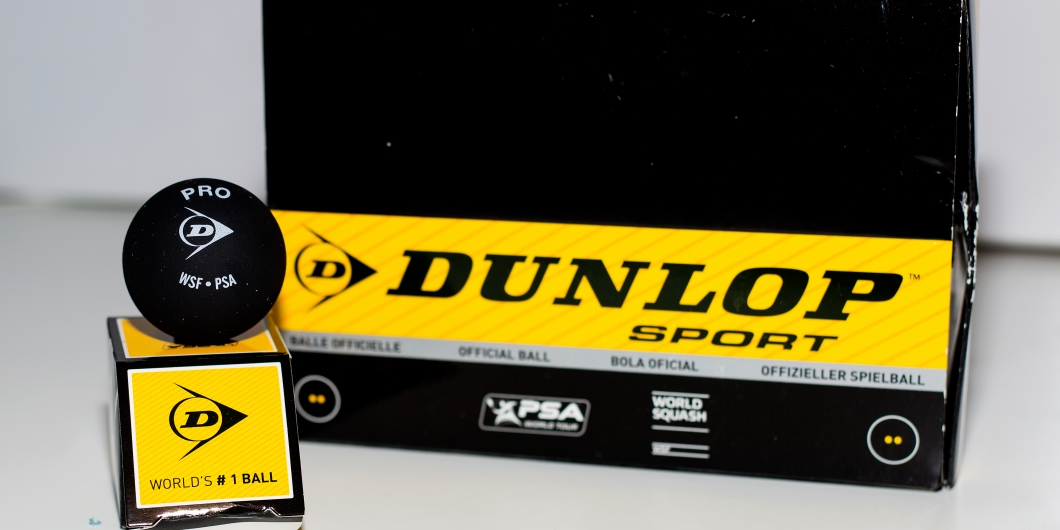 (Photo from PSA World Tour Site)
Why Dunlop?
Dunlop have been manufacturing squash balls since the mid 1900s, so it's fair to say they've got some experience in creating the perfect ball. Dunlop introduced their dotted balls in the 70s, but it wasn't untill the 90s that Dunlop updated their ball range and established their dominant presence in the world of squash.
Dunlop squash balls are created using a mix of strong raw butyl rubber and other synthetic materials, the two halfs are then compound glued together sealing the air inside. What sets Dunlop aside from other manufacturers is their rigorous testing based around diameter, weight, stiffness, seam strength, and rebound resilience. Laboratory tests involve things like intense compression, cutting balls in half, extreme stretching, and dropping balls from a height.
This heavy testing has made Dunlop squash balls a leader in consistency and durability, setting the bench mark for other balls to aim for.
The Balls...
You'll have no doubt seen a few of the different balls Dunlop manufacture. Each ball geared towards a specific type of player, from beginner to professional, based on its size, weight, and bounce.
The Pro Ball - The Double Yellow Dot
Ideal for intermediate club-level players all the way up to the pros, the double yellow dotted ball is the ball you'll see the most often in the world of squash. Any player with a decent level of experience of the game should be using one.
The main features are that it has the lowest bounce in comparison to other Dunlop balls, although it certainly gets a bit bouncer after a good, high-paced warm up.
On a colder court the ball may feel slightly dead, you might find it a little harder to keep the ball warm and bouncy. You may have to adjust your playing style and add some extra pace to get the ball to reach the back, and drop shots will certainly be more difficult to pick up at the front.
The Competition Ball - The Single Yellow Dot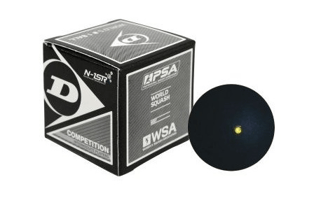 Another way to combat a cold squash court is by using the single yellow dotted ball. It's aimed towards club level players and young juniors who may be at an advanced level technically, but may not have the strength to put significant pace on the ball just yet.
According to Dunlop, the Competition Ball has the same diameter as the Pro Ball, but has a 10% longer hang-time, meaning that it's more bouncy.
The Progress Ball - The Red Dot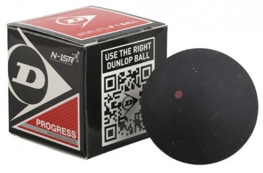 Dunlop's Progress Ball is 6% larger than a standard ball in size, and is even bouncier than the Competition Ball with a 20% longer hang-time.
Manufactured to be ideal for improving players who have developed good hand-eye coordination when hitting the ball, but maybe still need a little more experience in getting used to squash as a whole.
If you're looking to move up from the Intro Ball (seen below), the Progress Ball is ideal.
The Intro Ball - The Blue Dot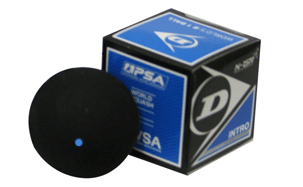 The perfect ball for an introduction to squash... aimed towards beginners the Pro Ball is 12% larger than the Pro ball and has 40% longer hang-time.
It's great for new players to get a feel of how a squash ball bounces in comparison to balls from other sports, and it requires minimal warming up to maintain it's bounce.
The White Ball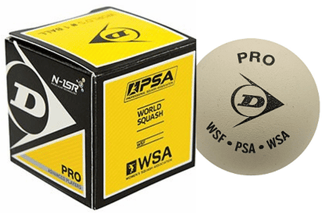 You may have watched professional squash matches being played on a full-glass court, you may have even player on a full-glass court yourself... if you did you most likely used Dunlop's white version of the Pro Ball.
Exactly the same as the double yellow dot black Pro Ball, but this white version is much easier to see if you're playing on a full-glass court.
There you have it!
Hopefully, you now know plenty about squash balls and which one will be best suited to your game!
Check out our selection using the view in store buttons below...
The Pro Ball The Competition Ball
(Double Yellow Dot) (Single Yellow Dot)
The Progress Ball The Intro Ball
(Red Dot) (Blue Dot)