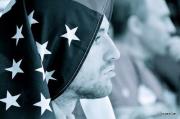 Gilly Lane today announced his retirement from the PSA Tour due to injury.
Back injuries are a very difficult injury to recover from. I have been fortunate to have never hurt myself as seriously as Gilly obviously has. I have suffered one back injury playing squash that was incredibly painful but I was extremely lucky that I recovered from it quickly.
Gilly Lane made the announcement on his Facebook page today stating "It's been a tough couple months struggling with this back problem and today is even tougher. I have decided to retire from the PSA Tour due to the injury I suffered in July. I think the time is right to begin to pursue other avenues and start the next phase of my life. I want to thank Tommy Berden, Lucas Buit, Floris Minnaert, John White, Natalie Grinham for their coaching and constant support. Thanks to US Squash for their backing and efforts to put us in the right position to succeed. Also LJ Anjema and Cameron Pilley for being great friends and role models and my parents and family for their endearing support. It wouldn't have been possible without my family and I owe them everything."
On Twitter Gilly tweeted the following "Tough day as I have decided to retire from the PSA Tour. My injury has not healed in the manner I wanted it to and it's time to move on." He then tweeted "Looking forward to the next phase in my life."
Good luck in the next phase of your life Gilly.