Harrow updated the cosmetics on the Harrow Spark Jonathon Power Signature Edition for this season. They have painted it Black and Yellow for this year. They have also changed the strings in this model. They have included Ashaway's SuperNick XL Micro in this generation of the Spark. Having the SuperNick XL Micro is a positive in my books. I like 18 gauge string as it cuts in to the ball a bit better than a 17 gauge string. It also helps generating power.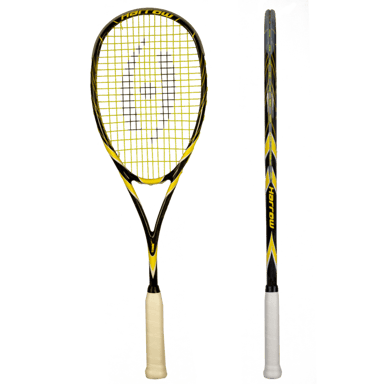 I decided to pull the demo out as I have not hit with the Spark in quite a while and I really found that I enjoyed hitting with it. The more I play the more I am refining what I like in a squash racquet and I really do like a light racquet with a head heavy balance. I find that it helps the racquet head come through to the ball and that assists with generating power. Its overall light frame weight helps with making the racquet quick allowing the player to react quickly. The 135gram strung frame weight with the 375mm head heavy balance is a really good combination for this racquet.
The head size of 470cm2 is a relatively small and that coupled with the bridged head help provide good control to the Harrow Spark. The bridged head and smaller head size mean the overall length of the string from contact with the racquet frame is short which is what helps the racquet provide good control. When the racquet contacts the ball the strings flex and then spring back. The smaller length of the strings limits the distance they give and have to come back. The limited distance they can give limits the variation in how they return to the normal position and thus improves control. Although its head size is only 470cm2 it does provide a good sweet spot which assists the player when they don't hit the ball directly in the centre of the strings. It is also a relatively powerful racquet for one that features what would normally be considered a control frame shape. The good control the frame shape and size provides combined with its ability to help generate excellent power is definitely a good mix.
Overall I really enjoyed hitting with Harrow Spark again. It has been a while so it was nice to have a hit with the new edition. While the new cosmetics don't make it play any better they certainly do look nice. The switch to Ashaway's SuperNick XL Micro is a nice change. For someone looking for a light racquet with a head heavy balance the Harrow Spark Jonathon Power Signature Edition is an excellent choice. It provides ample power while also providing excellent control. The Harrow Spark is a great playing racquet. To learn more about the Harrow Spark click on the View in Store link below.