The Brand
I've always found Black Knight to be a great brand for designing a variety of squash racquets that cater to all styles and abilities. The Hex Phenom is more of performance racquet, this explains the higher price point, but boy do you get a bang for your buck!
The Phenom

Starting with the racquet's appearance, the Hex Phenom has a predominantly black colour scheme, with bursts of blue, yellow and white, which make the racquet stand out while still looking smart. It also has the word 'Phenom' written just above the grip, so if you're ever in need of a little motivational push, just look read that and become the Phenom!
The Hex Phenom has a generous 493cm2 head size, and as a result, the 14X18 string pattern looks to be a little more open, so hopefully, these two elements will give the racquet a bigger sweet spot, and allow access to some serious power.
The feel
With an unstrung weight of 135 grams, and an even/head-light balance point, the Black Knight Hex Phenom feels pretty maneuverable. After a few practice swings, I definitely felt like this racquet does a great job of assisting a shorter, more punchy swing.
On a side note: the Black Knight grip that comes with the racquet actually feels great, it's a little on the squishier side, but still tacky nonetheless!
Despite its relatively large size, I'm predicting that the Phenom will be pretty quick to play with! I'm also still hoping to experience some power once I get on court...
The shots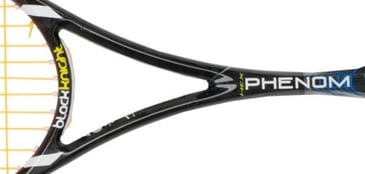 I'm definitely not dissapointed!
Black Knight's HEX technology is designed to get rid of vibration and improve responsiveness, and it does just that. You can feel the ball incredibly well with this racquet, and the larger sweet spot allows for an excellent level of control, even on those short fast swings.
The Phenom has the perfect level of stiffness, it's right in the middle, meaning you can feel the ball well without vibration. You can also access some great power without having to put a huge amount of effort into the swing, this is something that's pretty unique, especially in an evenly balanced, light squash racquet.
Lastly, I've got to mention the strings, this racquet comes fully strung with
Ashaway Supernick ZX Micro strings, which are a thinner gauge version (1.15mm) of the newest ZX for more precise touch and feel.
The overall opinion
All in all Black Knight have produced something special, the Phenom Hex has a great blend of control and power. Primarily assisting a short fast swing, I'd recommend it to anyone looking to take more volleys, and add a little disguise to their shots!