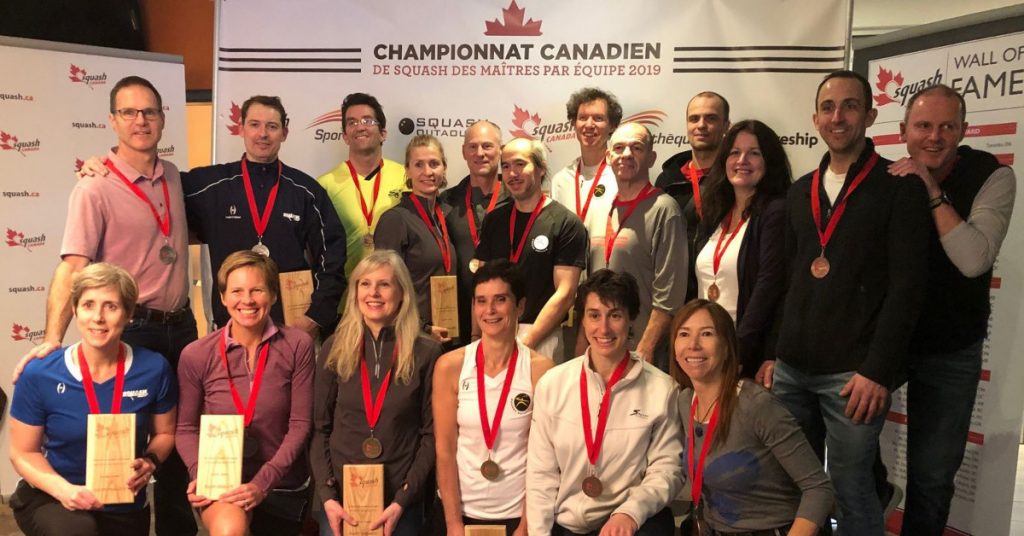 It's not all over when you hit 40 ...
Life and squash continue to be rich with competition and high caliber play.
I just
had the pleasure of playing in the Canadian Masters Team Tournament in the
lovely (yet bitterly cold) Gatineau, Quebec at the very gracious and
accommodating Club Sportheque. I was witness to some phenomenal squash and
experienced some wonderful team bonding that I will treasure. I think it is
important for people to know that those opportunities don't disappear after
juniors. They are still out there, and they are a heck of a lot of fun!
With
this in mind, I thought I would outline what my weekend with Team Ontario was
all about.
The
Canadian Masters Team Tournament is an event where each Provincial or
Territorial Squash Association in good standing with Squash Canada is eligible
to enter a team (with the hosting province allowed to enter 2 teams into the
event).
This
is the pinnacle of the Masters squash circuit. An event that not only pits the
best each province has to offer in the sport, but also a time to catch up with
friends you have met over years of competition. You get to meet people of like
mind and spirit. The atmosphere is filled with enthusiasm, camaraderie and the
sense of pride in representing one's province.
This
year there were 8 provinces represented - Alberta, British Columbia, Manitoba, Maritimes,
New Brunswick, Ontario, Quebec and Saskatchewan, for a total of 9 teams (with
Quebec#1 & Quebec #2).
In order to qualify for the Masters Team in Ontario, a player must win
their division at the Ontario Masters Championships. The team is then comprised
of 7 players that fit within the following age categories:
Men
40+, 45+, 50+, 55+
Women
40+, 45+, 50+
Once
each of these spots has been filled, players are then ranked in order of skill
(by gender).
The competition is set up in pool play. Playoffs are a cross-over of pool placement (Pool A #1 plays Pool B #2, etc.). These culminate for the Sunday morning finals. This is where things get really interesting!!
SETTING
THE SCENE
It is
Sunday morning at the Canadian Masters Team Tournament.
There
is a deep seeded sport rivalry between the provinces.
Pride
and self-respect are on the line (not to mention some butts to cover from some
friendly ribbing over beverages).
Everyone
has fought hard and done their part in gaining the opportunity to take home
some shiny gold. There are 5 matches worth of wear and tear on each of the
competitors' bodies. There is the smell of BENGAY and A535 in the air. Coffee
(and in some cases Coca Cola) helps to kick-start the adrenaline and shake off
the weariness of the weekend's toll.
The
atmosphere is buzzing and so are the bodies.
It is
Alberta versus Ontario striving for gold.
Match
#1
Always
a hard position to play (especially when our guy is a night hawk and not an
early bird). Scott Kemp Gee always puts 100% into his match. He leaves it all
out there on the court (including a little skin on the floor). The match was
compelling and entertaining with both players showing moments of brilliance. It
certainly woke up the crowd and got all of our blood warmed. Unfortunately the
match went Alberta's way.
Match
#2
Our
fashion-focused Lisa Bogdan was up next. These two ladies were so evenly matched
you could tell it was going to be a barn-burner right from the start. The match
up was back and forth like a tug of war - the crowd up and down like a roller
coaster. First game to Ontario. Second game to Alberta. Third game to Ontario.
Fourth game to Alberta. Fifth game goes to extra points 14 -12 … to Alberta.
This
is new territory for the team. We haven't been two games down in a fixture all
weekend.
Match
#3
On
court comes our soldier, Walter Bentley. Chills and fever coursing through his body
over the past few days, he is there for the team and continues to battle on. As
much as he had in him, he gave. Regrettably Walter fell victim to his opponent
and Ontario is suddenly down 3 – 0 in matches.
UH
OH!! We are in a win or die scenario now. Next up – me.
Match
#4
On
court with the pressure of knowing we have to win or gold is no longer
attainable was an interesting feeling to say the least. Ontario has had a
dynasty of wins in this tournament and I did not want to be part of knocking
that dynasty down. My opponent was fast, she had a wicked drop shot and I was
slow off the mark. First game goes to Alberta. Thankfully in between game 1
& 2 I received some fantastic strategy advice from my seasoned and
experienced teammates. They said exactly what I needed to hear. I came back out
on court focused with a game plan. That plan turned into a win. Alberta 3 –
Ontario 1! We are still in it!
Match
#5
David
Sly is a marksman and an absolute master of the game. His court movement is
easy, his shot selection enviable. He not only has to win to keep us in the
hunt, but to cover his banter and rib poking from the evening before (all in
good fun)! Right from the warm up on, Dave was comfortable and confident. His
sniper racquet on form brought us our next needed victory. Albert 3 - Ontario
2.
Match
#6
Hardened
to the pressures of competition, our stoic Elka Markus is up to the task. She
takes the first two games with smart and gritty squash. Alberta takes the next
game, making the crowd jittery with nerves. Not Elka. Unflappable, she comes back with more
strategic and brilliant play. Now things are really interesting Albert 3 –
Ontario 3. Tie-breaker takes the gold… no pressure!
Match
#7
Our
Zen master, Don Lee takes to the court with an air of calmness (that seems
perpetual with Mr. Lee). Never looking panicked or rushed or stressed, he
floats to the ball and strikes like a viper. He, too, goes up 2-0 in games. Our optimism
grows. To keep things interesting Alberta's player digs in. The 3rd
game is grit, grind, and guts – Alberta takes the game. Still (seemingly)
un-phased, calm and serene Don has a full out back and forth battle in the
fourth. The crowd is into it, jumping, clapping, guffawing with each and every
point. For the sake for drama they take it into extra points. Everyone on the
edge – Don WINS 14-12 in the 4th! We did it! Coming back from a 0-3
start to a 4-3 victory! What a team!
It was
an absolute honour to be a member of this year's team. It was a pleasure to get
to know some of my fellow Masters better, and spend some quality competitive
time with them. The support, the comfort, the advice, the hugs and pats on the
back, the cheering, the reassurance, and overall encouragement of this team for
one another was the magic ingredient that got us through a nail-biter of a
final.
So for
those of you who think that squash life is over at 40 and beyond, I highly
suggest you check out Masters Squash. It will certainly challenge that belief!
"Age is no barrier. It's a limitation you put on your mind" (Jackie Joyner-Kersee).
Nicole
Garon

Squash Pro & Coordinator
Brantford
MOVATI Athletic