A Short Rundown of the Event:
This year's Windy City Open in Chicago was an absolute rollercoaster of unbelievable squash, and was packed full of marathon matches. With some stand-out performances from multiple players such as Borja Golan, Diego Elias, Mathieu Castagnet, Camille Serme, Sarah-Jane Perry, and of course Paul Coll... just to name a few! This tournament certainly wasn't one to be missed.
The Egyptian domination continued with Ali Farag winning the men's final 3-2 against Paul Coll, and Nour El Sherbini winning the women's final 3-2 (11-9 in the fifth) against Raneem El Welily. Both matches were absolute nail biters, and from a spectator point of view were simply amazing to observe (although I only watched from my laptop screen, I can only imagine what the atmosphere would be like to be at the event)!
There was an abundance of five setters throughout the tournament, including a 100 minute mammoth in which Mathieu Castagnet took out Saurav Ghosal, a 98 minute marathon in which Daryl Selby came back from being 2-1 down to beat Lucas Serme, and an 84 minute suspense filled match in which Sarah-Jane Perry took out Yathreb Adel in the fifth!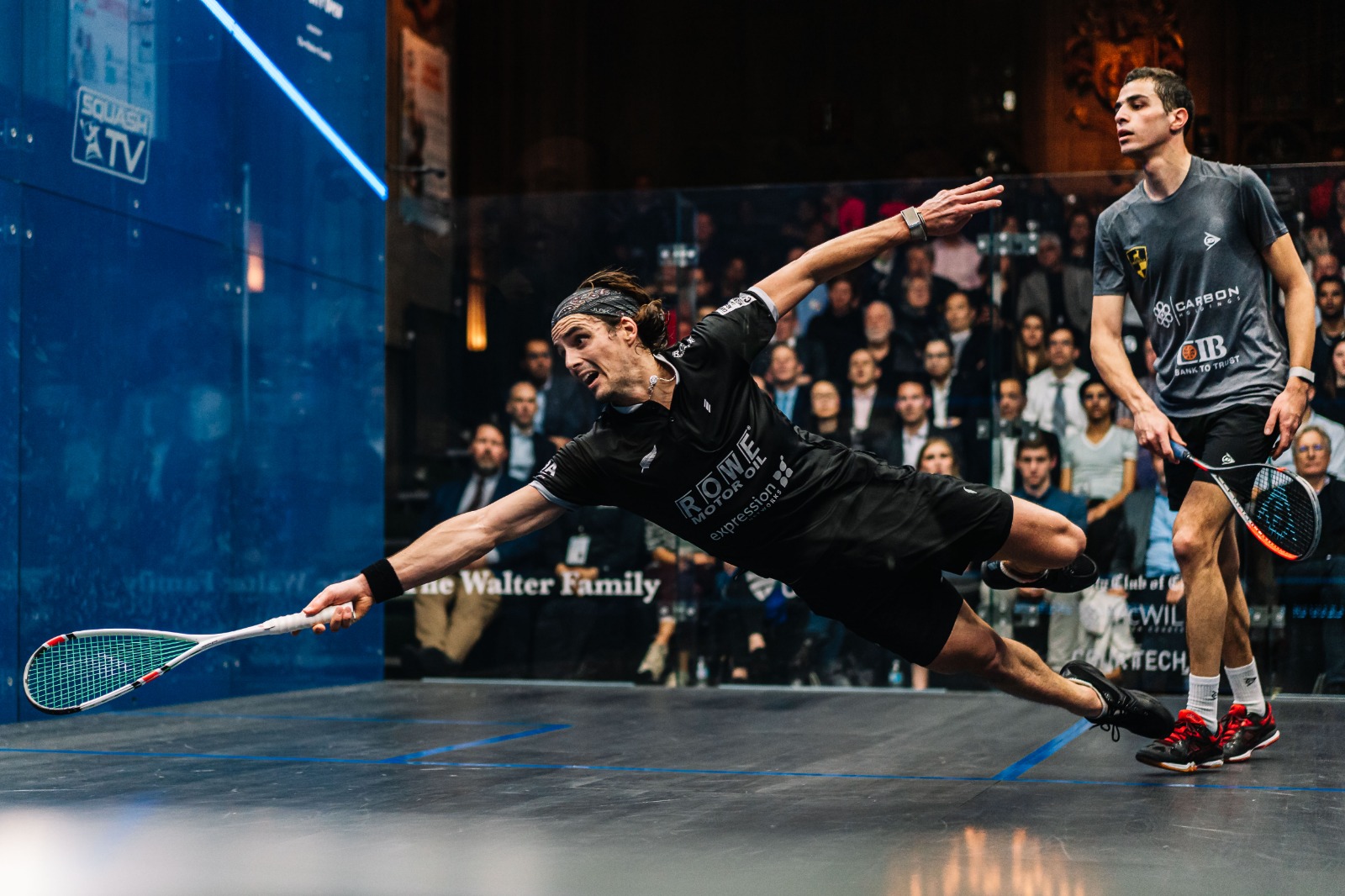 Paul Coll brings out the big guns against the Egyptians...
I think most people will agree that New Zealand's Paul Coll was certainly the stand out player of the tournament. Paul's early matches in the draw consisted of beating Greg Lobban 3-0 and Declan James 3-1, Coll then continued to take out current world no.1 Mohamed ElShorbagy 3-0, and Karim Abdel Gawad 3-1 to reach the final. In the final, Coll's mental and physical fatigue became too much against Ali Farag as although he went 2-0 up, Farag managed to come back and take the match 3-2.
Coll v Gawad was arguably my favourite match of the tournament as the ferocious desire to win from Coll was so readily apparent, in the fourth game (the last game) Paul Coll was 10-9 up, and received three rather questionable lets from the referee in row, each one Coll believed was a stroke, and each one making him more and more mentally drained. Coll thought he had won the match three times before he actually managed to get that 11th point, and the passion and relief when he finally got there was incredible to see!
It's no question that Paul played brilliantly throughout the tournament, and it's clear that he's been working on changing his style of play, especially when taking on the Egyptian players. Although Coll is known for his extreme fitness endurance, it's clear he's been working on his shot making, as he was putting in some pinpoint backhand drop winners against Gawad.
He was also doing an awesome job of using height and width to keep his opponents pinned in the back corners, the Egyptian style of play is typically very fast paced and mid-court, but Coll restricted his opponents ability to engage in that, which must have been difficult, but was certainly effective!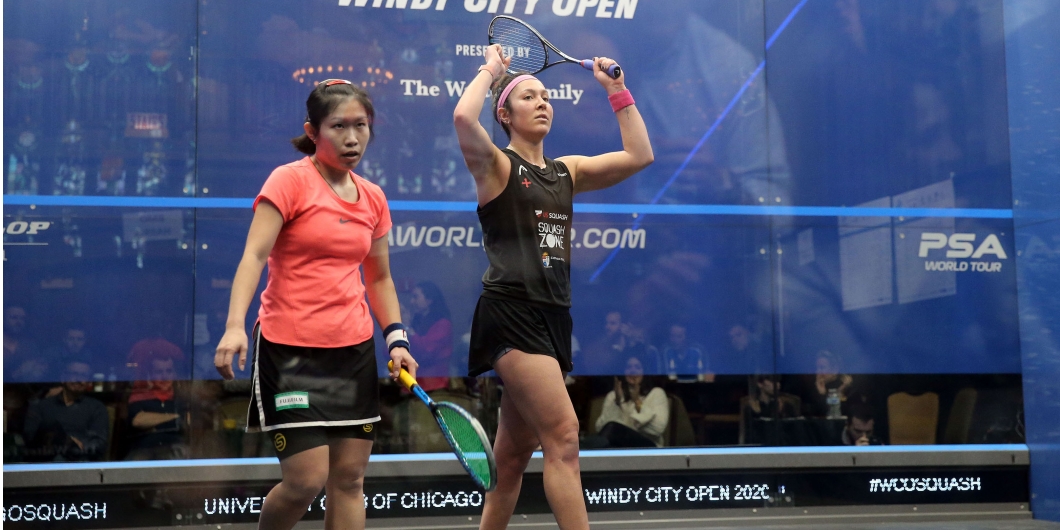 Controversy, drama, and emotion certainly ran high...
Right now squash is progressing in a great direction, to be able to watch professional tournaments like The Windy City Open from different camera angles in such a high-quality stream is amazing. The commentation of matches has made squash much more entertaining, and also gives viewers who are a little more unfamiliar to the sport a better idea of what's going on. It's clear that the PSA are doing a heck of lot to grow our sport and make it more viewer friendly, and it appears to be working.
The PSA's use of social media is also giving fans a great insight into the world of their idols, and in the Windy City Open, the PSA began running post match interviews with players and posting them on Twitter, Facebook, and Instagram, this became the topic of some controversy...
With emotions running raw straight after wins and losses, I think that these interviews are a great idea, they give both the players and the sport a little more depth, and can give fans more of an emotional insight into to their idols and what it feels like to play at that level.
Amanda Sobhy's interview after her game with Nouran Gohar became an interesting topic of discussion after she voiced her disapproval of the refereeing during her match. On social media many other pros such as Daryl Selby nodded to Amanda and praised her confidence and honesty, 'you don't have to agree, but it's great to see what players really think and feel', which I think is bang on! Although some others believed that players should not be able to speak out publicly against referees.
Another controversial and slightly emotional issue which arose was that of Mohamed ElShorbagy after his 3-0 loss to Paul Coll. His post match interview with the PSA was not posted on their social media, so Mohamed posted a video speaking out about it on his own social media which went viral within the squash world. Without going into too much detail, the issue he addressed was that as all the world top 8 players must attend all platinum events, Mohamed chose not to attend a platinum tournament in Egypt.
In Chicago he was still waiting to find out if the PSA would be taking disciplinary action for this, according to Mo, the PSA didn't get into contact with him for a long time, and then the day before his quarter-final with Paul, he received an email mentioning that the PSA in fact would be taking disciplinary action. Mo stressed in the video that it's not the decision he was frustrated with, it was the PSA's handling of the whole issue, and that it had a huge impact on his match preparation.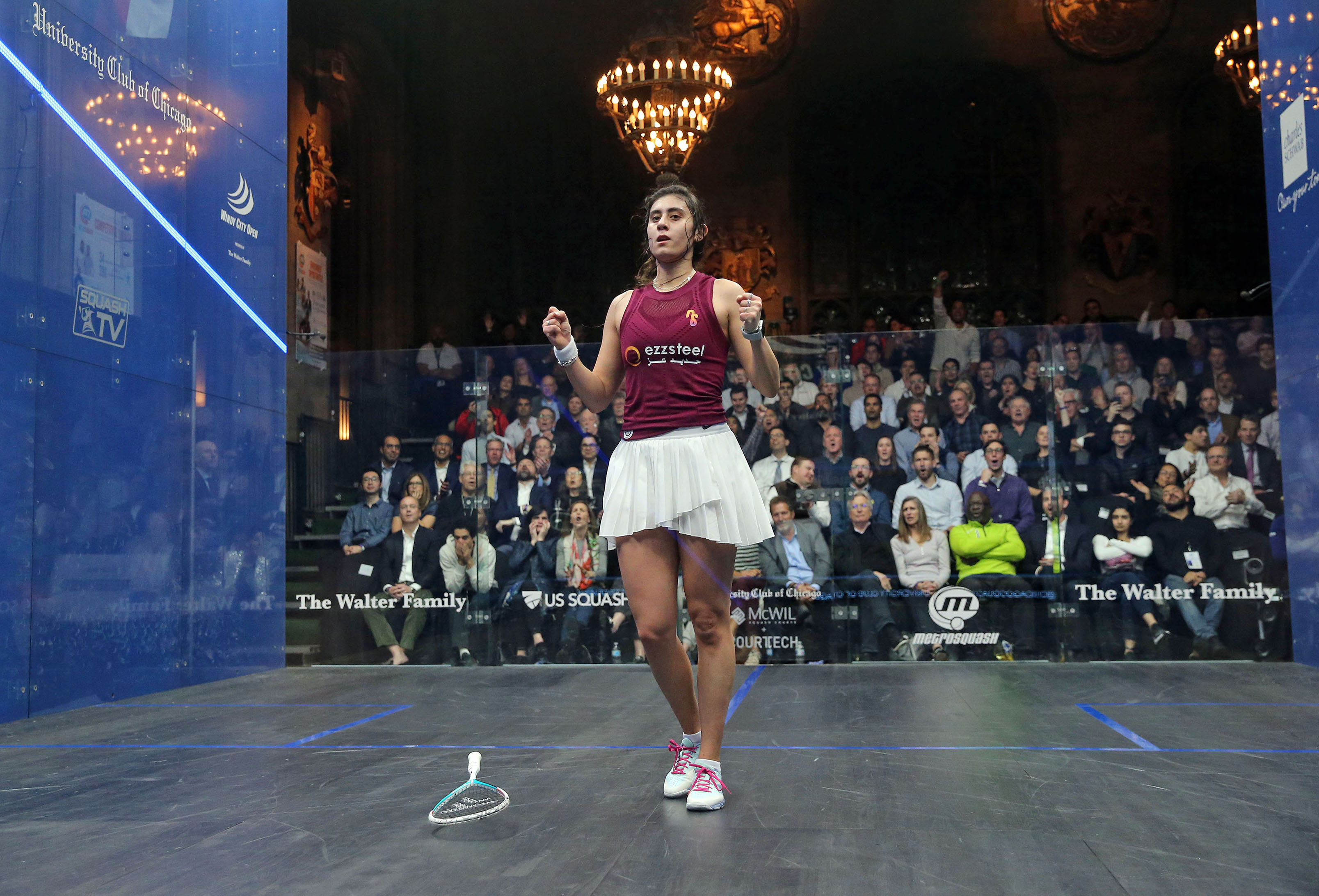 Back to the squash, Sherbini (AKA The Warrior Princess) takes her first Windy City title!
On her route to the final, Nour El Sherbini faced some strong opponents, including Donna Lobban, Camille Serme, and Sarah-Jane Perry. She battled through them all with impressive courage, Sherbini's aggressive, fast-paced style combined with her deadly backhand kills made her a force to be reckoned with. Including this, Nour El Sherbini now has 21 PSA titles under her belt, but this is the first time she's ever won the Windy City Open!
Suffering from illness and a persistent knee injury, Sherbini certainly earns her nickname 'The Warrior Princess', showing that she can battle through anything.
Looking at her final with Raneem El Welily, it was clear that it was going to be a tight match from the off, with some monster rallies in the first game, Nour managed to take it 11-8. In the second, Raneem began to match Sherbini's accuracy and pace and won that game 11-8.
From then until the fifth, both players fought for every point, although mistakes began to creep in from Welily, and Nour seemed to be an extra step forward and started putting in those kills at the front which seemed to be taking its toll physically. But, Raneem seemed fresh after not dropping a game on her route to the final.
The fifth game was one of the best shows of squash I've ever watched, it was a pure contest of champions, if you haven't watched it already, I strongly recommend you go back and take a look!
Nour El Sherbini took the fifth 11-9 and it couldn't have been closer, both players displayed great respect for eachother, and that made it all the more inspiring to see.
Final Thoughts?
As a whole, I believe the Windy City Open has done great things for squash, it has highlighted some issues in the sport that need to be addressed, and I also think that the controversy has been great for encouraging fans and pros to discuss their personal views of the sport.
I hope future tournaments will bring similar levels of engagement from the squash community all over the world, as I believe this will help grow the sport in the way that it definitely needs!