A spectacular update to the much loved Gel Blade 6, these indoor court shoes are the pinnacle of performance.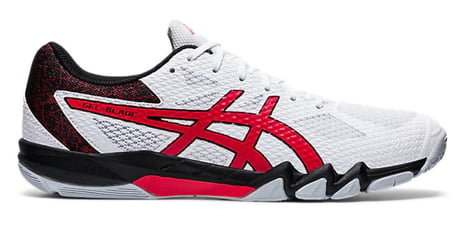 Before I begin, a few words from #TeamCT pro, Chris Hanson...
"I have used a lot of different Asics over my career and have always tried to find ones that provide great support and cushioning while also being lightweight. While I prioritize speed on the court, I have come to the conclusion that I can't be quick if my legs are taking too much of a pounding from a shoe lacking support and cushioning!

The Blade 7's are strong in both of these areas, and I am incredibly pleased with my experience so far with my two pairs. They have held up well against my heavy training schedule (12 sessions per week) in the last few weeks, and I am excited to utilize them in competition next week in the Pan American Games in Peru. Overall one of the best shoes I've worn!"
Coming from a player of such a great standard with such experience in the sport as Chris, that is very high praise for the Blade 7.
A bit about the shoes...
The Asics Gel-Blade 7 Indoor Court Shoes are a great performance shoe designed to allow you to move your absolute best on court. Designed to be ultra-light, ultra-soft, ultra-flexible and ultra-low to the court, to allow your foot to work naturally, with little assistance from the shoe itself.
The striking white mesh upper is super soft for extra comfort, combined with the pops of red and black on the tongue, midsection, sold, and inner, I personally think the colour scheme looks great.
Asics' GEL cushioning system is provided in the heel to protect from the hard impact we squash players make when lunging and changing direction on the court. Although it's worth noting that Asics haven't incorporated their GEL into the forefoot, in order to maintain the shoe's lightweight design.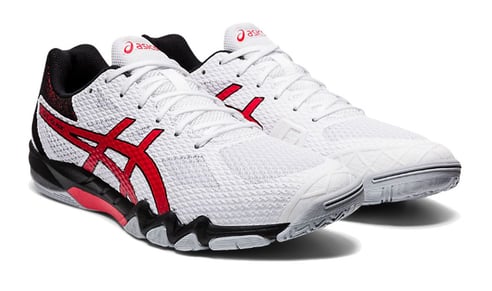 Key updates and differences...
Other than the obvious colour scheme difference, the biggest improvement featured on the Gel Blade 7 is the durability. The PGUARD wear protection on the medial side is in place to protect against damage from lunging.
As many players are well aware, squash shoes take a beating on the court. It's always frustrating when your shoes don't seem to last as long as they should, the medial side of any shoe is the most affected by drag and sudden impact. Asics High Abrasion Rubber Plus (AHARPLUS) is used on other common wear points to further increase this durability.
It's great to see Asics reinforcing this area of the shoe, without making the Blade 7 any heavier!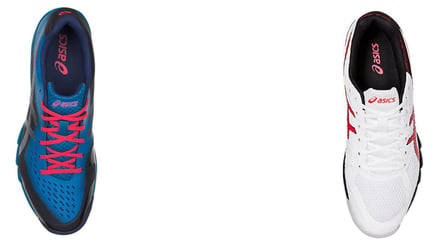 Last but not least I must mention the mesh insole and ORTHOLITE sockliner allow the foot to breathe as things heat up, while the shoe's TRUSSTIC SYSTEM technology gives you the stability and guidance you need to stay on top.
The two lates colourways we have in the Gel Blade 7 are the Men's White and Classic Red featured in the images above, and the Women's White and Peacoat (pictured below)...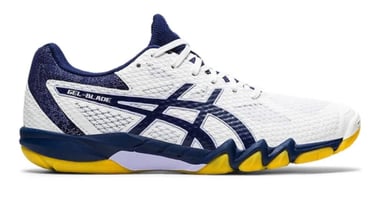 To sum them up, the Asics Gel Blade 7 is an absolute dream of a lightweight shoe, and I'd recommend it to any fast-moving player looking for performance over cushioning.
If you would like to read more about how to choose a pair of squash shoes please download our guide to buying indoor court shoes by filling out the form below.
Would you like to learn more about how to choose a pair of indoor court shoes?
Click the "Download Now" button below to download our guide to buying a indoor court shoes.