Just wanted to briefly mention that as a junior, I used the older version of this racquet for a couple of years (the Suprem NG), and it served me incredibly well, I'm very pleased to see some of the great updates Tecnifibre have added!
The Suprem SB racquet range features 125, 130, and 135 gram versions, but right now I'll mainly be talking about the 125.

Lets start with looks...
The striking 'Tecnifibre green' on the racquet's bridge and strings is the first thing you see at first glance, but at a closer look, there's a few more touches and details. The rest of the colour scheme is predominantly black, with white Tecnifibre branding in various places.
My personal favourite touch is on the butt of the racquet, it has a slick chrome Tecnifibre logo, with #fightsmart underneath. I love little touches like this that make the racquet more unique! It's also a great motivational quote to think about in a game.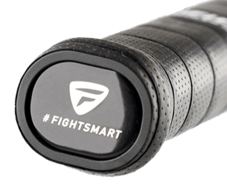 The racquet also has a smaller head size of 470cm2, this should further assist the racquet's ability to control the ball.
A few practice swings...
The first (and main) thing you feel when swinging a racquet is the balance and weighting, despite its slightly chunky appearance, the Suprem SB 125 is a very light racquet.
With an unstrung weight of only 125 grams and a pretty even balance point, this racquet feels easily maneuverable and it seems to favour a shorter swing over a larger swing.
Some other new key features of the racquet include the thick Ellipsis Vario Shaft which increases the strength of the frame and the Sharp Edge Design which increases the aerodynamic ability of the Suprem SB.
After some hits...
Instant control, the 14x18 string pattern gives exceptional control over the ball whether you want to hit a dying length or a sharp, aggressive boast.
The racquet also comes with some of the best squash strings available (the Tecnifibre 305 Green 1.20mm string), and this seriously contributes to the performance of the racquet.
The 'SB' in Suprem SB references the 'Storm Bridge' that replaces the traditional closed throat for longer main strings. The longer mains provided me with even more power without sacrificing any control.
Final thoughts...
I'd say that the Tecnifibre Suprem SB 125 is ideal for anyone looking to take that extra step forward on the 'T', take volleys early, and be in control of the rally!