This is the racquet that rising squash star Mohamed Elshorbagy plays with. With him having won the Qatar Classic 2013 a couple of weeks ago I thought now would be a good time to post a review of it. It also gave me a good reason to pull out the demo to give it a good test hit!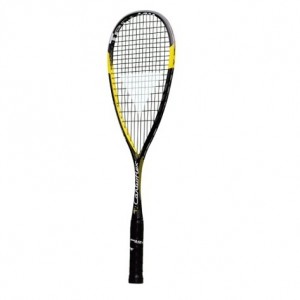 The Tecnifibre Carboflex 125 Squash racquet is as one would expect a 125 gram racquet. It has a balance point of 350mm which is slightly head heavy. For those familiar with the Carboflex line it less head heavy than either the 130 or 140. It has a large 500cm2 teardrop head. The large head and long main strings by design give it a large sweets spot and lots of power. It comes with Tecnifibre's 305+ 1.20mm premium string.
It is a remarkably powerful racquet for being as light as it is! Its balance and long main strings help with this. There certainly was no problem with getting the ball to the back of the court with this racquet. I found you could really generate excellent power even with a good hold and snap through the ball. That is due in large part to its overall light weight and its balance that is close to even. The balance in my opinion is pretty close to ideal for this weight of racquet. It had enough weight in the head to have the racquet come through the swing nicely but also allows one to really quickly snap the racquet through to the ball and generate good pace.
Feel on contact was also very good with this racquet. A very solid hit. A tiny bit of vibration on off centre hits but not too much. The Tecnifibre 305+ strings play a little stiffer than the traditional green 305. The racquet I used was brand new so the strings have not started to notch yet like Tecnifibre's strings normally do. What ends up happening with the Tecnifibre string is that it starts to fray and the strings end up with little notches where it contacts with the other strings. This really helps keep the string from moving around on the string bed and helps the string grip and cut in to the ball. I find that Tecnifibre's string start to play better after they have been used for a bit due to this. Having such high quality strings included with this racquet is a real plus as it is with all of Tecnifibre's racquets that we sell.
With it being a very easy to manoeuvre that has a excellent power it is actually suitable for a lot of people. It is quick enough to be good to volley with and has enough power to be suitable for a player that likes to play a more basic length game. I really enjoyed being able to generate a lot of power with a relative quick short swing and I also liked that I was really able to attack the ball on the volley. Overall the Tecnifibre Carboflex 125 is a terrific squash racquet.
Whilst we no longer stock this version of the Carboflex 125, we do have one of our most popular racquets, the Carboflex X-Speed 125 and 125 NS, at 25% off while stocks last!
Check them out here: