Edit - Please read comments below as it appears that Nick may not have been wearing the Infinity Flare but an older model that was altered to have the same colour scheme.
The Qatar Classic 2013 Championship just finished and what a tournament it was. There were a number of unexpected upsets. Daryl Selby took out James Willstrop, Borja Golan elminated Gregory Gaultier and Mohamed Elshorbagy beat Karim Darwish. That left us with a Nick Matthew vs Mohamed Elshorbaby final. What a final it was. A massive battle between two tremendous players. Shorbagy came through and won his first World Series event with a hard fought 5-game victory.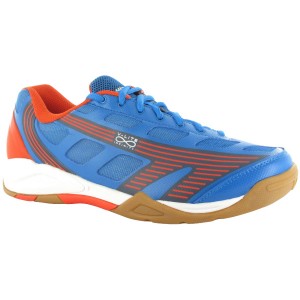 This tournament was the first full event we have seen Nick Matthew use his new signature shoe model - the Hi-Tec Infinity Flare Squash Shoes. I was very interested to see him using the shoes. Last year he only used the previous model in a couple of games on tour and I don't believe even for an entire event. There was definitely a lot of grumbling on the web about him not using the shoes yet having his name associated with them. Nick played the whole of the Qatar 2013 Championship with Hi-Tec Infinity Flare. I for one do like to see the players using the gear they are endorsing.

So what changed between this years model and last years? The shoes definitely got a redesign and not just cosmetically. The shoes were improved in a few different key areas. Durability, comfort and stability. To improve durability Hi-Tec enlarged the Abrazone of the shoe and also improved the toe guard. Both of these were areas were weaknesses in the previous edition. For the average player it would take a while for the shoes to break down and for some it they not have at all but for a high level player it would not have taken long. Comfort was improved in a couple of places as well. The tongue was improved to be softer and provide more comfort. The mid and toe box area of the shoes was narrowed as well. The previous model were a sloppy for fit for many and this years model fit better for most. Stability was improved by the addition of additional eyelets. What was kept was the asymmetrical lacing system, the lightweight of the shoe, the breathability of the shoe and a design that is meant specifically for squash.
Which one of these reasons were the deciding factor for Nick Matthew? I am not sure but it definitely appears that Nick is comfortable enough in them to play a World Series event in them. To quote Nick from his Twitter feed:
@squashcrazy they are the new infinity flare by @hitecsports and I've started playing in them this week. Soooo comfy

— Nick Matthew (@nickmatthew) November 15, 2013
If you are looking to learn more, or purchase a pair of the Hi-Tec Infinity Flare Squash Shoes that Nick Matthew is using click on the "View in store" button below.