We just received our new shipment of Biomimetic racquets from Dunlop and I was very excited to open it to see the new Dunlop Biomimetic Max 2012 Squash Racquet. It is a great looking racquet and I will be giving our demo a try in the next few days. For now here is a promotional picture from Dunlop and the specifications of it.
To purchase the Dunlop Biomimetic Max 2012 Squash racquet please click here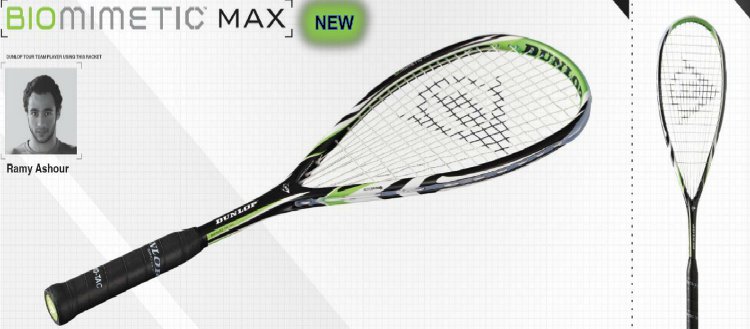 The updated Biomimetic Max is an ideal racquet for any advanced/intermediate player looking for pure power. The teardrop head shape provides long main strings for greater string deflection enhanced by Powermax string pattern. Control and pin point precision is improved with the inclusion of Anatomic Construction technology which increases torsional stability during off centre shots.
The racquet is constructed with graphite and features Dunlop's Biomimetic technology. HM6 Carbon enahnces the racquet feel, Aerosping technology reduces aerodynamic drag making the racquet faster through the air and the Gecko-Tac grip gives ultimate control in all conditions.
Ramy Ashour Highest PSA World Ranking #1's racquet.
Frame Weight: 130g
Balance: Extra Head Light
Head Size: 500cm2
Stiffness: 80
String Pattern: 14x18 Powermax
String Tension: 20-30lbs
Construction: HM6 Carbon
String: Precision