I had the opportunity to go to Mayfair Lakeshore this past Friday and Saturday to watch the 2017 Canadian Squash Championships. What an incredible 2-days of squash. Having 2 athletes we sponsor in the semi-finals made it pretty exciting for me. We sponsor Mike McCue and Samantha Cornett. Mike was facing Andrew Schnell in the semi's and Sam was facing Danielle Letourneau.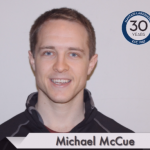 Mike's match with Andrew was a big challenge for Mike. He has not beaten Andrew before and Andrew was the higher seeded player. Mike was seeded in the 3/4 position and Andrew Schnell was the #1 seed and defending National Champion. To make things even harder for Mike he had just played Andrew's brother Graeme. Mike did beat Graeme in 4 games but they were extremely tough games with a match that had gone right around the 1-hour mark. Andrew had made relatively quick work of his quarter final opponent.
The match between Mike and Andrew was an incredibly grueling affair. I am constantly amazed at the court coverage of squash players of this level. In addition, how fit they are to be able to perform at this level over such a close 5-game battle is astounding. I truly believe the average club player would have been struggling fitness wise after the length, and intensity of the first few rallies. The 1st game was extremely close with nobody taking a big league. Andrew played the better squash at the end of it though and won it 11-9. It was Mike's turn next though as he came back to take the 2nd game in extra points, 12-10. The pattern of close games continued with Mike taking the 3rd 11-8. Andrew though in the next game seemed to find himself and built a lead. Mike seemed to have perhaps lost a bit of focus. In the mid to late part of the game though Mike really found his game again and start to really press. He nearly got the game back to level before finally losing it 11-9. The score was now 2-2 and the 5th looked like it was going to an incredibly tense game. I know I was certainly tense as I was really hoping for Mike to pull the match out. Mike came out strong in the 5th, played a great game and managed to beat Andrew 11-7 and advance to the final. What amazed me the most about Mike's performance was how focussed and calm he kept himself even in such a tense situation. Neither the pressure of the situation, or the pressure Andrew was putting on him phased him and Mike played up to his full potential in one of the biggest matches of his career. Not an easy thing to do. Congratulations Mike on making your first final! I hope it is the first of many.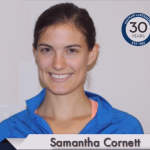 On to Sam Cornett's match. Sam was the #2 seed. She had won the Championship in 2015 but missed last years' tournament due to injury. Danielle was ranked in the 3/4 spot. The match was very hard fought and close but Danielle seemed to be more of control of it and Sam was having to fight to stay in it. Danielle was really attacking well with some great variations and was taking the ball in short on the boast beautifully. She was really putting Sam under some immense pressure. Danielle went up 2-1 and up in the 4th game with several match balls. Sam played incredibly tough and fought off a couple of them. The last point unfortunately ended in a very hard stroke call against Sam. I was surprised and even some of the people near me that were cheering for Danielle seemed surprised that it was given as a stroke. You can be the judge if you like. As of writing this the video can be viewed below. It is a good match and worth watching. For the point in question pick the play up at 34:30 which is the start of the last point. While I was disappointed that the match ended on that call, Danielle had played extremely well to get to match ball. I was also impressed by Sam's poise in this situation. I can only imagine how she felt losing the match on a call I am certain she believed was wrong but she handled herself with class. Of that I am not surprised. Sam Cornett is one of the truly great ambassadors for our sport.
The second day I was there, Saturday was finals day and I was very excited for it. I was hoping for Mike to win his first National Championship. I was also hoping that Sam would win her 3/4 match. Sam seemed to struggle in her match against Nikki Todd. She once again showed her grit and determination though and fought back from 1 down and then again from 2-1 down to level the match up. The 5th game was a very close game as well but Sam managed to win it to finish 3rd. I would also like to congratulation Hollie Naughton who beat Danielle Letourneau in the final. Hollie won in 2016 as well so is a back to back Canadian Champion.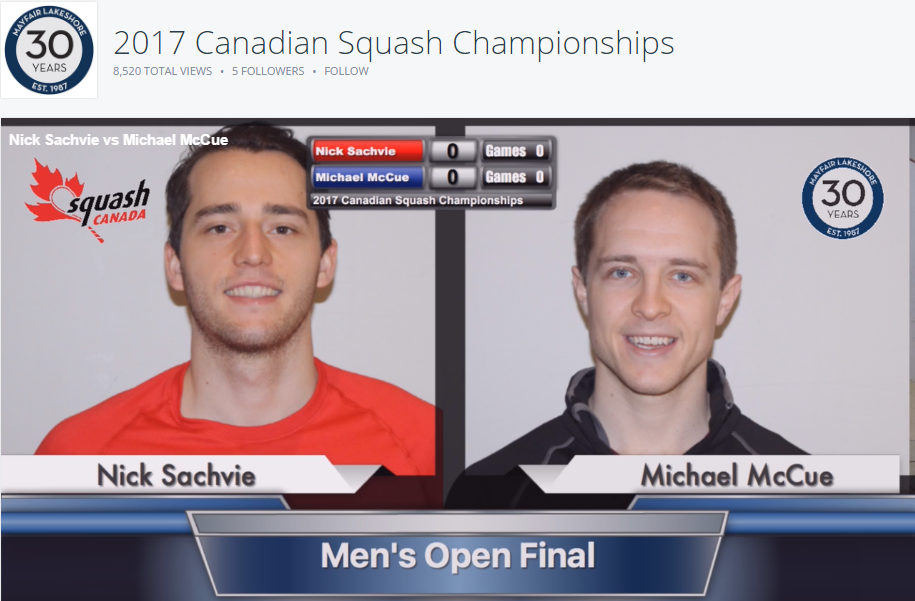 On to the final match to be played. The men's final featuring Mike McCue versus Nick Sachvie. A 3/4 seed version the other 3/4 seed. The first game of Mike's match against Nick was close in the beginning of it but Nick built a lead and closed it out well 11-7. The hard work that Mike had put in to get the final looked to have taken a toll on his legs. Nick on the other hand had won all his matches 3-0 and never really looked threatened in any of them. Nick went on to win the final 11-7, 11-5 and 11-5. A truly incredible performance by Nick Sachvie. I would like to congratulate him on winning the 2017 Canadian Squash Championship. There were a lot of people in the crowd that were very happy for Nick. While I was hoping for a McCue victory I too am very happy for Nick. He had a great season on the PSA tour and is now the 2017 Canadian Champion.