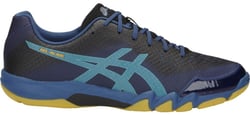 A lightweight shoe that lets you feel the court with every stride...
If you want to maximise your speed and explosive movement, the Gel Blade 6 is absolutely ideal!

From observation, the Gel Blade 6's most notable feature is it's very thin sole. It is important to note that for this shoe, performance is the number one priority!

In a way, the Gel Blade 6 could almost be considered a minimalist shoe, its a squash shoe stripped down to the basics, and it allows your body to maximise it's natural movement, and do most of the work without relying on the shoe. The Gel Blade 6 is extremely lightweight and fits nicely, holding your foot strongly in place without being too rigid or stiff, in fact it is pretty flexible!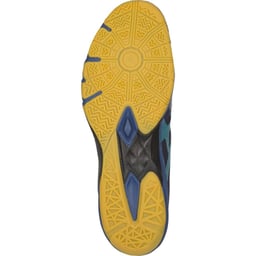 The shoe comes with NC rubber on the sole to improve traction, and Asics' famous gel cushioning system in the heel, however there is none in the forefoot, which allows you to be extremely low down to the court! Being close to the court is ideal for any player wanting to focus on speed, explosive movement and, changing direction as fast as possible.
One fact about me: I tend to burn through squash shoes pretty fast!
I purchased my pair of Gel Blade 6's at the start of the season and they're holding up beautifully so far, I have zero complaints! This is most likely down to Asics' use of 'High Abrasion Rubber' on common wear points on the shoe.
Some sacrifices must be made!
Due to the Gel Blade 6's dedicated focus on performance, it does mean that you will be trading off comfort and stability for speed and more efficient movement. If you consider yourself to have a heavier stride and are looking to minimise your risk of injury, you may prefer to consider a shoe with a little more support and cushioning!
Interested in learning more about indoor court shoes and how they may benefit your game? Download our guide to buying indoor court shoes by clicking the image below ...