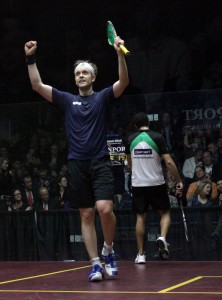 James Willstrop has won the North American Open and regained the #1 ranking on the PSA Tour.
James performance against Ramy Ashour in the final was incredible. Actually it was inspiring. Having watched the match on PSASquashtv.com I was so impressed not only with James play but with his strategy. He came in with a plan to contain Ramy, stuck with it, played beautifully and did what most thought he would not - win.
James' use of height was what really won him the match. If he was under any duress at all he got the ball high and in to the back corner and really limited Ramy's ability to attack. Tied together with James use of height was his use of the straight ball. High, soft and straight balls that Ramy had to let pass. When Ramy tried to pick up the tempo James was able to deal with it when needed and would slow it back down with the lob. His accuracy on the lob was terrific. He managed to get it over Ramy and forced him to let it drop and did not over hit them either having them come off the back wall.
How effective was James in executing his game plan? How many nicks did Ramy hit? First report was none but there was one in the second game that was in back court. Even that was not a roll out nick. It took a funny bounce when it hit the nick and James could not get it back. Not actually hitting the nick though could just be Ramy being off. What really tells the tale of how effective James was how many front court nick attempts did Ramy even attempt? I have not gone through and counted them but there were very few attempts. Why? Simply put James hardly ever gave him the ball where Ramy could attempt it.
Congratulation to James Willstrop on winning the North American Open and on regaining the #1 ranking on the PSA Tour. The North American Open was the first time in months where all of the top players in the world were in the draw. James came through brilliantly and truly showed the quality of player he is.
James Willstrop is a Prince sponsored played and plays with the Prince EXO3 Rebel Squash Racquet.