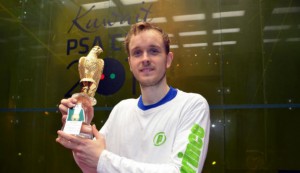 James Willstrop is on quite a roll. He has won his last two tournaments and has moved to #2 in the world. This is the 2nd time that James has reached #2 in the world. With a win in India this next week he could move to #1.
The 2012 season is really looking interesting. Hopefully Nick Matthew and Ramy Ashour will be back and injury free. Can James Willstrop reach and possibly even maintain a #1 position with these 2 playing injury free? His current run has not included victories over either of them. With the form that Willstrop has shown it seems possible though. The control with which he has been playing has been astounding. He is moving the ball around the court with astounding precision and giving his opponents so few opportunities to attack.
I expect that Nick Matthew and Ramy Ashour are definitely going to push James harder than he has been pushed in his last couple of tournaments. Ramy's attack will no doubt be tough for James to counter. The intense physical pressure that Nick plays with will also prove difficult for James. It will be interesting if we can get all 3 of these players playing at the top of their game who will come out on top. Will James' precision on court be enough to contain Ramy? Will it be enough to force Nick to let balls go past him to the back of the court to keep him from exterting his physical presence he normally does by playing so high on the 'T'? I definitely look forward to watching and finding out!